As I walk through my garden I often find a feather lying on the grass waiting for me to find it. And often, at times when I have a decision of importance to make, I find a little white feather will fall from the sky as if to confirm the choice I have made. Like an angel's wing feather we always think!
I hadn't painted feathers until recently. I came to them through wanting to gather some "fodder" for the journal I was making and filling with art and other memorabilia. I was surprised by how easy it was to create pretty little feather paintings.
There are so many different ways to paint feathers – as many if not more than how many different types of feathers exist in real life! I wonder why I don't paint them more often! They are a perfect foil for doodles and embellishment, and not at all difficult to get right in terms of shape, as long as you remember a couple of things which distinguish them from leaves! Click on this link for a one minute glimpse of how to paint feathers convincingly
Feathers also make a perfect subject for a little gift, or a greetings card, thank you card or invitation. They can be paired with so many other subjects, such as leaves, berries, shells, crystals – you name it!
Plus it really doesn't need to be a realistic feather like the one is feather YouTube tutorial above. They can be as whimsical as you like, and the colors can be as outlandish as you can imagine. Plus of course the whole gamut of doodles and marks are available for you to embellish your imaginary feathers with.
If you're interested in something less realistic like the ones below, which I painted for my junk journal along with these dragonflies and these flowers, you can read about how to paint these fancy feathers – and there's also a link the video tutorial in the blog post.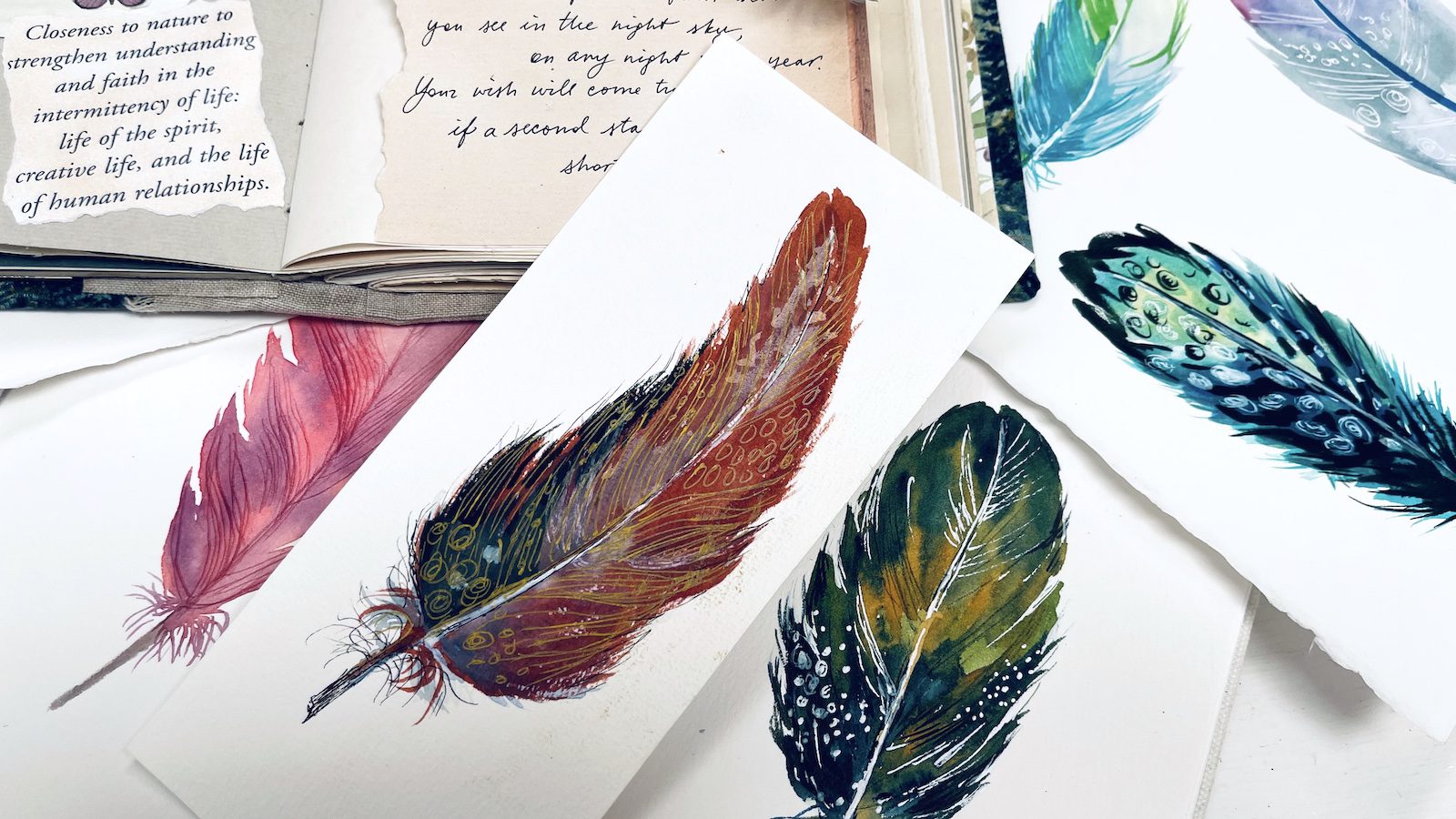 Here's another watercolor feather tutorial video from last year which you might find interesting, this time showing how to paint a circle or garland of feathers.
Materials for painting watercolor feathers
My paper was a sheet of watercolor paper, 140lb cold pressed, size A4 or approximately 8 x 11 inches. I haven't been able to replace my Etchr paper so I am now recommending other brands. I believe these papers – Strathmore, Fabriano and Canson – are a good price, and you can rely on their quality and their reputation as manufacturers.
My paint was the Kuretake Art Nouveau Set of 24 colors, the Kuretake Gansai Tambi Graphite Colors, and either their Starry Colours or else the Finetek Coliro Gold set.