Yesterday I found four little feathers in the field where my studio sits, and couldn't resist the temptation to paint a few feathery friends – after all, we've been painting a bird a day for a month now, maybe time to add a few fanciful feathers?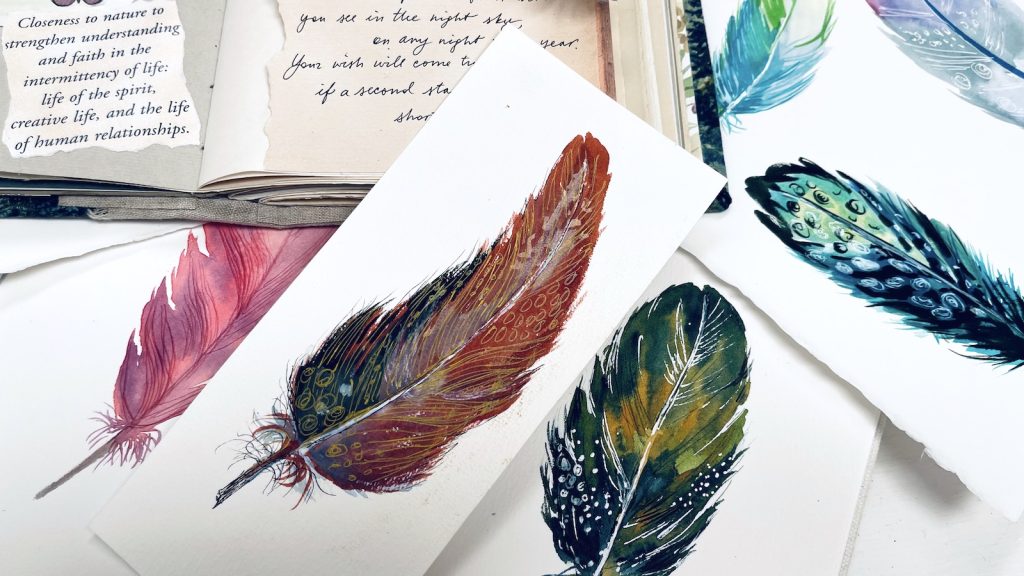 The great thing about painting feathers like these is that they don't have to be realistic. Lots of feathers that you buy for decorative purposes have been dyed exciting colors, so rather than imitating nature, let's imitate that trend, and make our feathers truly wild!
How to draw and paint wild feathers
If you do junk journalling, scrapbooking or any other kind of journalling hobby you might be interested in this process. These feathers can be incorporated into your journals to great advantage. Alternatively you can use the finished work as a background, photocopied or original, or cut into bookmarks, greetings cards or tags.
I did a dozen or so practice feathers on various papers to see which ones I preferred. I tried out Fabriano Hot Pressed cotton 140lb, Etchr cold press cellulose 140lb and Clairefontaine Etival 140lb cellulose. And for the final version I opted for a page in my Etchr sketch book which is being slowly filled on the theme of Gift from the Sea by Anne Morrow Lindbergh.
I decided to do a combination of media for this project. I suppose you could call it mixed media! I used my A. Gallo Signature 1 and 2 sets of paints, and also had a few other colors handy, ones I'm familiar with. I then tidied up my Poetique set of brush pens and put them ready. You could also use watercolor pencils for this or ordinary felt tips, or even just paint or ink.
I also got my paintbox out and a size 9 round brush. Alternatively you could do the whole thing in watercolor pencils and use a small brush to activate the paint.
The video starts with a quick review of my very first Junk Journal which I started last week. Then we go on to look at how to draw feathers so they don't look like a leaf, and how to paint them in three different techniques.
Watch the video and Paint Fancy Feathers for your Junk Journal or whatever takes your fancy
This video shows how in just a few minutes how you can paint a page of feathers which would make a sweet card or gift for a nature lover, a lovely greetings card or a great feature in your junk journal.
Here are three good choices for paper when you paint your feathers.
And here are three options for inexpensive paints as a beginner: