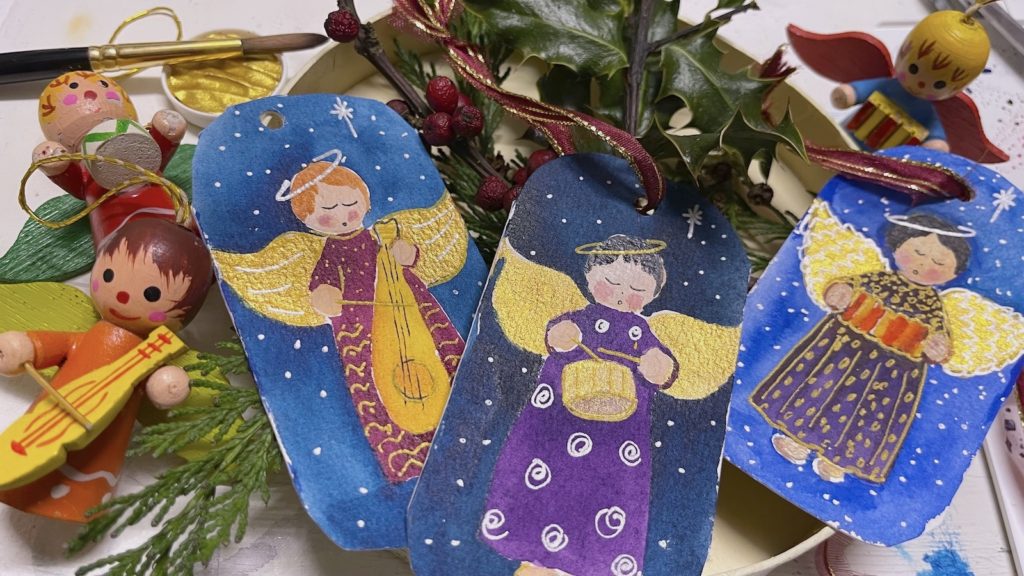 Every year I hang three little wooden angels on the tree for Christmas. These little angels have been with me through thick and thin and have lived on three continents with me. Somehow they have managed to stick around despite all the upheaval in my life. This year I decided to use them as models for a set of tree decorations and in this video I tell the little story of why.
Materials
I used a scrap piece of 300lb watercolor paper for this project. Depending on what your intended use is, you might choose something different. But as I intended to use these angels as tree ornaments, I wanted a stiff card that would not only take the color well, but which would not curl or wrinkle. You could paint both sides if you wanted, and you could also use a sealant or ModPodge to make sure it didn't get dirty.
The design would work very well also for gift tags for a special person, or as a design for a Christmas card. Or you could do all three of them in one painting, perhaps surrounded by Christmassy foliage to make a lovely picture to hang for the season.
I used my set of Paul Rubens paints plus several colors from my Kuretake set, as the Rubens set doesn't have a strong enough purple. I also used some gold paint from my Finetek set and a white gel pen.
Links to all these products are here.
The three angels look very sweet hanging on the studio tree. I hope you decide to give this idea a try. It's a lot of fun!
Method
I divided my scrap of card into three equal rectangles and then using my little ornaments as a guide I drew the angels.
You can download the sketch free of charge here.
To see how I painted the angels watch the video below.