Watercolor Autumn Leaves, Seedheads and Berries are a popular theme this time of year, and always fun to paint. Sometimes spontaneity takes a bit of forward planning! For this painting, which I wanted to be as free and easy as possible, I created a background beforehand.
My plan this time was to stretch a piece of Fabriano Artistico paper, measuring about 9 x 12 inches, onto a plywood board, using kraft tape to secure it so it didn't buckle when I applied the large amount of water I would be using for the loose background. See this video for how to stretch a sheet of watercolor paper the easy way.
My favorite brushes for making this background are my Isabey squirrel mop brush and my Ron Ranson Hake.
I used my favorite colors for these backgrounds – I always do more than one at a time because once I'm set up, it's simple to repeat the process a few times – so I mixed up some strong washes of cobalt blue, burnt sienna, quinacridone gold, winsor violet and pthalo blue.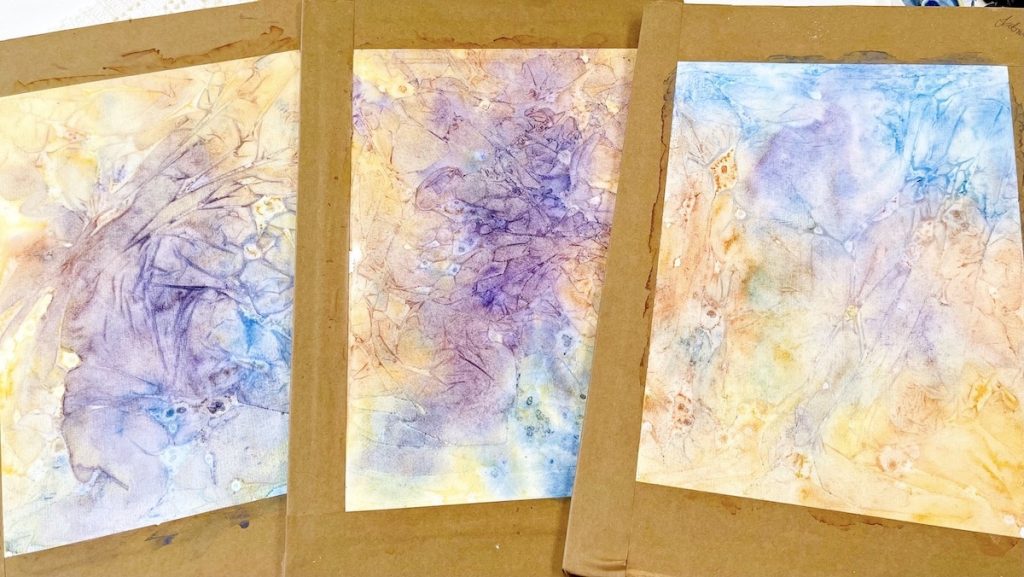 I wet the whole sheet liberally with water and then dropped the colors in at random. Then, I sprinkled salt on the paint and covered the whole thing with crumpled cling film or saranwrap. Then I left the paper to dry overnight.
The Exciting Bit – Painting the Watercolor Autumn Leaves, Seedheads and Berries
I took a good look at the pattern I had created on the paper by allowing the paint to do its thing, and tried to identify the areas which most resembled leaves, seed heads and berries. Then I took a watercolor pencil and sketched in the design I had roughed out on a piece of tracing paper beforehand. I use my Albrecht Durer set of watercolor pencils, which are great because they give added texture to your painting when you add watercolor to them, or just blend in to the background if that's what you prefer.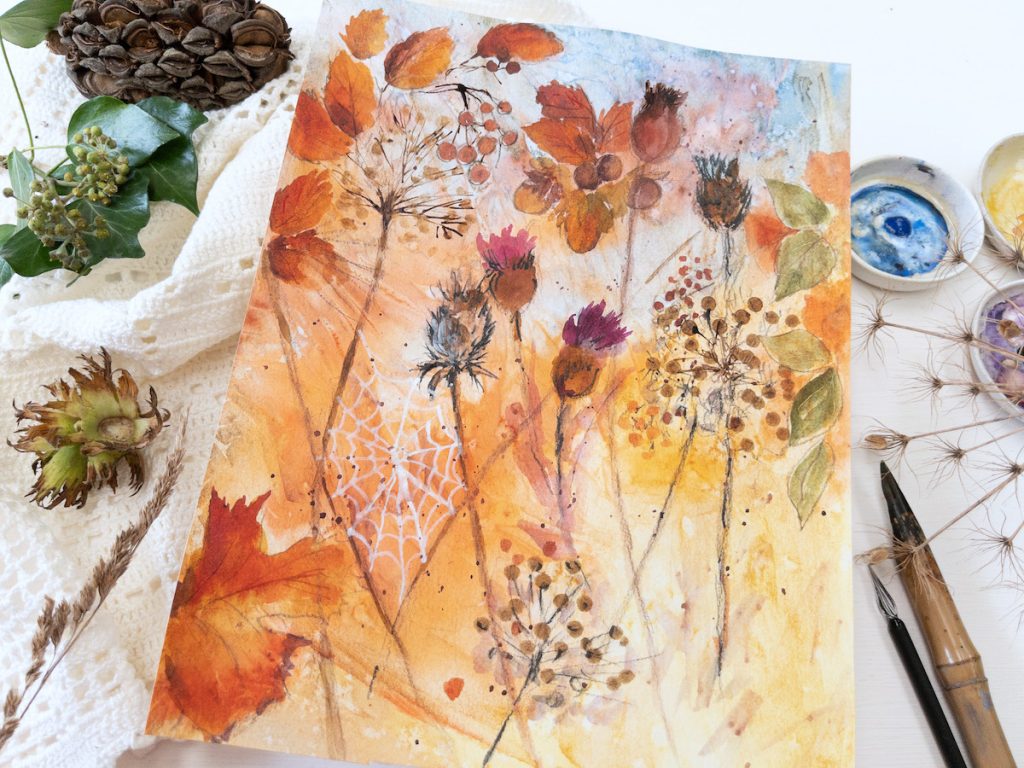 Here's a link to a fabulous gift for someone who loves pencils!
If you want to see how the painting progressed and how it turned out, watch my video here on YouTube.
And don't forget to take a look for the sketch download here which you can have for free, along with the sketches for all the other paintings I've made videos for since last year.
Plus we now have a few gifts in our gift shop which you might like! Here's one of our mugs! Click here to go to the page.