A quick walk around the meadow this afternoon brought forth a small haul of mushrooms, nuts and berries, enough to turn my thoughts to squirrelly ones. So as well as squirrelling away blackberries and hazelnuts, we thought a couple of hungry little Squirrel Nutkin characters would be just right for Whimsical Watercolor Wednesday!
These little creatures are easy to paint and if you don't want to worry about sketching them first, just hop over to the sketch download tab and get the printable sketch which you can then trace to get a head start on the painting process.
I did this little painting in my Viviva sketchbook, which is a 5 x 7 inch size, ideal for little whimsies like this one. The paper is very nice and receptive, ideal for a pen and wash style like this.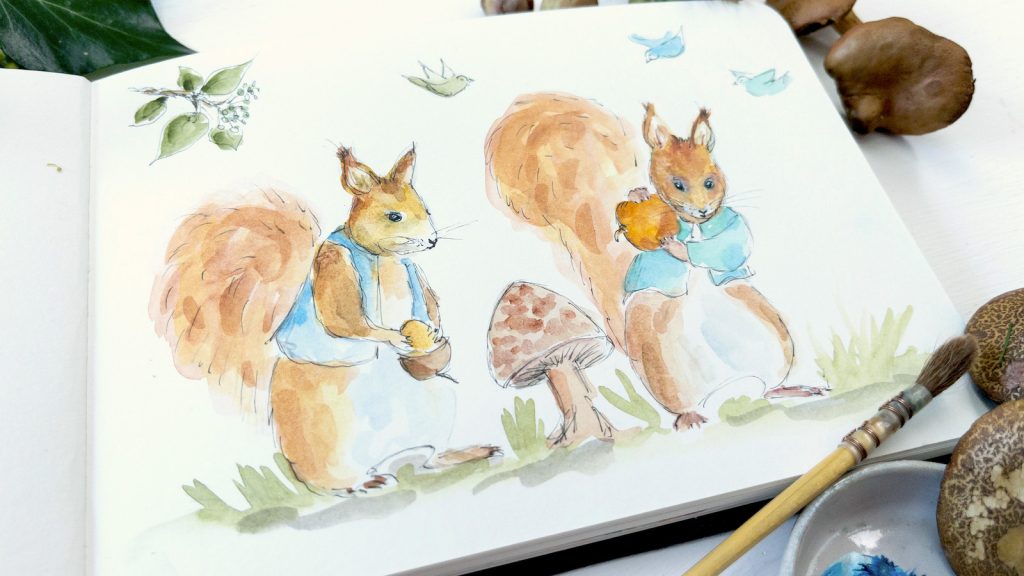 I used six colors, all favorites of mine which I use often – Olive Green, Quinacridone Gold, Burnt Sienna, Cobalt Blue, Turquoise and Potters Pink. Links to many of these can be found here. I used my Kuretake waterbrush for the paint application, and a 0,05mm Staedtler Pigment Liner for the line work. I also used a tiny drop of Winsor and Newton's white ink to restore a couple of whites I lost during the painting process.
The first step was to sketch the two squirrels, which I did in the