Christmas is always just around the corner for some of us. Preparations can begin immediately after the summer holidays, and why not, if one of the things you love to do is paint your own holiday greetings cards. Nothing says "I love you" better than a handmade gift or card, so why not get started on your cards now?
This video starts with a review of the colours we will be using for many of the cards we will be painting over the next 10 weeks up to Christmas, and then we paint this cute robin step by step in real time.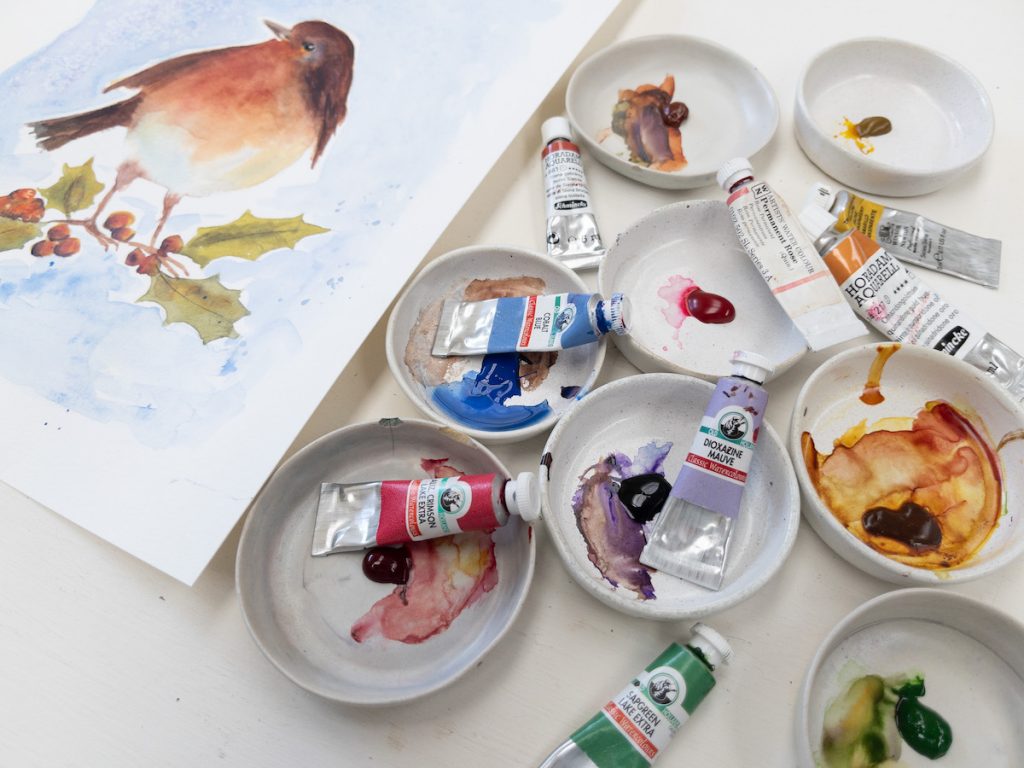 The Colors you need to paint Robin Redbreast for Christmas Cards
The colors you need are Cobalt Blue, Quinacridone Gold, Burnt Sienna, Permanent Rose, Alizarin Crimson, WInsor or Dioxazine Purple, Sap Green and Black.
I used a sheet of Clairefontaine Etival 140lb watercolor paper.
The sketch for the Robin Redbreast for Christmas Cards is available for download free of charge over on the tab Free Sketch Downloads. Also take a look at our Shop page where there is a lovely compilation of sketches in the form of a digital downloadable book for you to purchase.
It's never too soon to start painting your Christmas cards. Even though many of us don't send as many as we used to, there are still those which we send to the closest members of the family. With shop bought cards running at prices to make your eyes water, unless you go for the boxes of cheapies, this is a big ticket for the holidays. You can save a lot of money and get a lot of pleasure out of the process if you paint your own cards.
Strathmore have a nice box of blank cards with envelopes which you can either use to paint on directly, or else glue your painting to the front of the card. You can embellish the front with a line of gold paint from Kuretake which looks fab.