Warming up to the holidays what could be better than a loose watercolor painting of pairs of Red Cardinals and Red Breasts (otherwise known as Robins!)
Watch the video below to see a step by step real time tutorial showing you how I painted these little birds. I used a sheet of Clairefontaine Etival watercolor paper, a 140lb cellulose mould-made paper which is easy to use for beginners. It withstands alterations and allows the paint to flow smoothly, and is a very reasonable price. There's a link to it on Amazon just below on this blog.
My other materials were five colors of watercolor paint. I used Quinacridone Gold, Cobalt Blue, Sepia, Cadmium Red and Black for this painting. You can also get these colors in tubes from the links below. Most of these Winsor and Newton colors have got a discount on them at the moment so it's a good time to shop!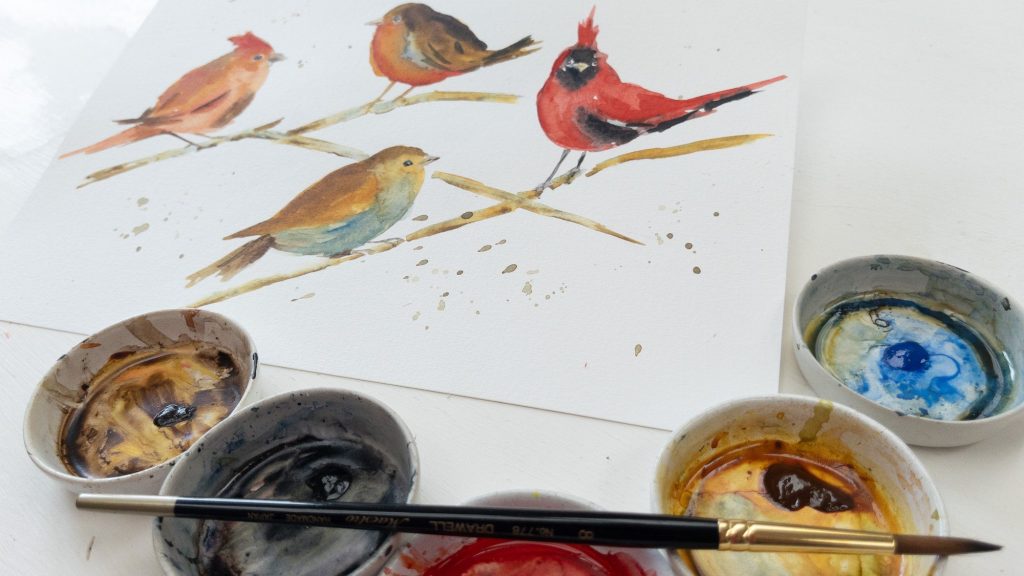 Finally I used a Kuretake waterbrush and a No. 8 round synthetic – any brand will work just fine. I use my No. 8 from my Black Tulip set from ZenArt. Click here to go direct to ZenArt's website and see what else they are offering.
Here is the Viviva Colorsheets pack, which includes a Kuretake brush as well as the colorsheets. These colors are very vibrant and lovely to work with!
Why not have a go at painting these cute birds – Red Cardinals and Red Breasts in Watercolor are sure to please! You can download the sketch of the birds from here and then trace it on to your watercolor paper. If you get yourself a Viviva Colorsheets pack you can try those colors too, which are very vibrant and easy to use, and give a really fun and funky effect to your painting. Quite in contrast to the traditional style and vibe of Winsor and Newton.
Red Cardinals and Red Breasts in Watercolor Video