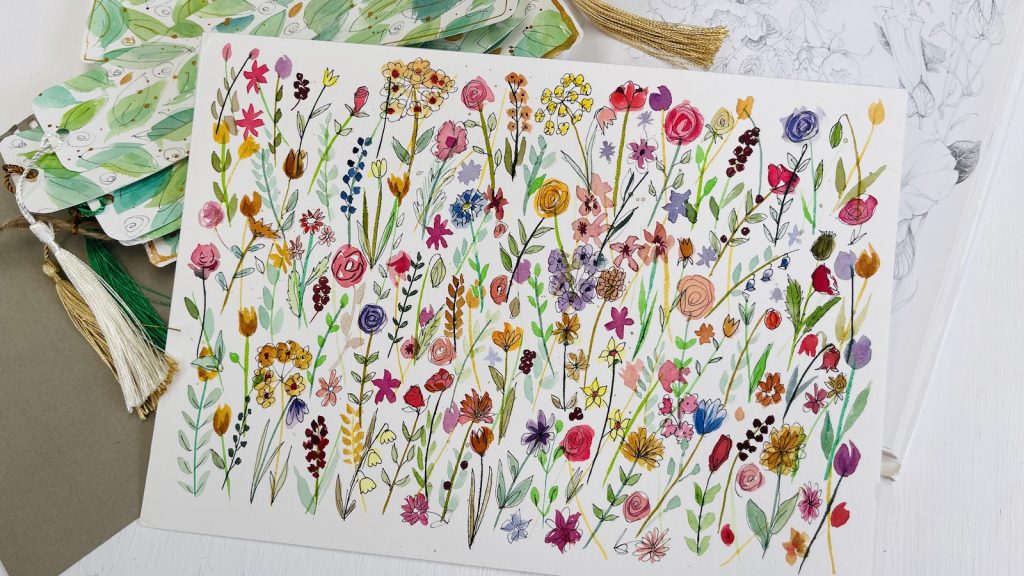 I was reading a book by David Attenborough this morning and he mentions that only 3% of the wildflower meadows of England remain. I find this utterly tragic. But today I'm going to paint a relaxation exercise based on the notion of a field or meadow full of a large variety of blooms.
One of the hardest things a painter has to face when she sits down to paint is the moment when you break into the pristine surface of a sheet of paper. We are plagued with two (at least) blockages – deciding what should I paint and overcoming the fear it will be a waste of paper (and time).
How I painted this wildflower meadow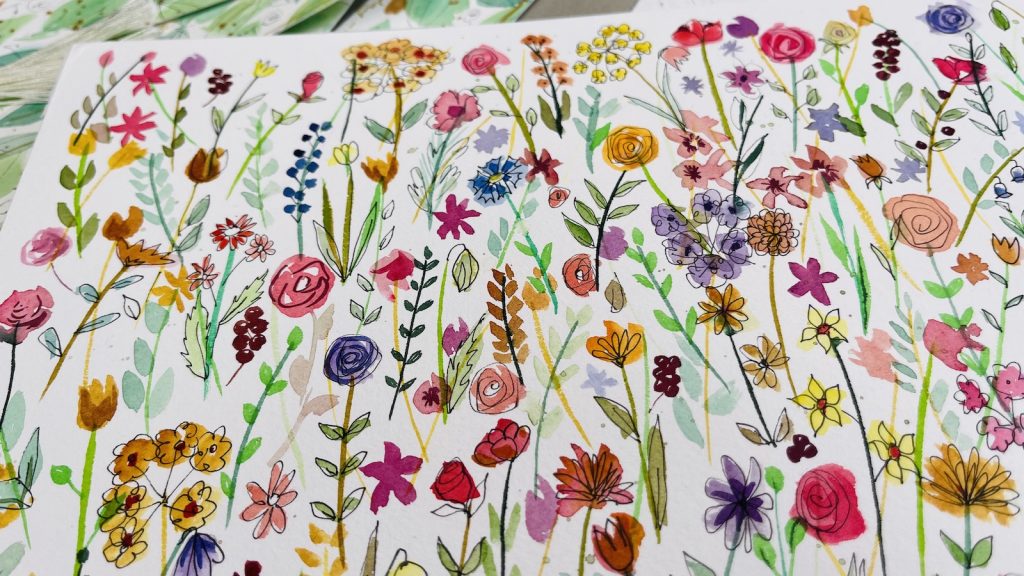 If you do junk journalling, scrapbooking or any other kind of journalling hobby you might be interested in this process. You can use the finished work as a background, photocopied or original, or cut into bookmarks, greetings cards or tags.
I picked a sheet of paper which is glued all the way round to prevent it from buckling when painted on. I give a couple of options below for paper you can use. I've been using Etchr 140lb cellulose recently, the hot pressed version which is actually more like cold press in texture.
I then selected all the greens from my Poetique set of brush pens and put them ready. You could use colored pencils for this or ordinary felt tips, or even just paint or ink.
I also got my paintbox out and a small (size 3) round brush. Alternatively you could do the whole thing in watercolor pencils and use a small brush to activate the paint.
Then, with a cup of tea handy, I took my time and listened to some music while I covered the paper with little straight lines. Once that was done, I added leaves and flowers.
Watch the video
This video shows how in just a few minutes how you can paint a page of flowers which would make a sweet card or gift for a garden lover, a lovely greetings card or a great feature in your junk journal.
Here are three good choices for paper when you paint your Wildflower Meadow.
And here are three options for inexpensive paints as a beginner: