Swallows and Seedheads in Blue and Gold ink and paint are a striking image for the end of summer in the northern hemisphere, when the swallows depart to return home to North Africa, and the flowers turn to seeds in preparation for the dormancy of winter.
Easy Stepwise Tutorial for Everyone – Gold, Glass Pen & Ink
Today's video blog is inspired by a comment left on YouTube by a subscriber who expressed puzzlement over what could be done with gold paint. This arose because I had been spattering paintings with gold, having recently bought a set of Kuretake Starry Colors. This is a set of six opaque metallic paints, in various shades of gold, from White Gold through to Red Gold. I find them fascinating, and they do add a touch of glamour to a mundane painting.
Anyway, she has challenged me to find more ways of demonstrating this interesting product, and today's painting therefore is an experimental work using ink, gold paint, white paint and a scalpel!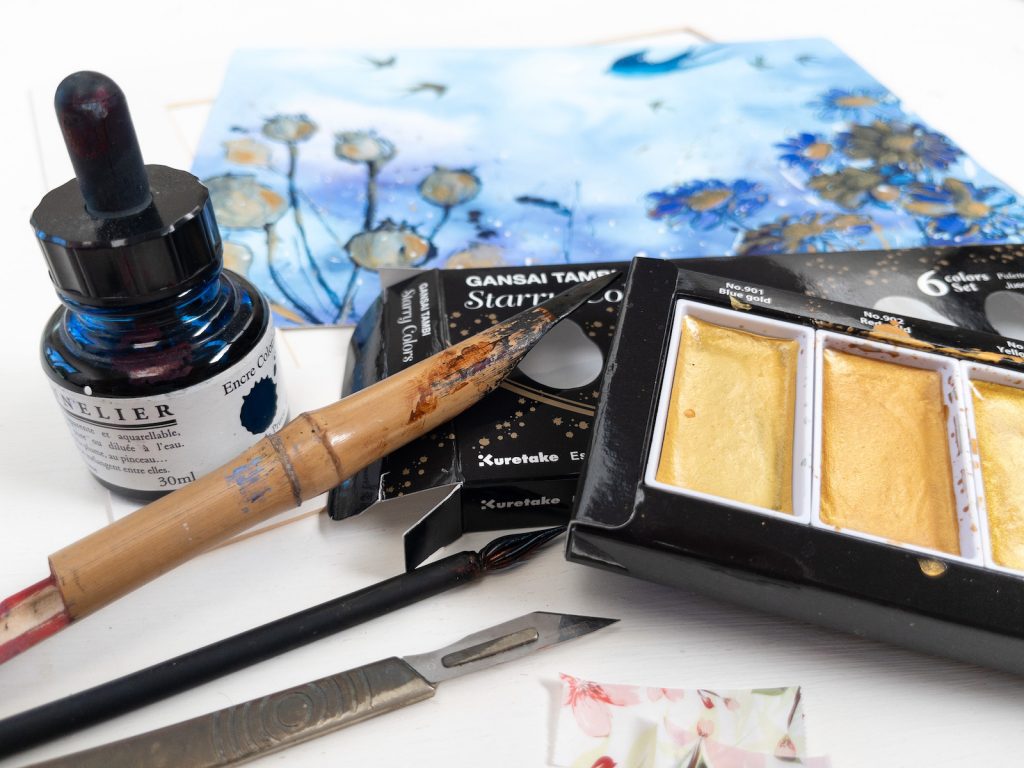 I started this painting by stretching a sheet of watercolor paper. My video on this subject is below. Whenever I am going to do a very wet in wet background I always use a sheet of stretched watercolor paper. This is because the result is always better when the paper has been stretched, as it doesn't cockle when you put a lot of water on it. This means the paint flows and blends better, and the result is well worth the extra small amount of work. Watch the video here:
I then gathered my tools around me. A bamboo ink pen for coarse lines, a glass pen for fine lines, a scalpel for scratching out, and a bottle of Sennelier Prussian Blue waterproof ink to give me a nice harmonious contrast with the blue background I'd created with Viviva colorsheets blues.