Everyone loves the Red Cardinal, the brightest spot in the winter in many cold climes. Nothing says Christmas louder than a flock of cardinals feeding in the garden. So for the Christmas seasonal change in decor, I painted a single cardinal on a branch of holly.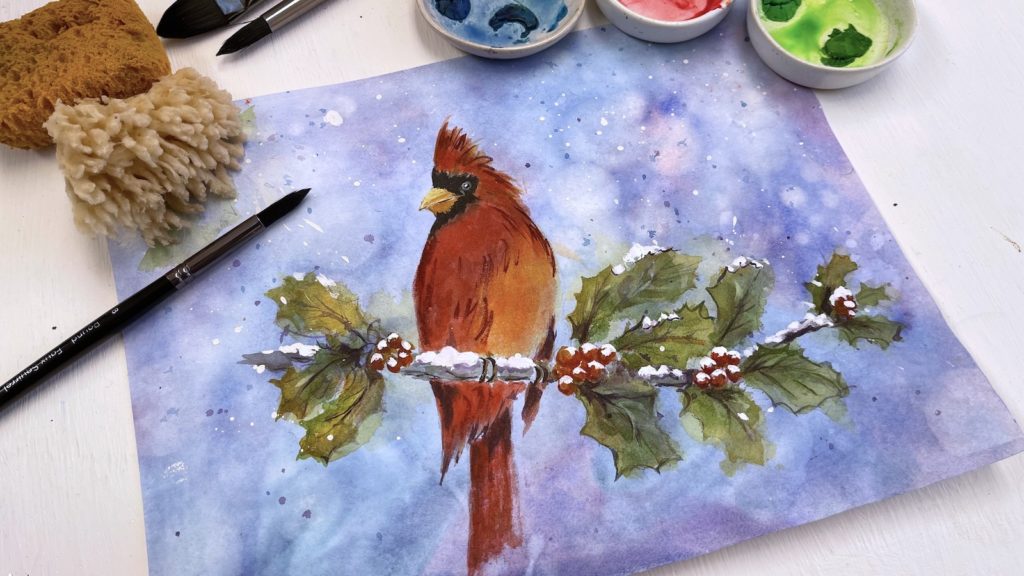 Materials
Paper
The paper I chose was a 140lb cold-pressed watercolor paper. Options are many, but I like to paint on Bockingford, Hahnemühle and Clairefontaine. Take a look at these manurfacturers by clicking on the name and following the links to their websites and then check out these Amazon buying options.
Paint
It goes without saying that any paint can be used to create this painting, but it might be helpful if I mention the colors I used, and which you might like to use too.
Any typical watercolor set of 24 half-pans will contain the following colors which I used. You will also find them in a Japanese set such as Kuretake 24 or 48, as well as in Paul Rubens tins.
I like to use tubes myself. These ones are available from Jacksons in the UK. They ship worldwide for a minimal shipping fee and offer large discounts on your standard prices.
Quinacridone gold – https://tinyurl.com/2b53nta5
Cadmium Red https://tinyurl.com/xtvupcu8
Cobalt Blue – https://tinyurl.com/hrbmjtt8
Permanent Rose – https://tinyurl.com/bnkz7xmk
Pthalo Blue – https://tinyurl.com/8h56s66f
White Gouache – https://tinyurl.com/4pyt2cjh
Sap Green https://tinyurl.com/33wzvdyu
Burnt Umber https://tinyurl.com/aafmemua (or black)
Burnt Sienna https://tinyurl.com/yjptnnct
Ultramarine Blue https://tinyurl.com/mnazrrex
Alizarin Crimson https://tinyurl.com/2mfwv76u
Indigo https://tinyurl.com/4zk7eter
Sepia https://tinyurl.com/9ssyn98
Raw Sienna https://tinyurl.com/6bczkzxf
Paynes Grey https://tinyurl.com/tzwrr7fv
Brushes
You need several brushes for this painting, and a good solution is to purchase the very reasonably priced and good quality set from ZenArt. Take a look at them here – it's a very good starter set.
Other materials
I like to mix my paints in little ceramic dishes. You'll see a link here. Another option is a ceramic palette to mix on. Failing all else, a white plate or a plastic dish will work.
Method
First of all I stretched the paper I was going to use. You can see a video on how to do that here:
Next I prepared a wet in wet blue background, using several different blues. This is all described in the video.
Once that was dry I did the Bokeh process on the background. As well as the information in the Cardinal video, there's a video which focuses on that here:
Next I transferred the sketch to the background. You can download the sketch here for free.
To follow the whole process, watch the video here!
I hope you enjoy painting this stunning red cardinal and that he graces your hearth and home this Christmas the same way my painting will be doing in my family room!