Grab yourself a few minutes of me-time and paint this meditative rose watercolor, then turn them into a quick last minute gift for the book-lover in your life! Using one sheet of paper, a waterproof pen and the colors which are sitting on your palette you can easily create this pretty bookmark in just a few minutes. Let's get going!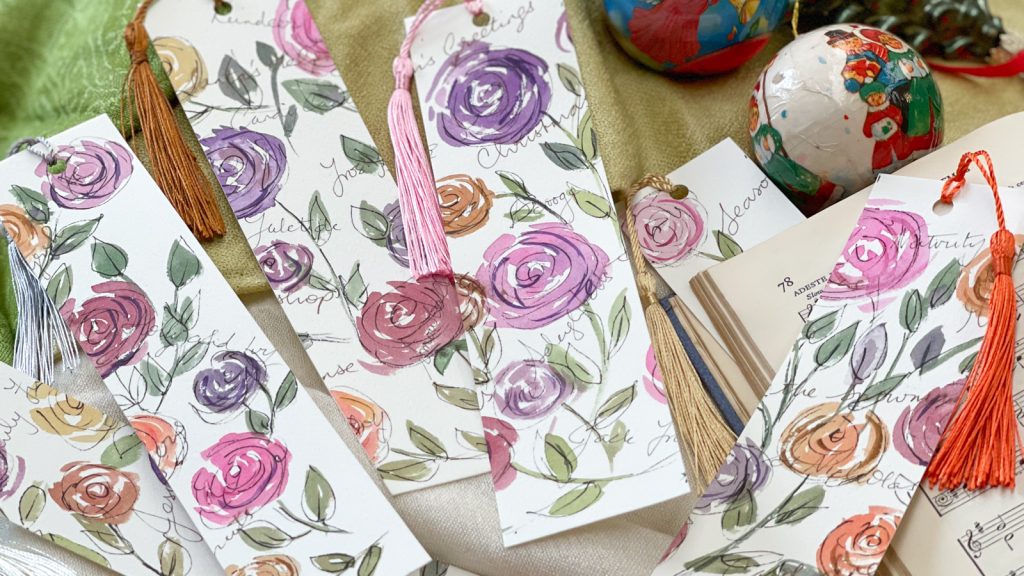 For this Meditative Christmas Bookmarks Tutorial I used the following materials:
Preparing to paint the Bookmarks
I removed a page from my Etchr sketchbook to paint these bookmarks. Although I have other watercolor paper I'm aware that some people don't, and so I wanted to indicate that it was possible to take a sheet or two out of your sketchbook with no harm done! Just take them from the centre of one of the stitched sections (pull right out) and you are good to go with no harm done to your book!
I like the Etchr paper for this kind of graphic work. It is good for ink and watercolor and I find it quite economical and responsive to my work. Sometimes you just don't need to shell out for Arches or Fabriano paper! Bookmarks are one of those times.
I chose a palette of pinks and mauves, which included Permanent Rose, WInsor Violet, Quinacridone Gold, Sap Green and Alizarin Crimson. With these few colors I can mix (and so can you!) an almost infinite variety (certainly enough for a set of bookmarks!) of pinks and greens, ranging from pure pink to brown, and pale sage to what I call navy green (the green equivalent of navy blue!)
If you are still looking for a reliable set of beginners watercolors which won't break the bank, OR disappoint you, go for the Cotman colors by Winsor and Newton. You can trust this old company not to let you down. The colors are reliable, permanent and predictable, and will produce all the work I do for my videos with no problems.
As for brushes, I like the Zenart beginners' set which I have linked above and you can also buy them direct from Zenart here:
I also always use my Drawell brushes. Scroll down for more information about them.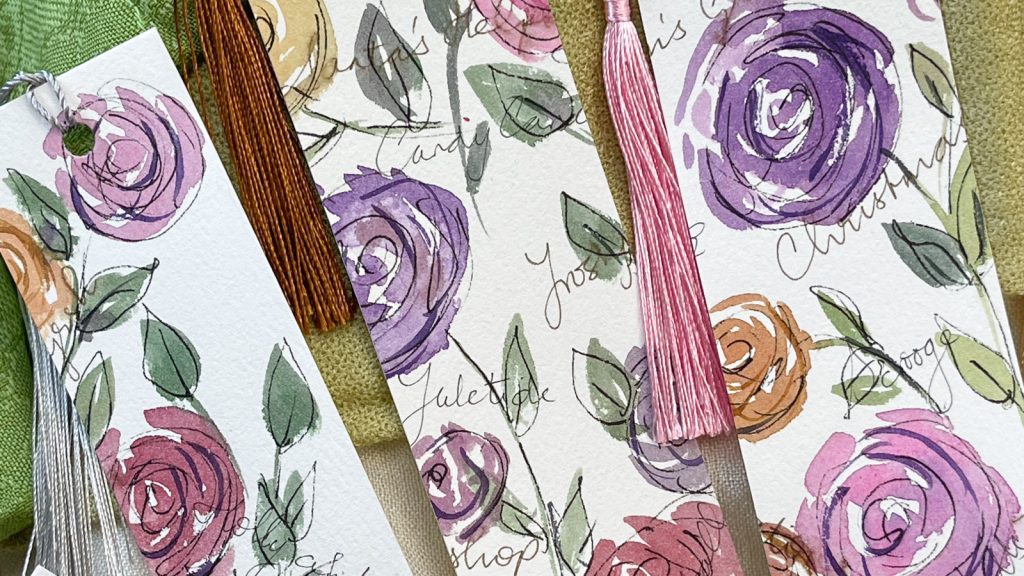 Painting the Bookmarks
Ideally I would put on some relaxing music to listen to while I paint. I have a favorite guitarist from England who I like to listen to when I'm in the mood for a meditative session – his name is David Lindsay and you can find him here on Amazon. He's not tremendously well known, but I really love his music.
I'd printed out off the internet a list of words related to Christmas to act as my inspiration for this design. I read through them, then I picked up a waterproof pen (one of my Pitt Artists by Faber Castell which won't run when I paint over it) and I randomly wrote a selection of the words all over the paper, just in my normal handwriting. I'm no calligrapher and I won't even pretend, but somehow ordinary handwriting is just as charming, so I tell myself!
Once I had enough words on the paper I began to paint the flowers. I used a No. 7 round nylon brush by Drawell, my favourite Japanese brush manufacturer. You can visit them here and order direct from them if you're interested in a good value handmade brush at a very reasonable price direct from the manufacturer.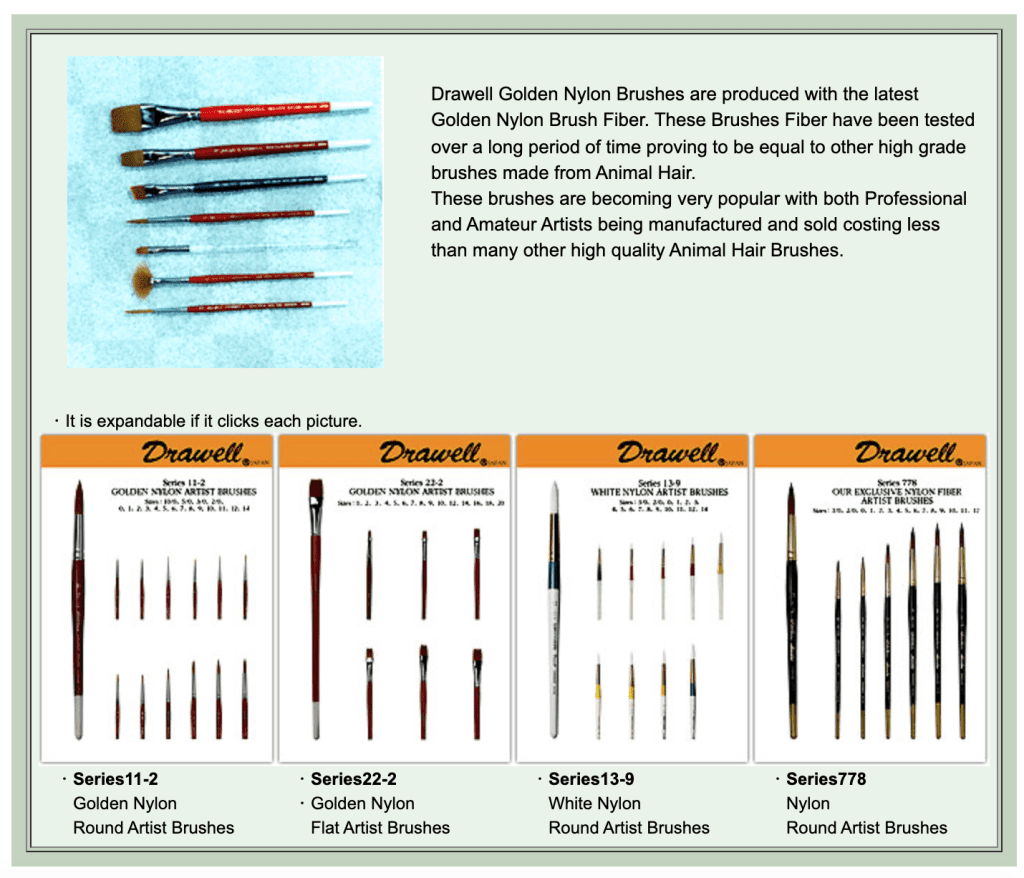 I spaced the blooms out randomly all over the paper, mixing a different shade of pink or mauve for each one until I had a good coverage.
Then I painted in the leaves and stems, using a variety of greens mixed from Sap Green (or you could use any premixed green for this) combined with the pinks and mauves (not all together) to give knocked-back greens for my foliage.
Once this was finished and dry I grabbed the Pitt pen again and added pen and ink to the flowers and their leaves, deliberately not staying within the shapes I'd painted in This gives the design a relaxed more multidimensional appearance.
And finally I took my Zen Art rigger and drew in some darker shades of each flower just to emphasise the shape of the petals.
Making the Bookmarks
Once the whole painting was dry I simply cut it into eight strips, each about 5cm (2 inches) wide and the height of the paper, which is about 21cm (8 inches), punched a hole at the top and threaded a silk tassel through. You could use embroidery thread or wool or even string as a decoration for the bookmark.
And there we are – a cute gift or just for you, and an hour or so of creative relaxation. How good is that!