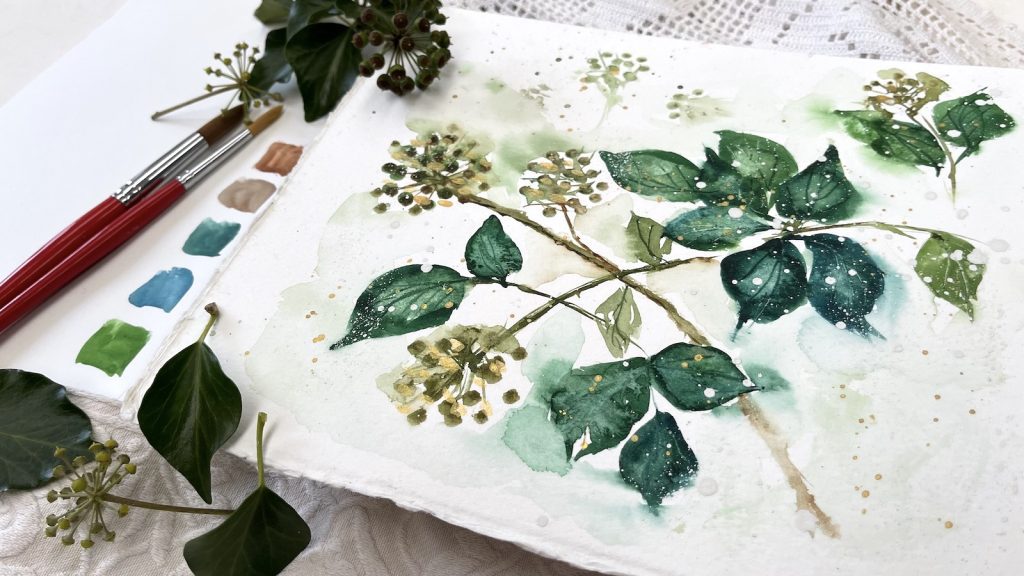 I use a scalpel, cotton buds and two colors to create this stunning loose watercolor painting of seasonal festive greenery for your Christmas decor. Discover my tips and tricks for creating quick and easy striking decor for your home. Join me now!
Quick Easy Ivy Leaf Tutorial in Real Time 
Try some of my methods if you want to learn to paint genuine loose, creative watercolor art. If you long to leave behind the tight, formulaic methods you see so often, you need to move to larger brushes, use paint more generously, invest in good paper and relax into the mood of creativity with no set idea of what you are going to end up creating.
We are all unique human beings, and the purpose of art is not to reproduce someone else's work, nor to render a photographic version of reality. It does take courage, though, to branch out on your own, so that's where I come in.
In my videos I guide you gently towards a freer, looser way of painting which will bring you great pleasure and joy, as well as the odd moment of surprise or frustration.
So why not come on the journey with me? All my videos on youtube are free for you to watch as often as you want, and are all real time with full explanations of everything I am doing, plus information about my materials and equipment too. I always put links on here to supplies you can get from Amazon as well as other things of interest.
This page features a quick and easy exploration of the color green as we paint Christmas Greenery and Berries in Loose Watercolor.
So let's get started!
Paint Christmas Greenery and Berries in Loose Watercolor