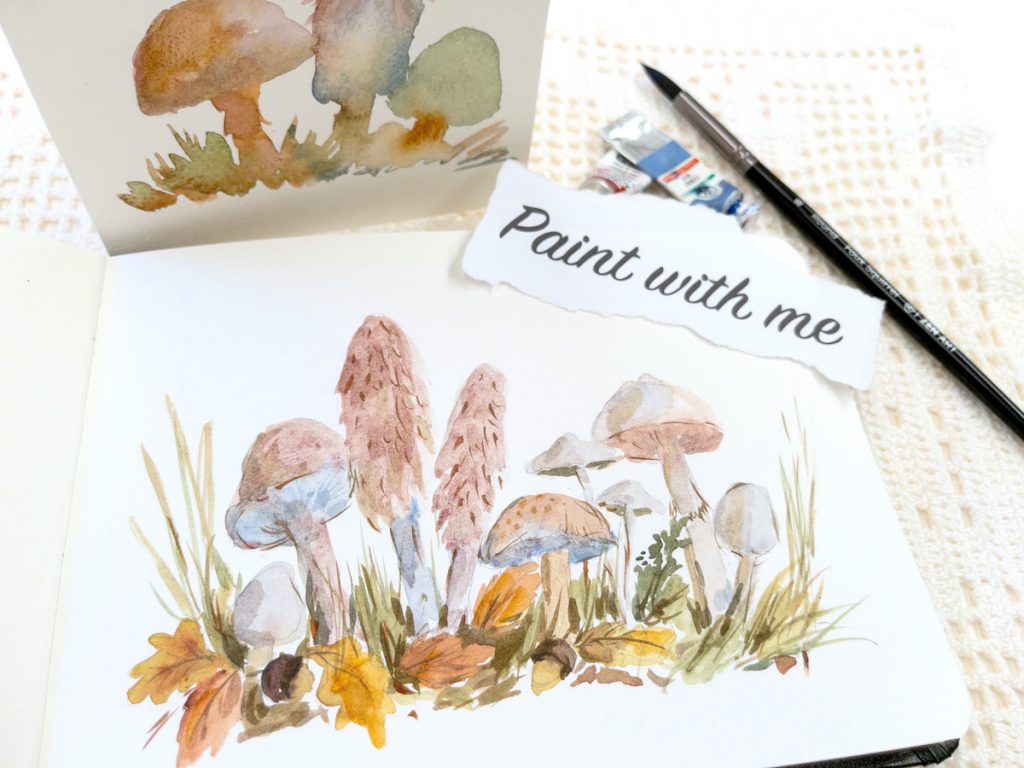 This beautiful mushroom painting is beginner-friendly, and easy to make bigger or smaller depending on whether you want a painting or a greetings card! It might look a little complicated but I show you how to draw a mushroom and then we will work through the painting step by step to make the whole thing easy to complete.
So choose yourself a nice sheet of paper, pick out your favorite brushes and lay out your chosen colors ready to start!
Watch the video on YouTube here!!
Materials Needed to Paint the Mushrooms
I used a sheet from my Viviva sketchbook but any paper will do as long as it is intended for watercolor painting. This means ideally about 140lb paper in a pad or block, or if you have lighter weight paper it's best to stretch it first. Then, no matter how thin the paper, you can still paint on it without it buckling. I often use 90lb paper stretched with no problems.
The brushes I used were a No. 5 round and a No. 3 rigger. I had on hand a 2B pencil and an eraser, a jar of clean water and a piece of old towel to dry my brush.
I used Potters Pink, Cobalt Blue, Quinacridone Gold and Burnt Sienna, all by Schmincke.
See the links below for materials. I only recommend products I have used and can vouch for.
If you want to purchase the Drawell brushes you will need to contact the manufacturer in Japan direct. They will happily send you a price list and then the product with no problems. They don't have outlets in Europe or the US at this time.
Shop My Supplies
How to Paint Watercolor Mushrooms in a Woodland Setting