Capturing the dramatic colors of fall in watercolor is a challenge and often watercolor paintings become cluttered and lose focus because we try to incorporate too much color, too many trees, just too much. So this is a way of depicting a single tree beside a lake, conveying the atmosphere of autumn without too much compositional stress. I'm using a painting by Zoltan Szabo as my inspiration for this little study. He was a painter who had mastered the art of simplifying the elements of a landscape. You might be interested in one of his books, Watercolor Trees, Mountains and Rocks.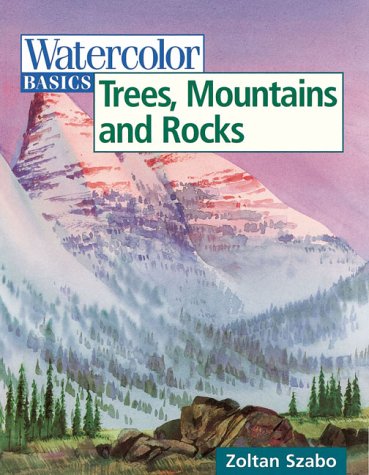 This video teaches you how to use several techniques useful when doing landscapes. We start off with a simple wash sky, then add wet in wet trees, a dry brush tree and calligraphic strokes for the grassy bank in the foreground.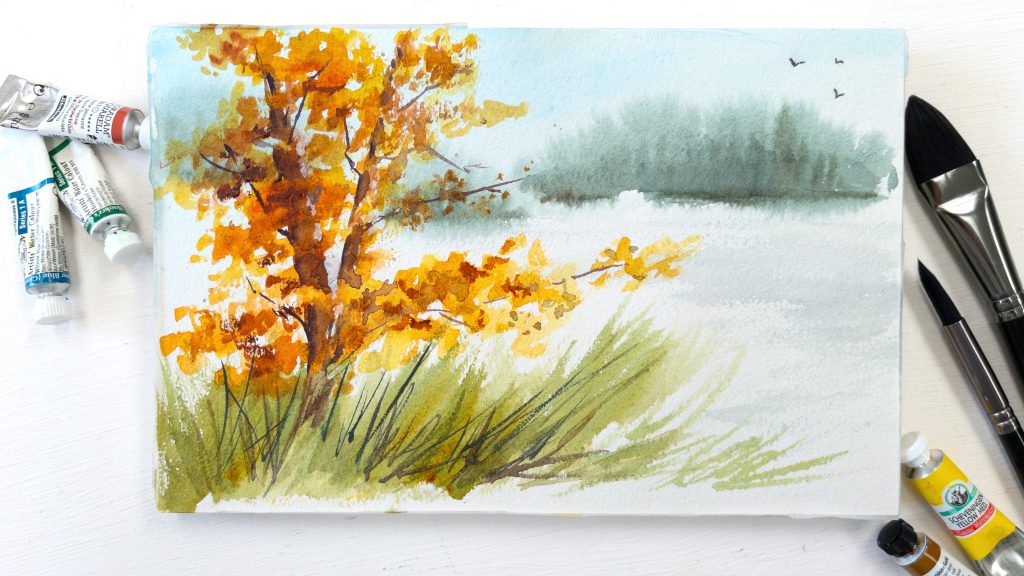 Materials for the Autumn Lakeside Landscape for Fall
For this little study I was working on a small piece of Baonhong cold press cotton watercolor paper – size approximately 6 x 9 inches. I didn't need to stretch it as it came in a glued block format, with all the sheets held firmly together by glue all around the outside edge, with the exception of one short length where you can insert a paper knife to separate the sheet when you have finished painting. These blocks are handy if you want to avoid having to stretch your paper before you paint, but they are more expensive of course than loose sheets of paper. The most economical way of buying paper is to buy full sheets (usually around 22 x 30 inches in size) and tear or cut them to the most convenient size for your style of painting.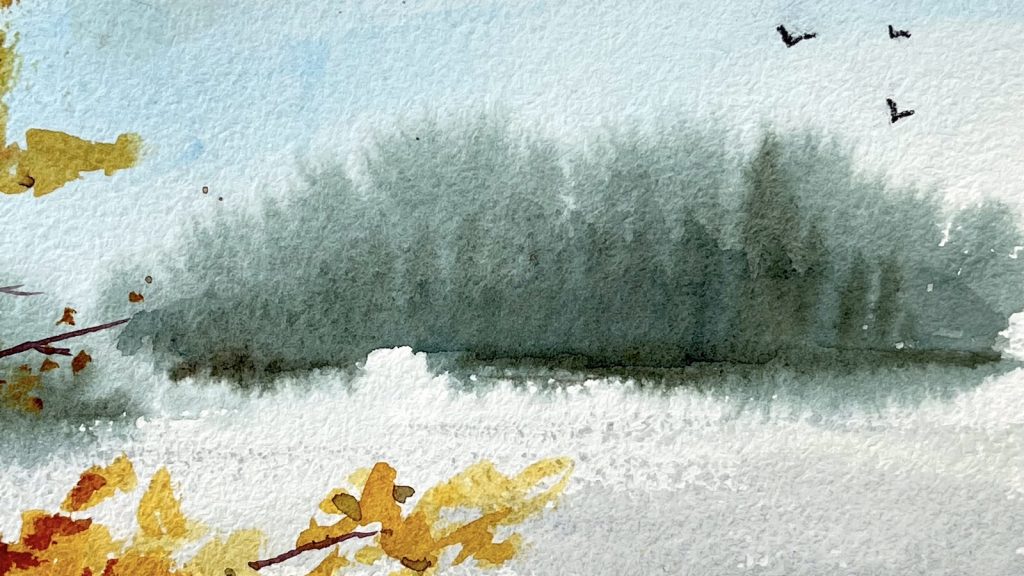 Equipment
Lots of people have asked about the small dishes I use for my paints. The exact ones I use aren't available but here is a link to something similar and inexpensive available via amazon.
I also use a large white tray for mixing paints, like this one:
Paints
I used six colors for this painting of an Autumn Lakeside Landscape for Fall, all different brands. There is no problem with mixing different brands of watercolor paint as they are all compatible with each other. Even QOR (which has a different binder) and Sennelier and M Graham (which include honey) will mix with the other more conventional brands such as Winsor and Newton and Old Holland.
The paints I used were Quinacridone Gold (Daniel Smith), Cadmium Yellow (Winsor and Newton), Burnt Sienna (Old Holland), Dioxazine Violet (Schmincke) and Hookers Green (Daler Rowney).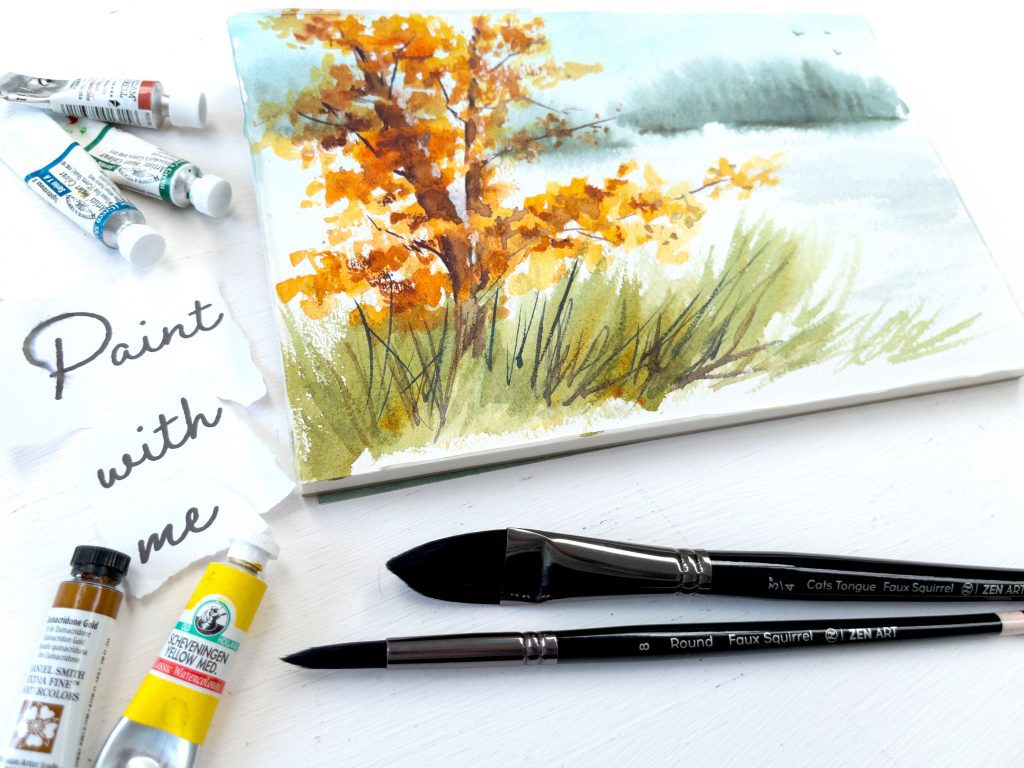 I used my ZenArt Black Tulip brush set for this painting, especially using the cats tongue and size 8 round. I also used the rigger which comes in the set. This is a very useful little set of brushes if you are just starting out in watercolor and want to give yourself a good chance of success. You need decent brushes which don't break the bank and these fit the bill.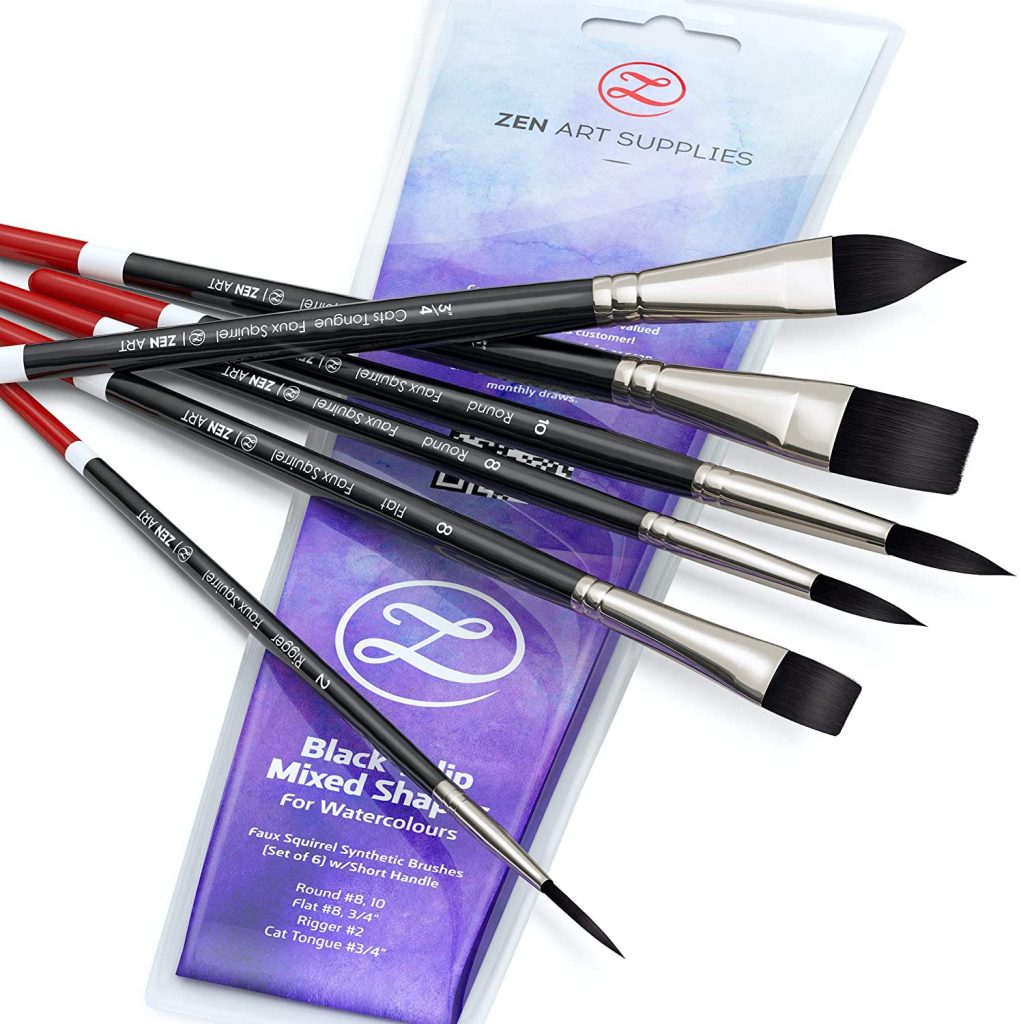 So here's the video for you to watch and see how I did this painting of an Autumn Lakeside Landscape for Fall. Enjoy!