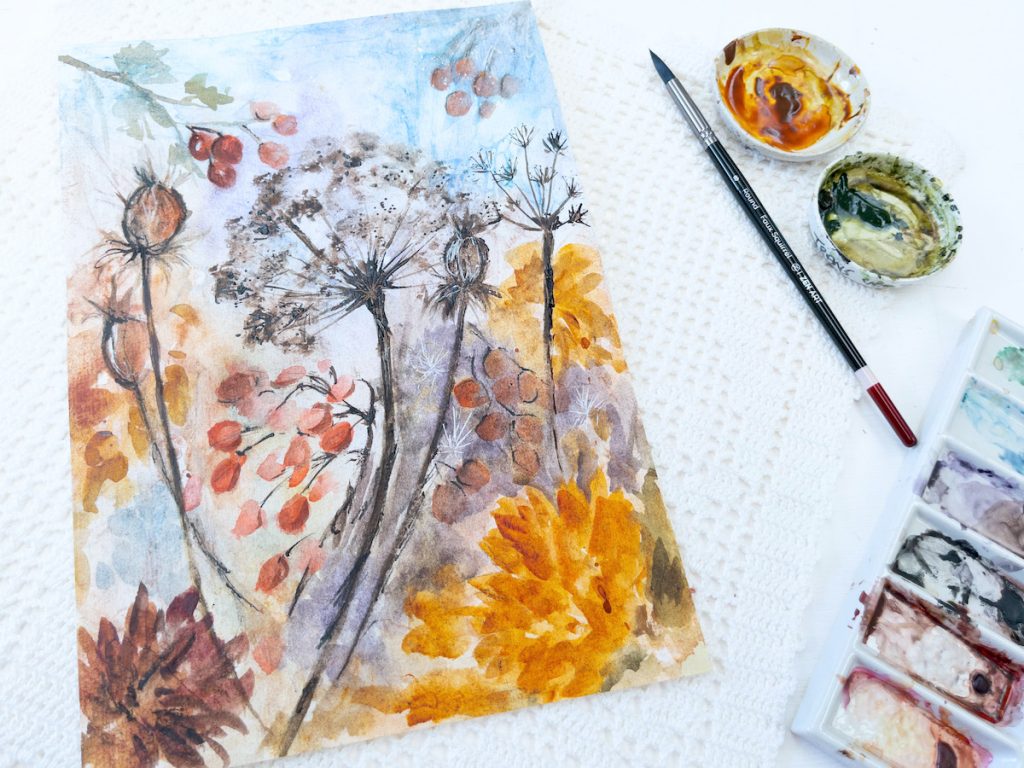 Today I'm exploring painting Free-Form Watercolor Autumn Flowers, Seeds and Berries in a loose, semi-abstract way to capture the atmosphere of fall. Autumn is the season which brings not only mists and mellow fruitfulness, but also a lot of mixed feelings for many of us. By October, summer has faded and is turning into winter again, but by way of compensation the autumn colours are often more spectacular than anything summer can offer. Lots of inspiration for us painters out there in the natural world in glorious fall!
My Method
I started with a completely random, wet-in-wet background, using four colours and letting them blend in their own way, and then I added salt and clingfilm to give added texture. I prepared several backgrounds at the same time, and I use them when the mood takes me and when they spark some kind of creative impulse in me.
Free-Form Watercolor Autumn Flowers, Seeds and Berries are an ideal subject for this time of year and one of my backgrounds was crying out to be covered in seed heads and berries.
Free-Form Watercolor Autumn Flowers, Seeds and Berries – watch the video here!
Shop my Materials
Daniel Smith Primatek set of tubes. Made from finely ground rocks with mineral characteristics, these add interest to any painting.
The Black Tulip set is ideal for beginners as it has all the brushes you need to get started and is good value for money.
Sennelier Walnut Ink. This is also available in four other shades of brown and is great for drawing with a dip pen.
This is a very good paper to learn watercolor on. It is cellulose but has an extremely forgiving surface ideal for all methods of watercolor painting.
People are always asking about the little dishes I use for my paints. Here is the nearest I've been able to source online. There are also plastic ones.
You might not want 10 of these but you can buy them individually at your local art store for a few dollars and they are invaluable for finishing off!