I learnt to paint with the renowned and now late Ron Ranson many years ago. He was a watercolour iconoclast, meaning he had no time for rules and myths about how watercolor should be painted. To achieve his loose style, he advocated using a big flat goat hair brush from Japan, which you'd think at first glance would be more suitable for painting a wall than a work of art! But in his hands it wrought miracles and he devoted his life to teaching others how to use that tool.
I studied with him in person in 2004 and have always turned to his books for inspiration over the years, whenever I've felt blocked or stuck, or after a long period of drought in my painting world. He never fails to inspire.
In this Autumn Woodland Scene I pay homage to Ron and show you how to paint a loose, expressive and thoroughly enjoyable watercolour in less than 15 minutes.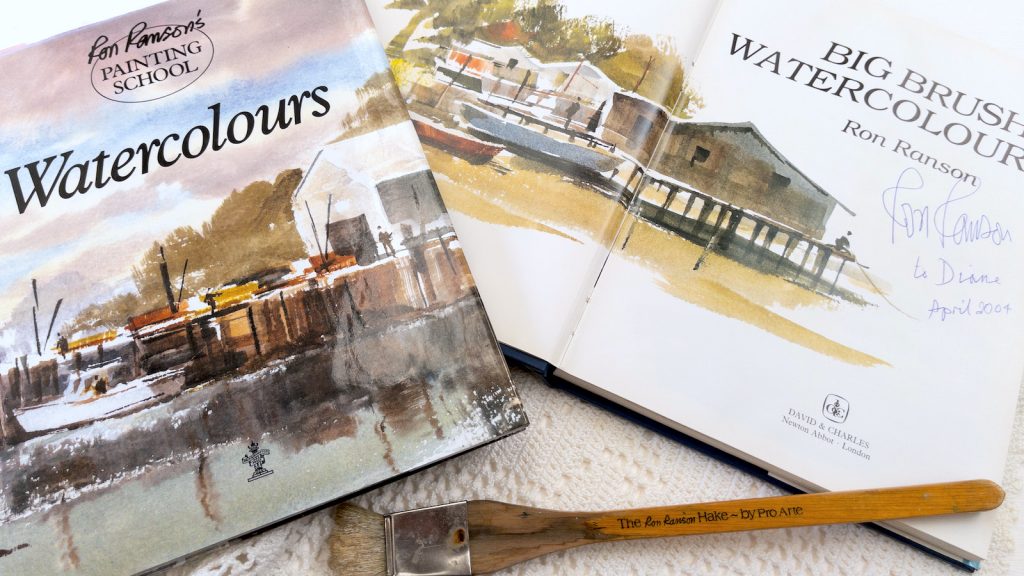 Shop my Materials
The genuine thing – a Ron Ranson Hake, designed by him as a modification of the original Japanese brush, you might have fun trying out this loose tool like I did!
This paper is excellent for practice work as well as "real" paintings. You won't be disappointed in the way it handles loose washes, dry brush, scraping out etc.
For this painting I only used the Black Tulip RIGGER, but if you don't have a Ron Ranson Hake you could use the flat brush in the set.
Shop my Paints
I only used five colours in this painting, and at a pinch could have managed with four. I can recommend Daniel Smith paints and they are available from Amazon. If you prefer you can buy from Jacksons in the UK (links on this page) and they will give you a 10% discount on your first order. Here they are with my thoughts and comments about their characters:
Burnt Sienna. This rich, burnt brown chestnut color is versatile and subtle. It makes gorgeous greys with cobalt blue and sings out in autumn leaves when paired with Quin Gold.
Quinacridone Gold. My essential color to replace all other yellows, it brings a rich, golden hue to landscapes and flower paintings. Irreplaceable in my palette.
Sepia. A very strong dark brown essential for putting in deep rich shadows in an autumn forest. A clean brown it does not muddy or grey your work.
Cobalt Blue. My favourite blue, as it mixes very well with Burnt Sienna to give pretty greys, and is itself an attractive shade of blue. Somewhat granulating it also produces interesting textures.
Olive Green. I much prefer this subtle shade of green as my pre-mixed green. I don't use a lot of greens, but I do like to modify Olive Green rather than starting from a blue and a yellow. Quinacridone Gold is a great mixer.
Burnt Umber. This is a good dark brown and an acceptable alternative to Sepia. You will almost certainly find it in a standard palette. Mixes well with Burnt Sienna and Quinacridone Gold to give various shades of brown.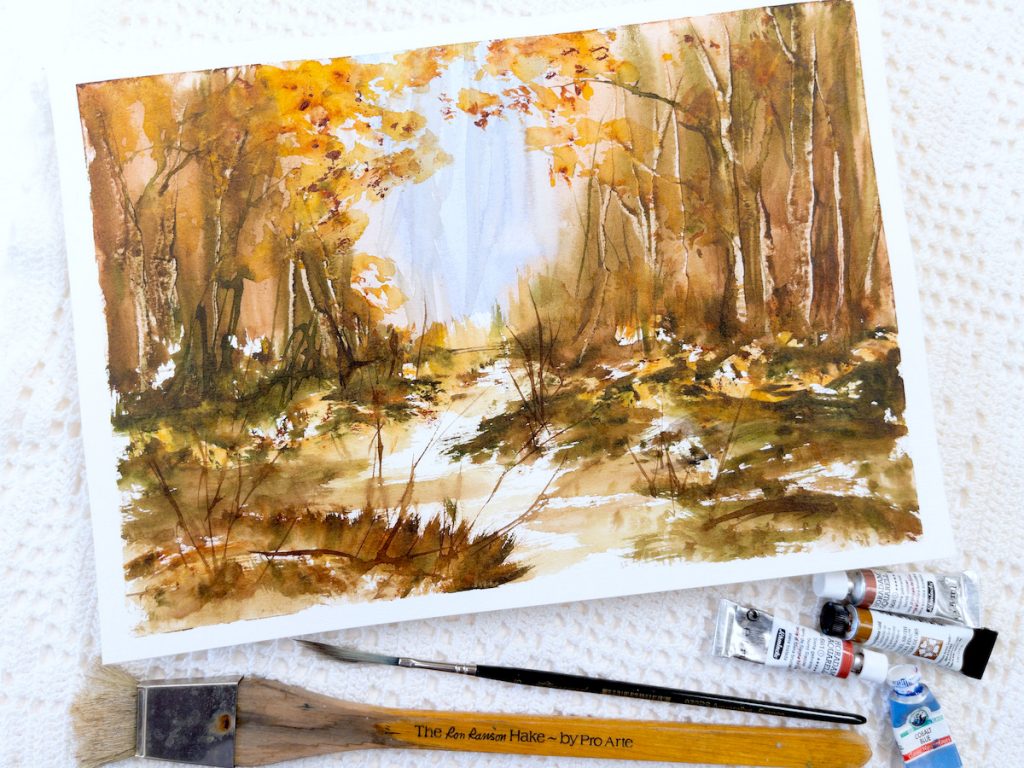 Now that we've got the materials together, join me as I paint this autumn woodland scene in big brush watercolour, Ron Ranson style!