Here's a traditional version of a contented partridge nestling in a pear tree just in time for Christmas!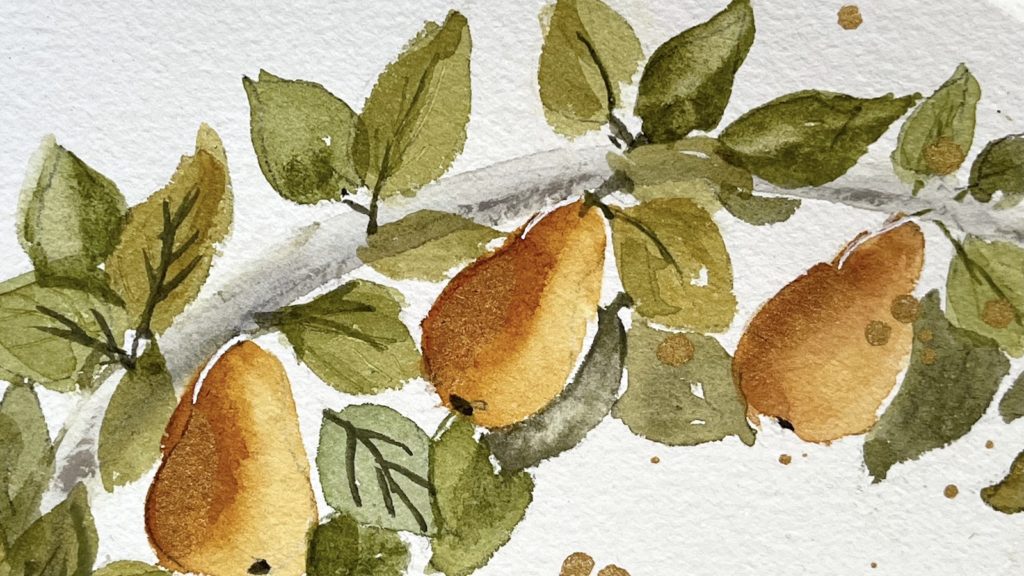 The sketch for this painting is available free to download here and full instructions are on the video which you can watch by clicking below:
Materials
Here are the materials I used to create this painting.
Paints
I only used 5 colors for this painting: Burnt Sienna, Cobalt Blue, Black, Quinacridone Gold, and Sap Green. With the exception of Quinacridone Gold, these colors are found in most paint sets. You could substitute any orange or yellow for the Quinacridone Gold, which is just a bright, warm yellow between yellow and orange.
I also used a little gold watercolor paint at the end. Any of these three collections of golds would be fine and will come in handy for many other paintings I have done on video for you.
Paper
I used a piece of 140lb Arches watercolor paper (cold pressed) for this painting, about 9 x 12 inches in size. You could use any paper, as long as it is cold pressed. Here are some suggestions in addition to the Arches, which won't break the bank and have good reviews:
Brushes
I used the ZenArt set of beginners watercolor brushes for this painting mainly. Here's a link plus a couple of other suggestions.
Other suggestions
If you'd like to see what I suggest for your painting supplies, take a look here where all my recommendations are grouped into pages for paint, paper, brushes etc and easy to find.