Inspired by the paintings I did of the little tree angels I've had for half a century, when Mr and Mrs Snowman came out to play on top of the Christmas cake this year I couldn't resist borrowing them for a few minutes to paint their portraits too!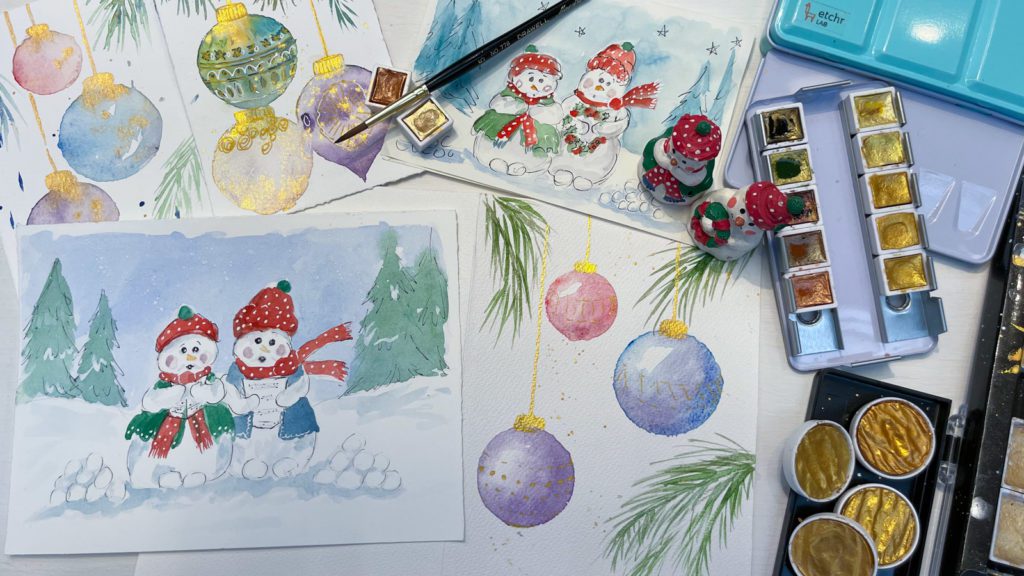 The sketch for our snowpeople is available to download for free from here.
Materials
You really don't need anything unusual for this painting, although a little bit of white gouache or Dr Martin's white paint would be handy for snow. I also used gold for the baubles, but again, this isn't a deal breaker and you can easily just use whatever colors you have handy.
Paper
My paper was a greetings card from Strathmore for the baubles, and a piece of hot-pressed 140lb watercolor paper for the snowpeople.
Brushes and Pens
I used a round synthetic brush in size 5 and 9, plus a rigger for the pine needles. All of these are in the Zen Art set shown below. I also used a waterproof fineliner size 0.3mm and a white gel pen.
Paints
I used Winsor and Newton Professional or Cotman for the paintings. I was using my larger butcher's tray palette which is my preferred way of painting.
I also used a little bit of gold paint from my Etchr set, link below, but you could just as easily use the Kuretake Starry Colors or the Coliri Pearl Colors.