Today we're painting two easy and quick Christmas designs to use as greetings cards, or to adapt for place cards or any other seasonal stationery.
First, a bright and cheerful seasonal message with a simple design of five baubles, decorated with a snowflake pattern done in gel pen. You can get the sketch for this design as a free download here.
Second, a quirky bird painting of the Three Bird Kings chatting about setting off to Bethlehem! The sketch for the Three Wise Birds is here.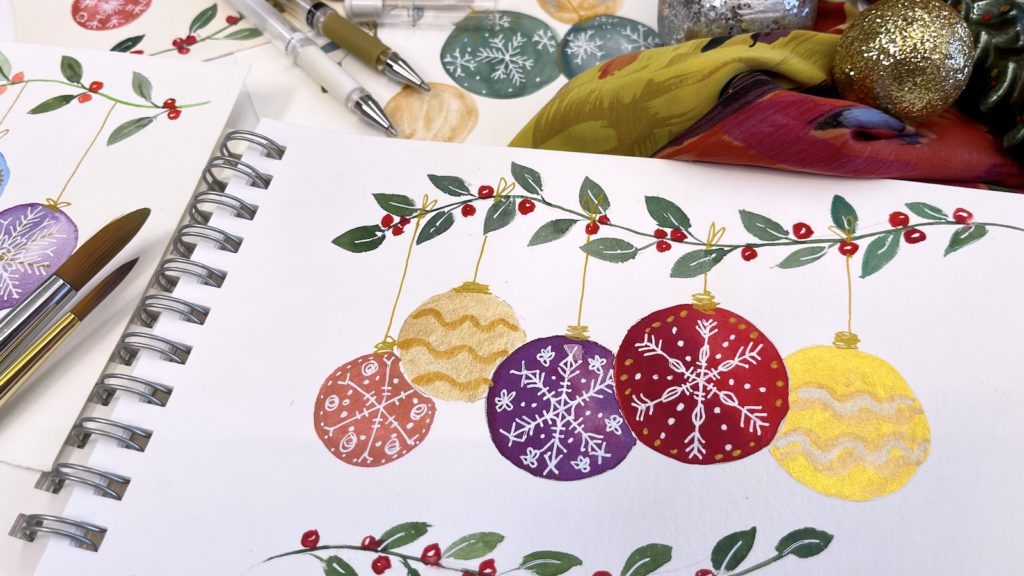 For the these two paintings I used my Kuretake Gansai Tambi watercolor set, which has loads of colors to choose from, avoiding the need to mix shades if you aren't yet confident with color mixing. It's now on offer with a huge discount so it's the right time to buy if you are thinking of investing in a set which will give you freedom in your painting journey.
I used pages in my Hahnemühle travel sketchbook for these paintings. I like this paper because it seems to let the color of the paint show up really well, in a bright and vibrant way, as well as allowing you to correct mistakes easily.
I also needed a white pen, so I used my Signo white gel pen, which is also available in a set of three including silver and gold, and is very useful for this time of year.
Materials
Here are a few more products you might be interested in for your painting journey.
Paper
Sets of Paints
Here are a few choices for watercolor that I paints which recommend.
The big 48 pan Kuretake set is great for studio use, and the smaller plastic tin comes with a waterbrush and a pen and is perfect for travel, or for the smaller kitchen table studio. And I've just discovered another Japanese manufacturer of similar paints, Mozart, which looks to be very good too.
Brushes
The brushes I used were a medium round, size 9, and a larger one, size 13 or so, for the background and larger parts of the painting. Depending on the size you design your painting, you might need a bigger or smaller brush.
Here are a few good options for brushes:
More choices of paper
Here are six more good choices for paper when you paint your picture.
And here are some more options for paints.