How about this pretty painting of two fine hens to use as the jumping off point for greetings cards? Ideal for a friend who loves or keeps chickens, and you can personalise to include all the features of the chickens of the person who is going to be thrilled to receive it!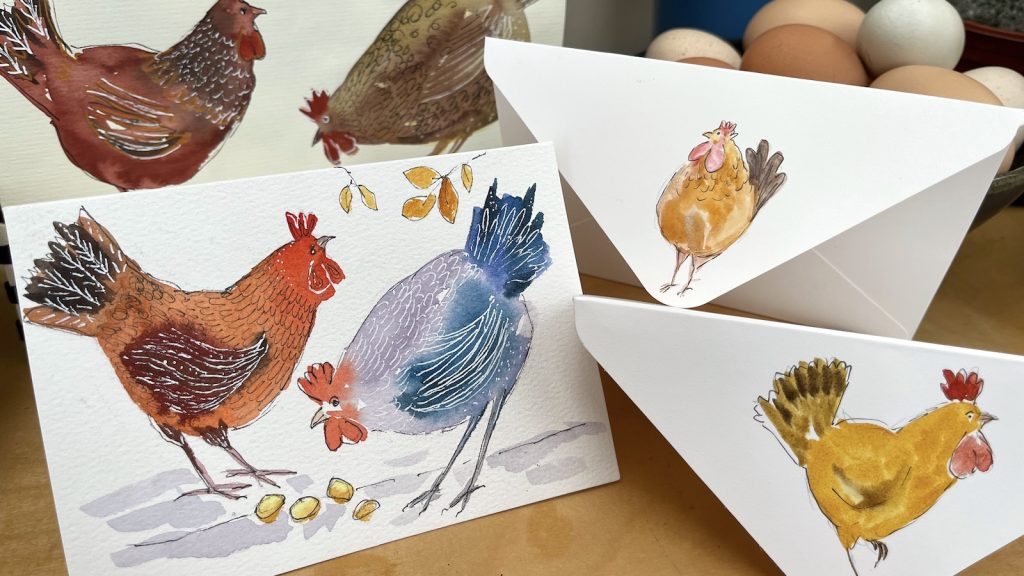 The great thing about this little painting is that it is so quick and easy to do – and super inexpensive too! Ready made cards are available to buy everywhere of course but who doesn't love to give and receive homemade cards which are so much more meaningful than a bought one.
Materials
You can either cut a piece of thick watercolor paper to the size you want (make sure you have an envelope the right size to take the finished card!) or buy ready cut cards from Strathmore or another supplier perhaps online. Here are a couple of options:
You will need a set of paints, but the type doesn't matter. The colors I used are described in the video, but you can use any color you like for whimsical chickens. It's just your imagination that counts!
Here are a couple of recommendations for really good quality paints at a reasonable price, if you don't already have a good set of watercolors.
And finally you need some round watercolor brushes. Here are a couple of suggestions.
Watch the video of Two Whimsical Chickens
And here are three options for inexpensive paints as a beginner ideal for you to paint: