Everyone loves a chickadee, so here are six of them to paint! Perched in a row on a branch of autumnal colored oak and acorns, they are a cute family group just thinking about settling down for the night.
Materials used in Painting Chickadees and Oak Leaves in Watercolor
I used a sheet of Fabriano Artistico for the painting, and a Kuretake waterbrush to do the actual painting. The colors I used were Burnt Sienna, Quinacridone Gold, Sepia and Olive Green for the leaves and twigs, and Potters Pink, Naples Yellow, Neutral Tint and Opaque White for the birds. I suggest Daniel Smith watercolors if you are looking for artists quality, or Grumbacher Academy if you are looking for student quality. This is a really nice set of Daniel Smith colors. They are endorsed by Jean Haines. The colors are different from what I used, but would achieve the same or similar results. Alternatively you can buy the tubes individually if you want the same colors I used. But take a look at the set first.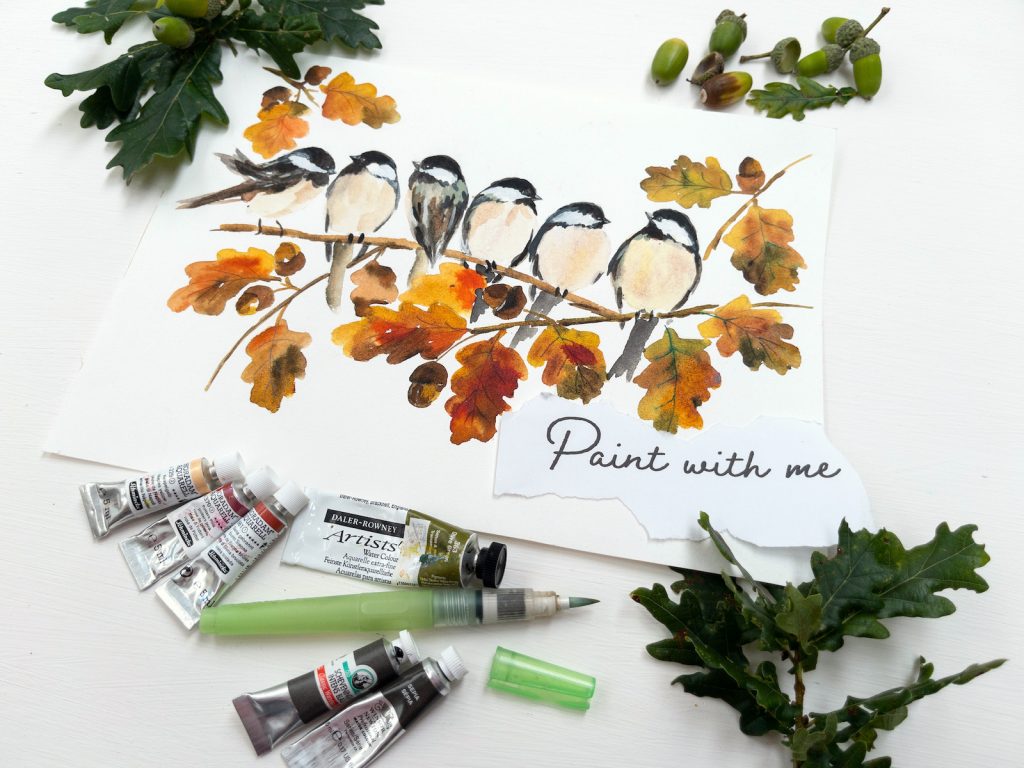 Once you have your materials for Painting Chickadees and Oak Leaves in Watercolor, if you want to find out more about how to paint this family of chickadees, just watch the video below on YouTube. Click on the image to go straight there. In a real-time video I show you exactly how I painted these birds, and share many of my tips and advice learnt over a lifetime of painting. You can join the channel membership by taking out a small subscription to the channel, or simply subscribe and turn notifications on to receive a heads-up whenever a new video is released, which is 4 times a week.
We also have free downloads of all the paintings we have videos of on the page for downloads here on our website. Plus of course you can buy high quality prints of many of my works. As well, we are developing a range of mugs with Printful which you can order here.