Painting a Mandala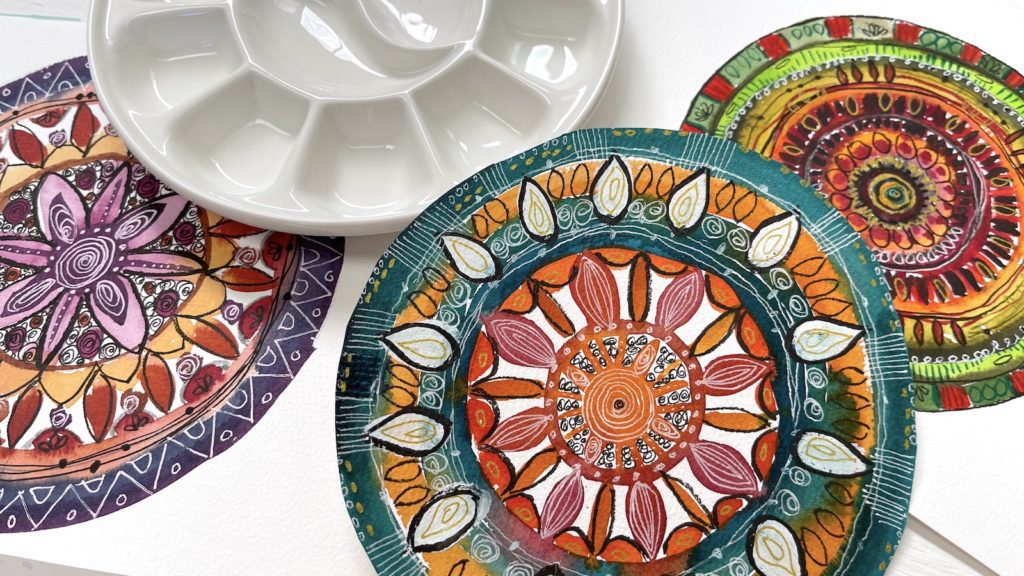 Today I thought it would be nice to do a mandala in watercolor and to talk a bit about what they are and why they bring so much into our lives, if we let them.
Mandalas are traditional designs based on religious motifs which originate from the Buddhist and Hindu traditions and have been used in art for about two thousand years. They became known in the west not only via the route of Indian art – in things like paintings, carpets, statues and so on where the mandala featured – but also through the work of Jung, the psychoanalytic genius who linked the ideas of psychological archetypes to the structure of the mandala.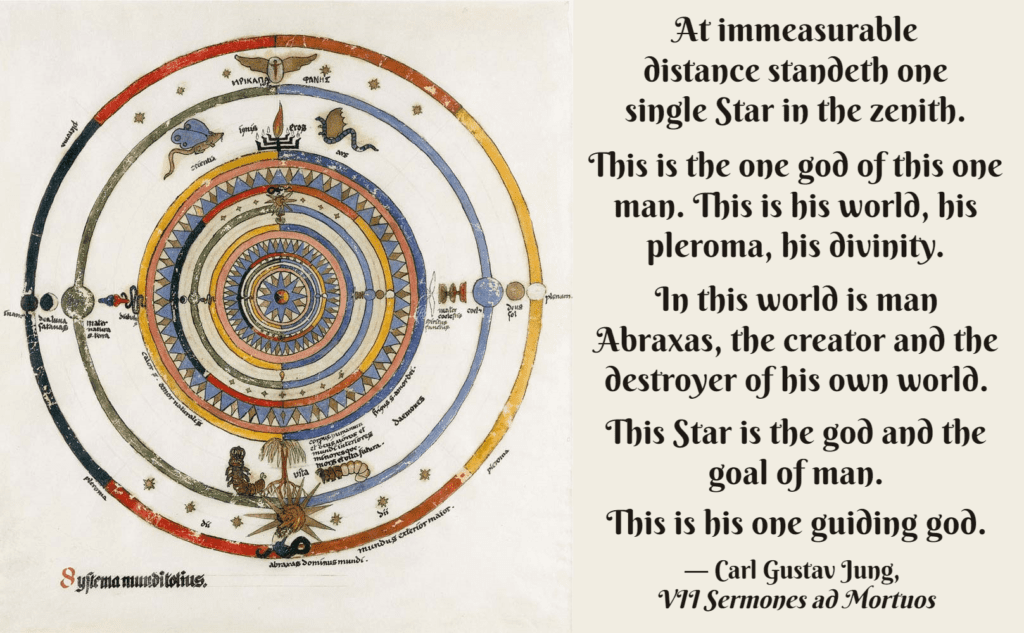 He made a big impact on the way the world is seen, and the upshot of which is that we now know that creating a mandala can be a very therapeutic activity, and even life changing. It can illuminate some of the darkest recesses of our souls, and bring things out into the open. The immediate result of painting and or drawing a mandala is to help you to find an oasis of peace and calm in your daily life.
I've decided that I'm going to try to create at least one mini mandala each day. Some of these will become tutorials, others will appear online in various ways. Creating a mandala is a perfect way to combine watercolor with line work and doodling. The level of stress involved in making a mandala doesn't need to be high at all, if you just let the water do the work.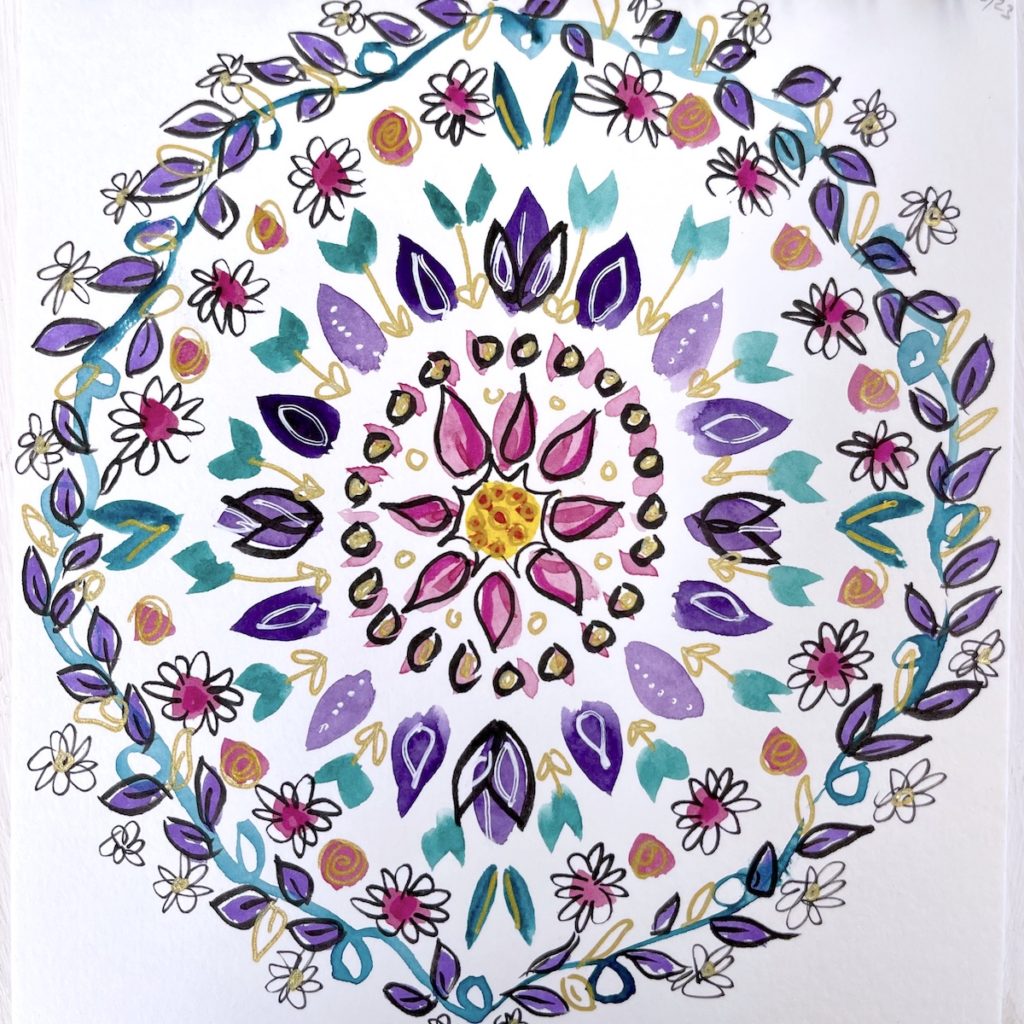 The ones we create will be modern mandalas, and not necessarily fitting into the traditional boxes. We've already explored the concepts of circles on top of which you can doodle interesting designs. We have a video here showing this technique, and you might want to have a go at this loose version first before moving into mandalas as such.
This video doesn't use any structure for the circles, and they are all done freehand, without a compass or any kind of straight line.
Materials Needed
sheet of watercolor paper about 7 x 10 inches or thereabouts. I used Meeden 100% cotton, available here.
Your favourite watercolor paints. I used Kuretake but an inexpensive but great option from Meeden is available here.
Your favourite brush – I suggest a round synthetic nylon in size 8 or above. Princeton Aqua Elite are my recommendation, and you can find the one I use here on Amazon.com.
Fineliners and or brush pens or markers of your choice. I use Tombow Fudenosuke pens which you can find on Amazon here
A compass or a couple of different sized plates or saucers to draw round. You can find a compass like mine here on Amazon.
An HB (#2) pencil
How to Start
For a more mandala-like effect we will start with a drawn circle. You can draw round objects of different diameters to achieve this result, but if you have a compass somewhere in the house, it's easier that way, or you can join a pin and a pencil with a piece of string and draw rings that way.
So start by finding the centre of your piece of paper which ideally will be square shaped if you are going to do just one mandala on the page. But you can also trim it later if you want. Then draw a circle the size of the whole mandala, and then make two or three or more concentric smaller circles inside the outer one, just to give you guidelines.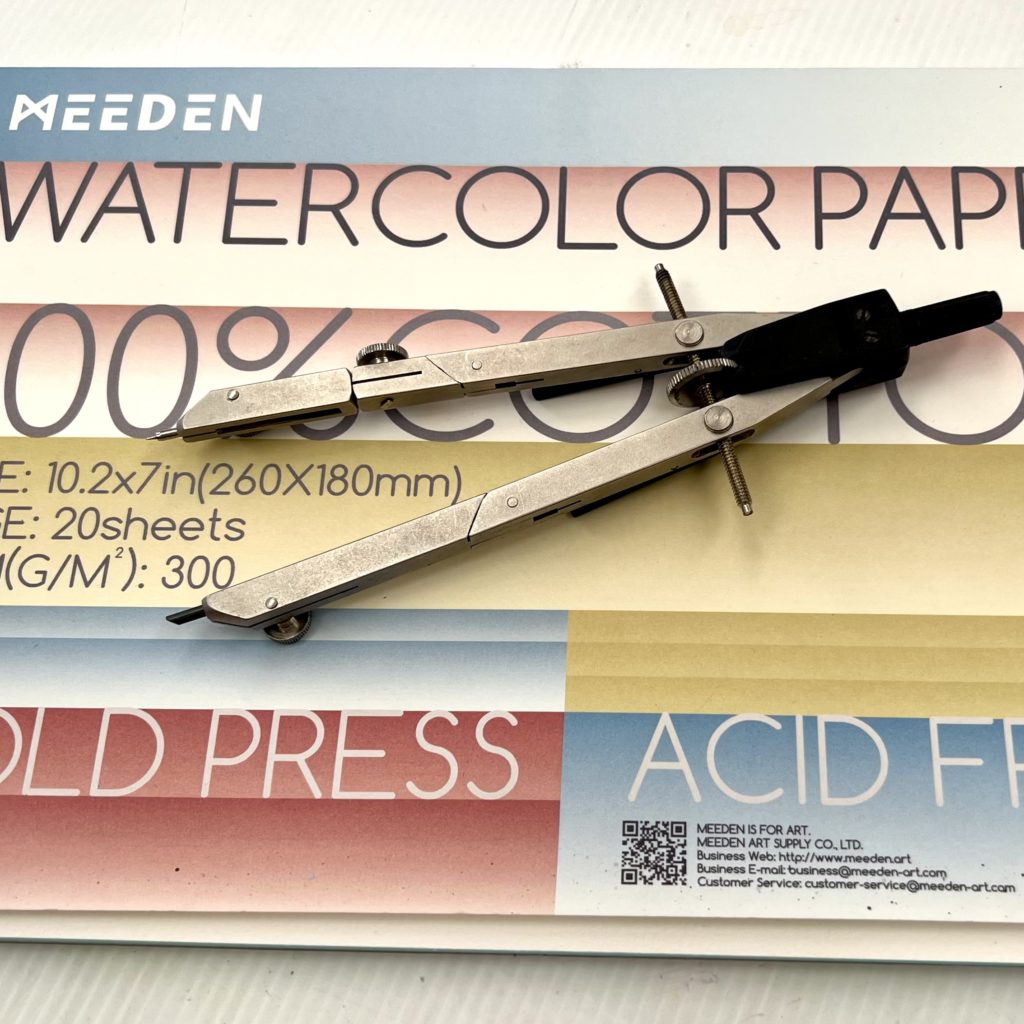 Then take a straight edge and draw straight lines at 90 deg to each other through the centre, dividing the circle into four segments. You can repeat this with another two lines to divide the four into eight. (See photos).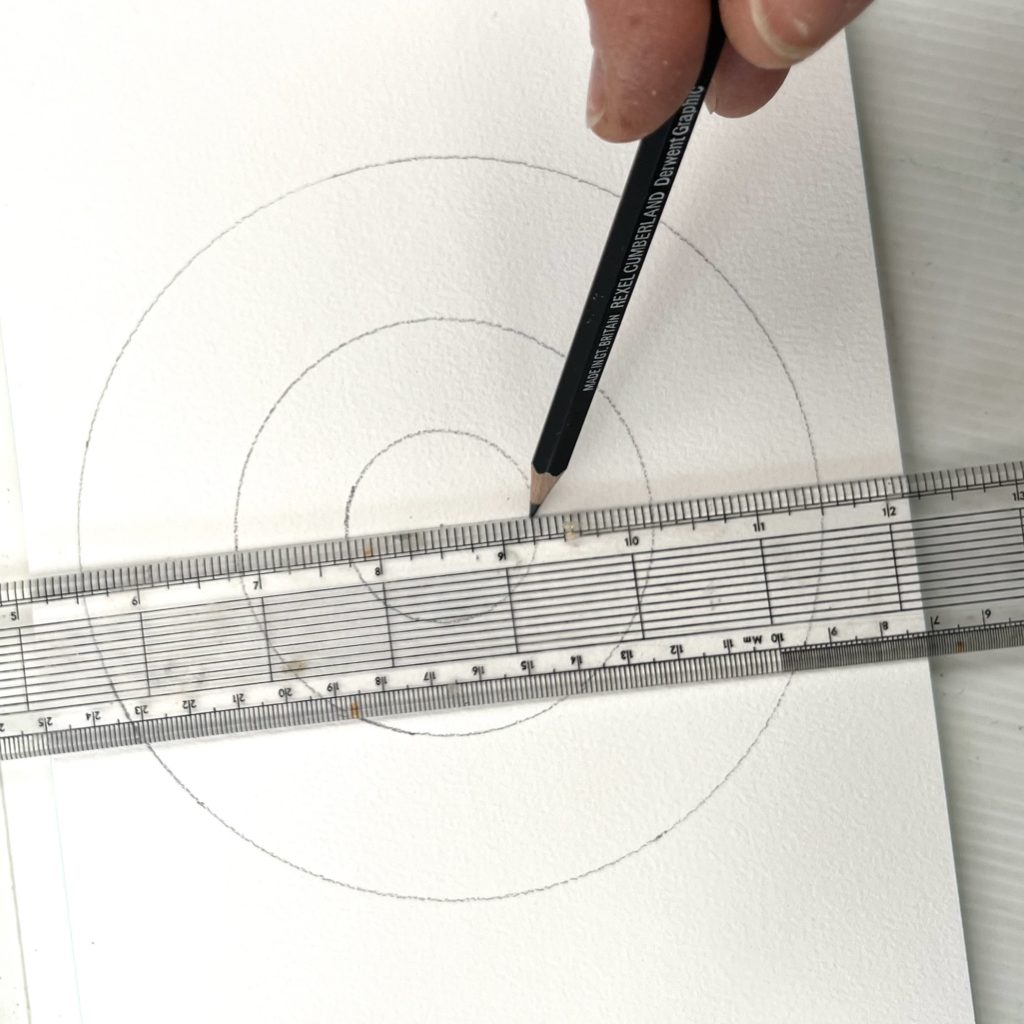 Next it's a good idea to choose your colors. Mandalas look good with all sorts of color combinations, it doesn't matter what paint you use and your initial watercolor painting is going to form the background for a lot of linework and doodling on top in pen so don't worry too much about the in initial decision process. Just pick four or five colors you like and find a brush you like to use – I like my size 12 Princeton Aqua Elite for this type of project.
I'm going to use my 48 set of Kuretake Gansai Tambi watercolors as I haven't given them an outing for a while. I don't think it matters what you use for an experiment like this.
And I'm going to use my block of Meeden 100% cotton 130lb cold-pressed watercolor paper – it's only about 10 x 7 inches, but that's big enough to do a circle 6 1/2 inches across.
Painting the Mandala
For me it's usually best to choose my colour palette before I start painting. I find this helps me keep a balance of colours, but not everyone works this way.
I decided on two orange-yellow colours and two blue-greens. I checked before I started that the colors wouldn't mix to give grey or mud. The good thing about modern paints is that they are usually single pigment colors and the chances of getting good clean colour mixes are high!
Starting in the centre of the circle, I painted a disc of orange, and then radiating lines outwards from there. You can watch the development of the pattern here on my YouTube video.
Once all the paint has been applied and you have a nice series of concentric designs, you can start with the penwork on top of the paint.
It's up to you how much detail you put in at this stage, but you'll be surprised at the transformation of your painting into an oriental design!