Today I'm using my Kuretake Gansai Tambi paints to create a richly detailed and stylishly colorful whimsical leaf design to help you practice your watercolor skills. Using a relaxed and enjoyable method to embellish the rich tones of the Kuretake paint with gold accents, you'll be thrilled with your results and want to do more!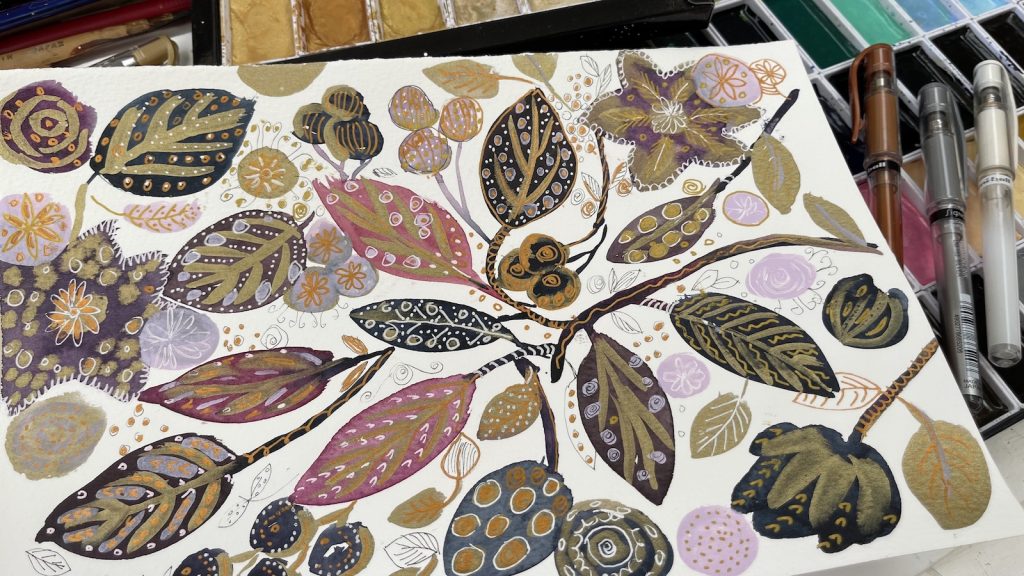 My Materials
I decided to use a sheet of Bockingford 140lb watercolor paper, size A4 or about 9 x 12 inches. Bockingford is a relatively inexpensive cellulose paper which is ideal for watercolor students and is very well-behaved no matter how you treat it!
My paints for this project were the Kuretake set shown above. These paints work very well when applied thickly, as well as thinly, so for this kind of whimsical embellished or accented look they are ideal. A good selection of colors avoids the need to mix your own, although of course that's hard to resist.
I also used the Kuretake Starry Colors set for the details of the painting, plus my favorite gold and white gel pens from Signo.
I used a size 8 round nylon brush from Drawell of Japan, but any brush you are comfortable with will do nicely.
How I painted the Leaves and Berries with Gold Accents
I didn't use a preliminary sketch, I just started to paint leaf shapes across the page, varying the sizes and using each paint once before moving on to the next color, until I had filled up the area I wished to fill. I then joined the leaves together with some dark stems and added some berries.
Once the painting was dry, I began the embellishments with the starry colors, and later I used a gold and a white Sigma pen, and a Sakura Pigma Micron pen.
Watch Leaves and Berries with Gold Accents here
I have links below to various similar papers which would be ideal also for this project. You certainly don't need a cotton paper for this painting of Leaves and Berries with Gold Accents. Often the result you get on cellulose will be brighter than on cotton, due to the amount of sizing on the cellulose paper.
And here are some options for inexpensive paints as a beginner.