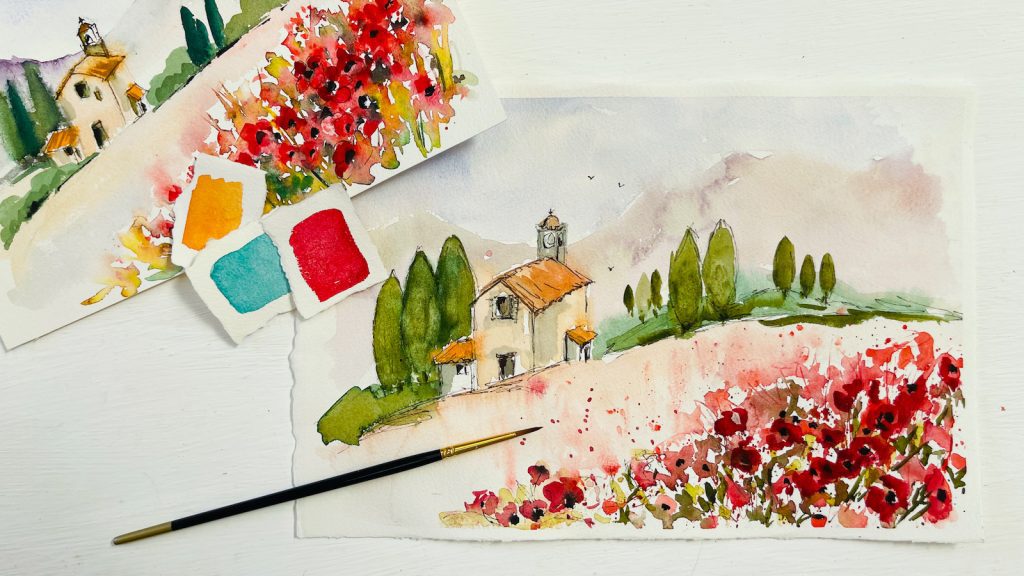 Today we are off to Italy to enjoy the scenery and do some landscape painting of an easy watercolor poppy field! We all want to succeed with our landscapes and to do so you really do need a good quality paper, and there is nothing better than Arches 140lb cold press fine grain paper from France – it's widely available online. I buy mine in sheets from Jacksons because that way it is much more affordable. People don't always realise how much they are paying for the privilege of a piece of cardboard and a cover to the ready cut paper in the form of a pad or block. Also the loose sheets come with a lovely deckle edge, which is nice to have.
Today I'm working on a one-eighth sheet of Arches, which measures close to letter size paper. It's a convenient size because it's big enough that you can paint fairly freely, but not so big it takes forever to fill the space.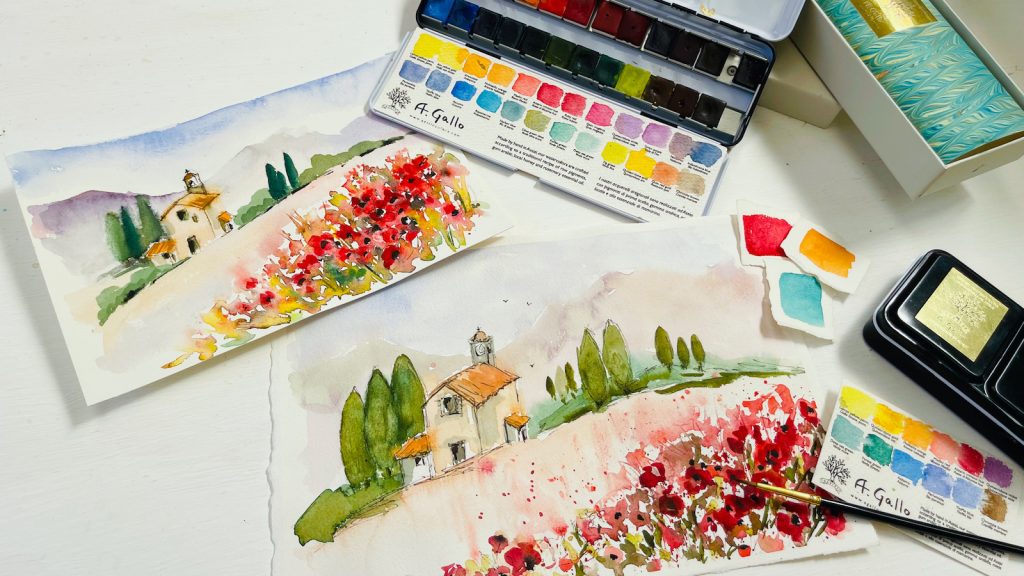 Landscape Painting – the beauty of true watercolor mastery
Beginners are often put off by the idea of the challenge of painting landscapes, although they would like to try them. There are such good landscape painters out there and looking at their work can be overwhelming. Only a very rare few people will ever reach those giddy heights and then only after years of dedicated obsessive work.
But there is more than one way to catch a cat, as my dad used to say. Try my trick of thinking of landscapes such as this easy watercolor poppy field as designs rather than copies of photos. Choose colors you love, and arrange shape elements that you like to give you a design which satisfies your eye, rather than obsessing about a tree, a lighthouse, a church … you are only painting squares, circles, triangles in various combinations to give the effect of the countryside.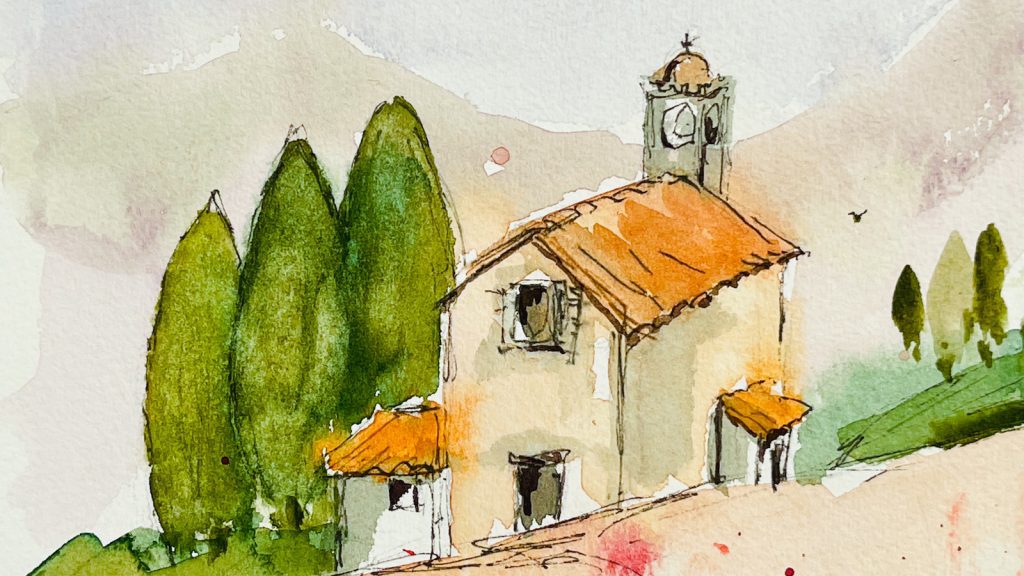 So here's an easy Italian scene – Poppies in Tuscany, with a little chapel on the side of a hill. When you look at the painting, notice the main shapes – a simple curve for the hillside, rectangles, triangles, circles which make up the building, teardrop and oval shapes for the trees, a simple irregular line for the mountains in the distance – and spatter in the foreground forming the main color block.
Sketch Downloads
If you want to download my free sketch for this painting Embrace the Colors of Italy you can find it here.
Materials for the easy watercolor poppy field
All the materials I used for this painting of the easy watercolor poppy field video are listed in the description below the video on YouTube, and there are full instructions in real time on the video.
I have two main sources of supplies – Amazon and Jacksons Art. Jacksons are in the UK but their prices are so good it's worth paying their nominal shipping fee. For your first order you will get 10% discount on top of the normal discounted prices they offer. They also have other interesting features, such as expert-written guides to materials and techniques, an annual competition with a valuable prize, free shipping in the UK for over £75 orders, and very reasonable rates for international orders. Click on the image below to find out more.
Paints from Jacksons
I use mostly Winsor and Newton paints, Professional quality. Cotman are also fine for beginners. I recently acquired a Signature 2 set of A. Gallo paints which Jackson's now stock – see below.
Here are the colors I used to paint the Three Cute Wet-in-Wet Birds exercise:
Quinacridone gold https://tinyurl.com/2b53nta5
Cobalt Blue https://tinyurl.com/hrbmjtt8
Olive Green https://tinyurl.com/pskenpvk
Pthalo Blue https://tinyurl.com/8h56s66f
Winsor Violet https://tinyurl.com/d28dpu5h
Cadmium Orange https://tinyurl.com/csfb75dn
Other materials from Jacksons – click on image to go there!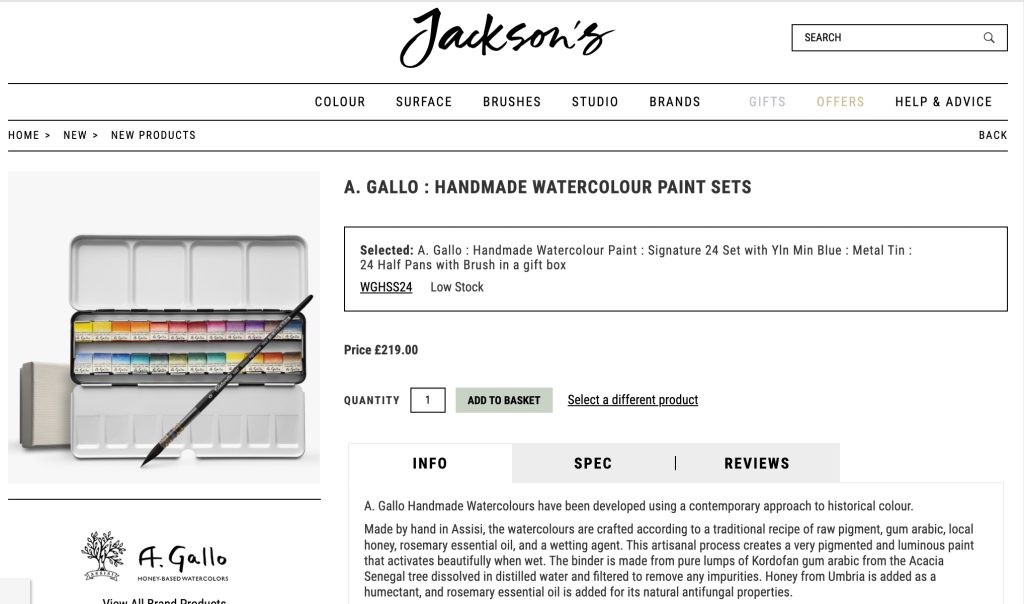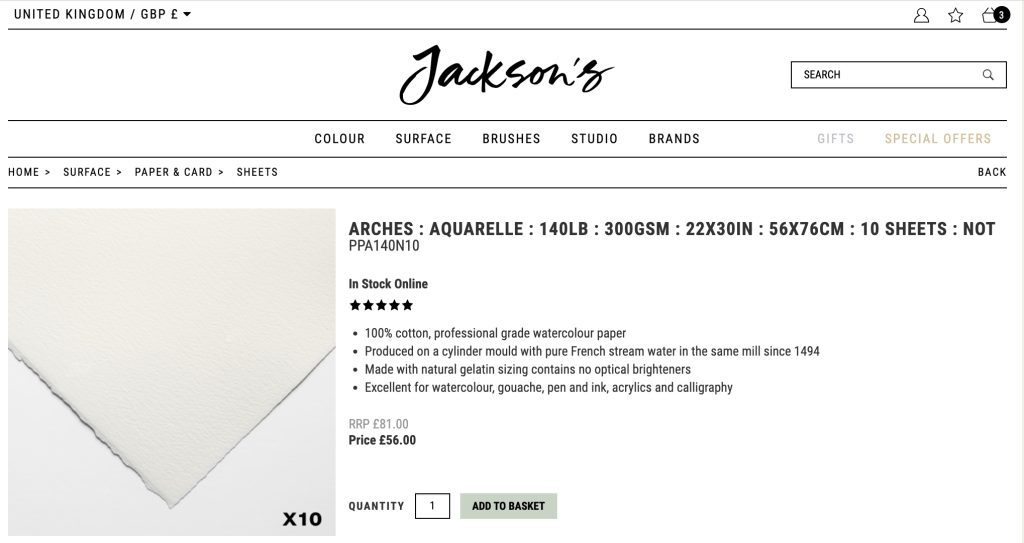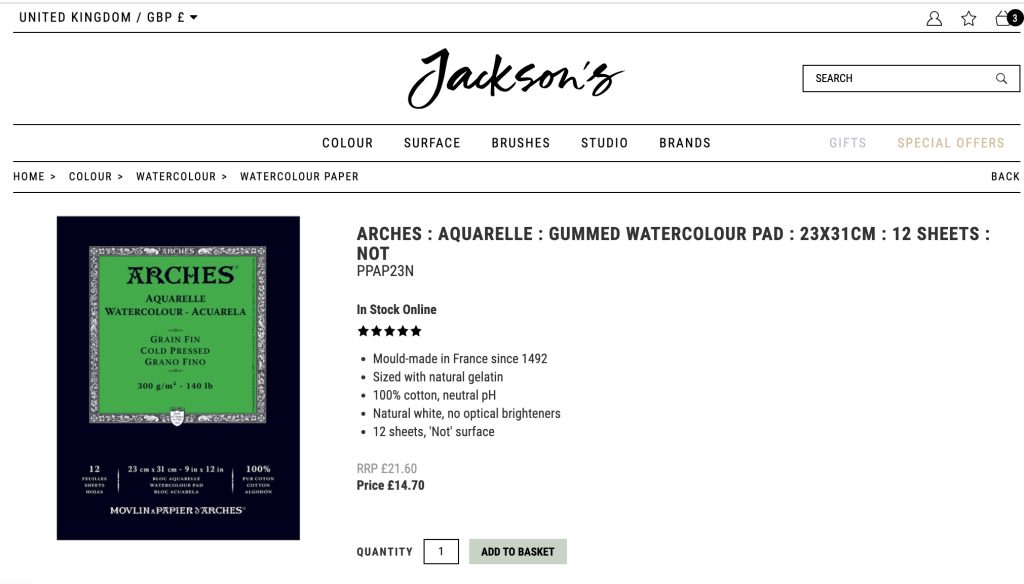 I also use Amazon for a lot of my supplies
My brush was a Drawell size 14 Golden Round and size 3 Maestro round – both very good synthetic brush from Drawell in Japan. You can order them from Drawell by contacting Mr Maeyami direct. The prices are very reasonable and they ship worldwide at minimal cost.
Learn how to paint an easy watercolor poppy field
Other videos you might like