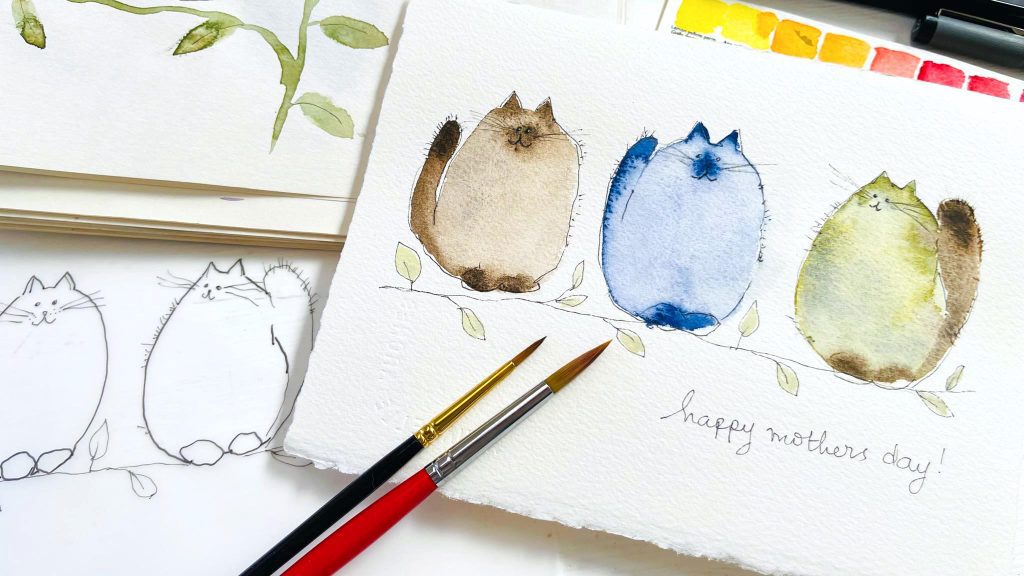 Today's project is a two-in-one. We're going to practice our wet-in-wet technique, and at the same time create a cute greetings card we can use for anyone and for any occasion.
It's a simple design of three stylised cats, and I'm using the lovely A. Gallo paints to create this, on a piece of Arches 140lb watercolor paper, cold pressed.
Today I'm working on a one-eighth sheet of Arches folded into two to form a card which being 140lb paper has enough strength to stand up. This way you don't need to glue the painting on to another card, although if you prefer to do the painting separately in case it goes wrong, and then cut it out and glue it in place, that works too.
Granulating Paints – the Pigment which Paints Itself
There's been a trend lately for granulating watercolor pigments, as if they were something completely new. Of course they aren't, and the old faithful Ultramarine Blue has been the major granulator in my palette for very many years, bringing lively texture to many a painting. Now however we have many more to choose from, including whole ranges of granulating paints from the various manufacturers.
If you want to read lots more about granulation, have a look at this article by Jane Blundell which goes into a lot of interesting depth. But in essence, paints which have large particles of pigment granulate, which means that the color clumps together and settles in an uneven way in the texture of the paper. Most earth colors granulate to a certain extent, but in contrast the synthetic colors such as pthalos and quinacridones don't as their particles are much smaller.
But what do we need granulating colors for? Well, they help create texture to give more life to subjects like rocks, beaches, mountains, buildings and so on. They also can be lovely in simpler paintings like florals or birds. But they aren't essential for these effects. So why do we need them at all? The answer is simply, we don't really. If you are already concerned about spending yet more money on materials, just buy a bottle of Granulation Medium from Winsor and Newton and use that to water down your ordinary colors. You'll get a good degree of granulation, especially in the earth colors.
Another way to get a similar texture is to use fine grained salt judiciously on wet paint – but when all is said and done, you can't beat granulating paints for convenience.
You couldn't wish for an easier subject to begin your exploration of granulating paints and wet-in-wet than this simple cat design. Just three simple ovals on a page in any configuration you like and away you go! Watch the video below to see how I did it.
And if you want to see my suggestions for granulating paints I can recommend, check out my Amazon ShopFront here
Sketch Download for Three Cute Cats for a Cool Card
If you want to download my free sketch for this painting you can find it here:
Materials for the Three Cute Cats for a Cool Card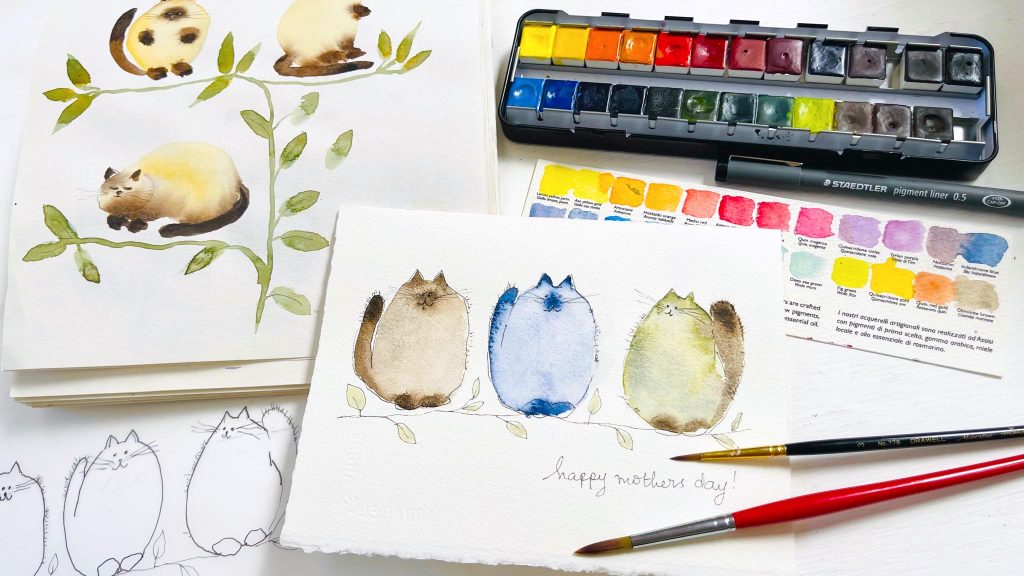 All the materials I used for this painting of the Three Cute Cats video are listed in the description below the video on YouTube, and there are full instructions in real time on the video. I basically used my Signature 2 set of A. Gallo paints. You can read all about their paints on their website which is here.
I have two main sources of general supplies – Amazon and Jacksons Art. Jacksons are in the UK but their prices are so good it's worth paying their nominal fee for worldwide shipping. For your first order using our link you will get 10% discount on top of the normal discounted prices they offer. They also have other interesting features, such as expert-written guides to materials and techniques, an annual competition with a valuable prize, free shipping in the UK for over £75 orders, and very reasonable rates for international orders. Click on the image below to find out more.
Paints from Jacksons
I use mostly Winsor and Newton paints, Professional quality. Cotman are also fine for beginners. I recently acquired a Signature 2 set of A. Gallo paints which Jackson's now stock – see below.
Other materials from Jacksons – click on image to go there!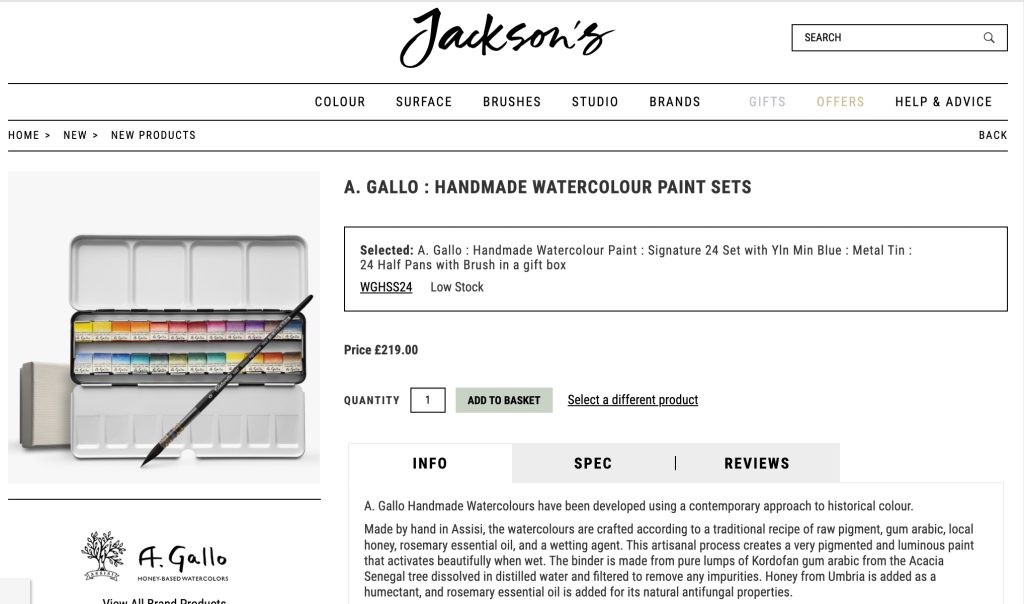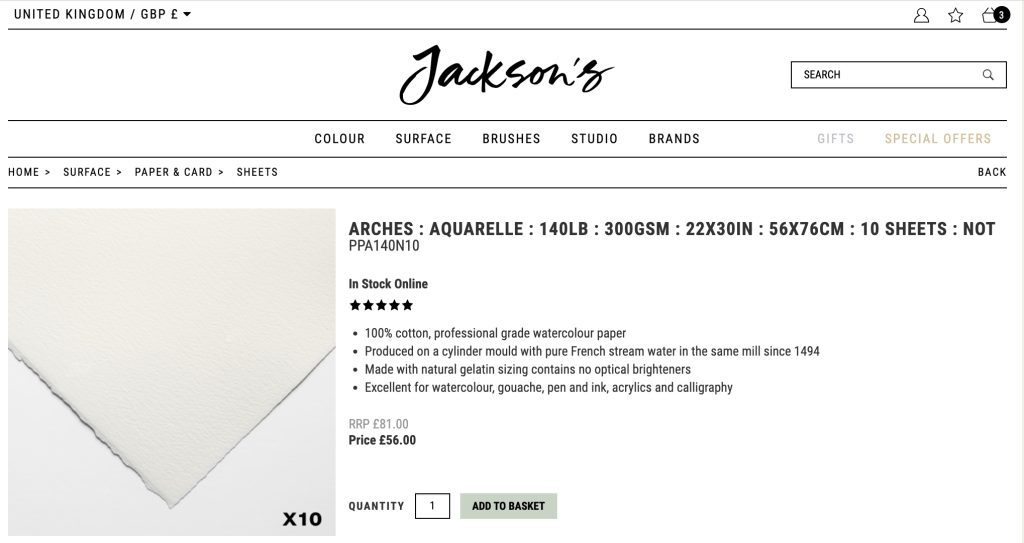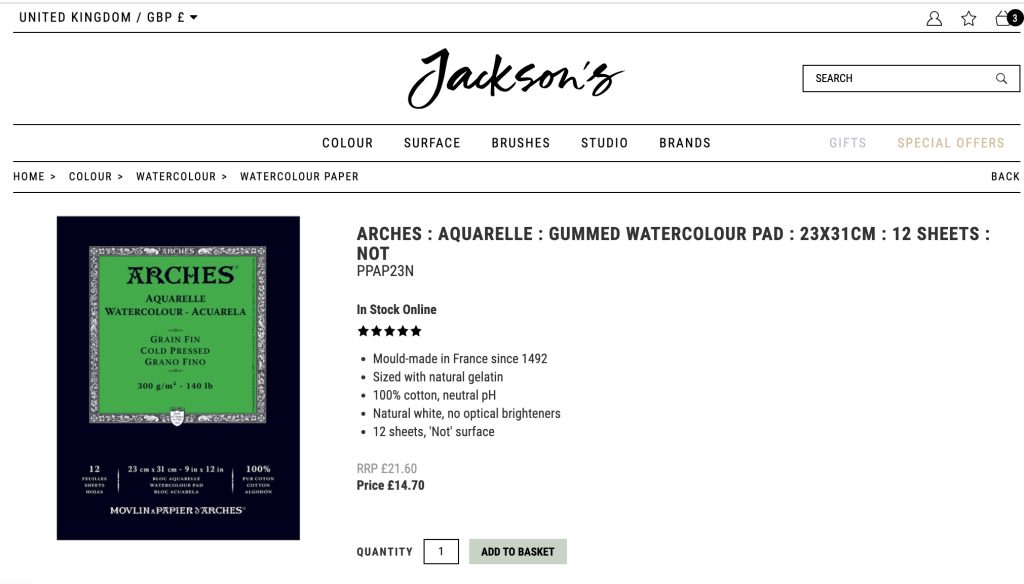 I also use Amazon for a lot of my supplies
My brush was a Drawell size 14 Golden Round and size 3 Maestro round – both very good synthetic brush from Drawell in Japan. You can order them from Drawell by contacting Mr Maeyami direct. The prices are very reasonable and they ship worldwide at minimal cost.
Cute Cats Video on YouTube
You might also like …