Everyone needs a new bookmark! Come the very first harbingers of spring and our thoughts turn naturally to flowers, and one of the earliest is the crocus. Last month we made bookmarks with a Snowdrop design and this month I'm going to show you how I painted some purple Crocus bookmarks, and just for fun, some poppies as well (they escaped from the summer!)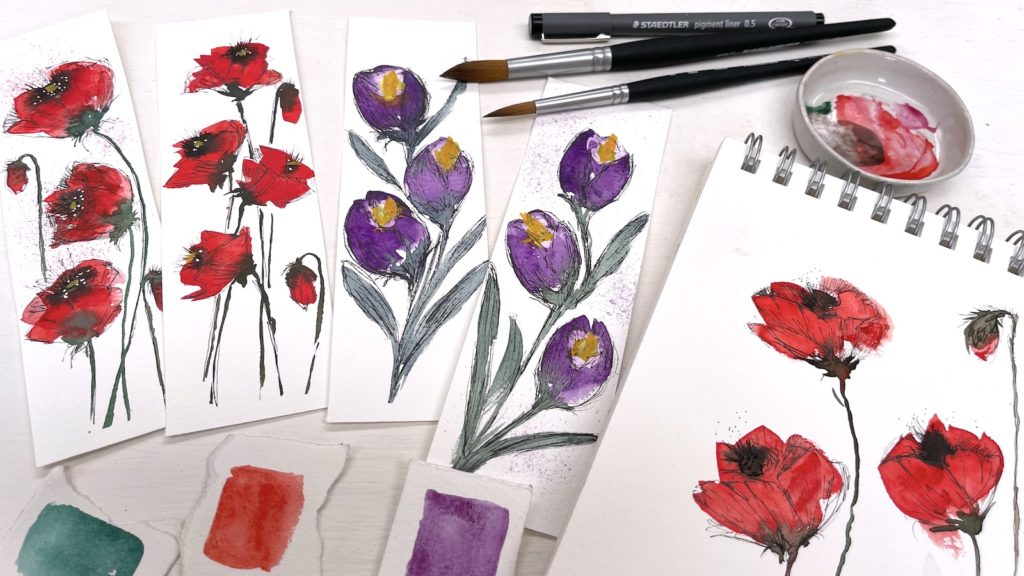 Watch the video by scrolling to the bottom of the post, and also try some of the earlier flower bookmark videos which are linked to below as well.
Materials
Paper
For this little project I used a piece of Bockingford 140lb (300g/m2) cold pressed watercolor paper. Any paper of similar weight would work fine. Here are a couple of suggestions for paper from amazon.com
Paint
For this painting I used my Kuretake set, linked below, but I only used a few colors, and they are readily available in any set. The colors I used were:
Cadmium Red
Cadmium Yellow
Sap or Olive Green
Quinacridone Purple
Here are the links to the Kuretake set I use. You could manage easily with a small set to try out and see if you like them.
Brushes and Pens
For this painting I used a Princeton Aqua Elite size 12 brush. I recommend these brushes as they are reasonably priced and good quality.
I also used my set of Staedtler pigment liners for the line work on these flowers.
For those of us who live in Europe or prefer to use a UK supplier here is a link to Jacksons, who are reliable and offer great prices.
Watch the Video here on YouTube
And here are some more popular Watercolor Bookmark tutorials from my YouTube channel: