Today in the post I received my order of a set of Kuretake Gansai Tambi Graphite colors. I have been the proud owner of a set of Starry Colors since Christmas when I couldn't resist the idea of using gold and silver on the cards I was making. But when I saw these Graphite colors I just needed to get a box of them!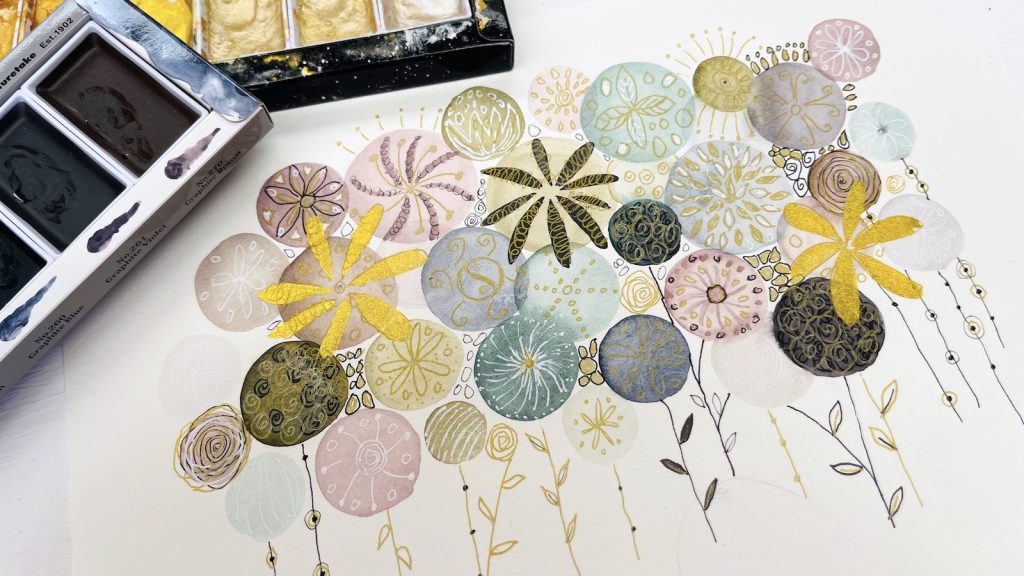 In the box the colors look dull and uninteresting, but I knew that wouldn't be the case as the gold and silver are so vibrant. And my expectations were not disappointed! As soon as I touched the paint with water the pigment was released and beautiful, subtle colors emerged. Unlike most pan paints, you don't need to wet these in advance to release the pigment. It's right there ready for you to enjoy!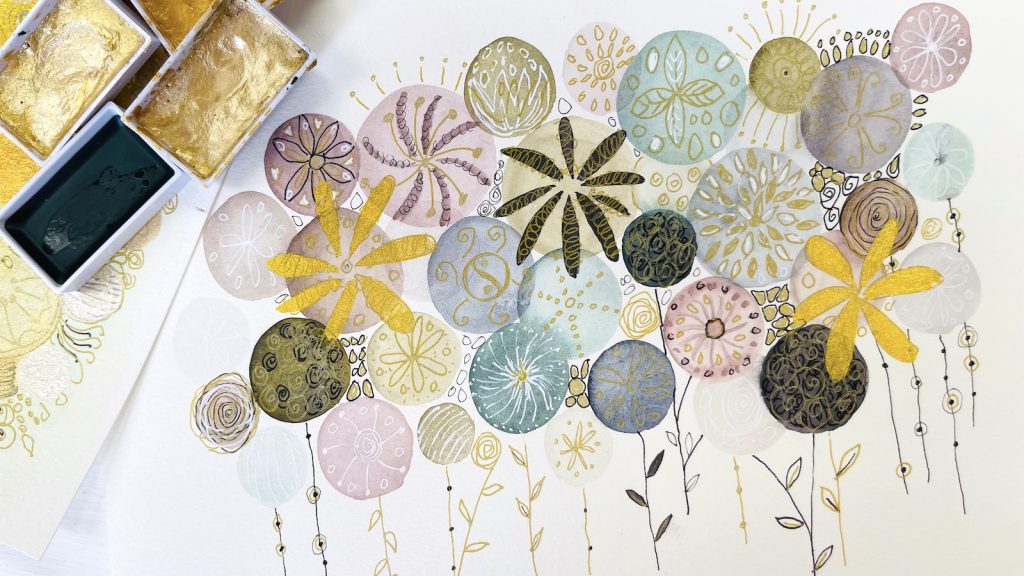 Recently we did a bright and cheerful rainbow colored bookmark project, and I mentioned that the same project could be done with more muted colors. This set of six would be ideal for that. But today I decided to do an embellished circles design with gold highlights. A project that would be meditative and calming, and make no demands on you whatsoever. Sometimes you just need to relax and not strive for perfection.
You don't need anything special for this. I used an Etchr hot pressed pad, size A4, but any paper, any brush and any paints will work, and it will be all your own creation. The same technique can be used with more muted colors if you prefer them to the bright rainbow I chose on this particular day.
How to Paint the Circles
I used a size 8 round nylon brush from Drawell of Japan, but any brush you are comfortable with will do nicely. I didn't use a preliminary sketch, I just started to paint circles across the page, varying the sizes and using each paint once before moving on to the next color, until I had filled up the area I wished to fill.
Next, some stems in black fine liner and the embellishments. For that I used a gold and a white Sigma pen, the Starry Colors and a Sakura Pigma Micron pen.
Watch the video of Graphite Circles here
I have links below to various similar papers which would be ideal also for this project. You certainly don't need a cotton paper for Graphite Circles. Often the result you get on cellulose will be brighter than on cotton, due to the amount of sizing on the cellulose paper.
Here are three more good choices for paper when you paint your picture.
And here are some options for inexpensive paints as a beginner ideal for How to Paint Graphite Circles for you to paint: