Springtime Flower Hanging Baskets in Loose Watercolor – EASY semi-abstract Painting Tutorial
Hanging Baskets in Loose Watercolor: an easy semi-abstract watercolour flower-studded tutorial using a variety of watercolors, as well as getting started with paint color choice and mixing.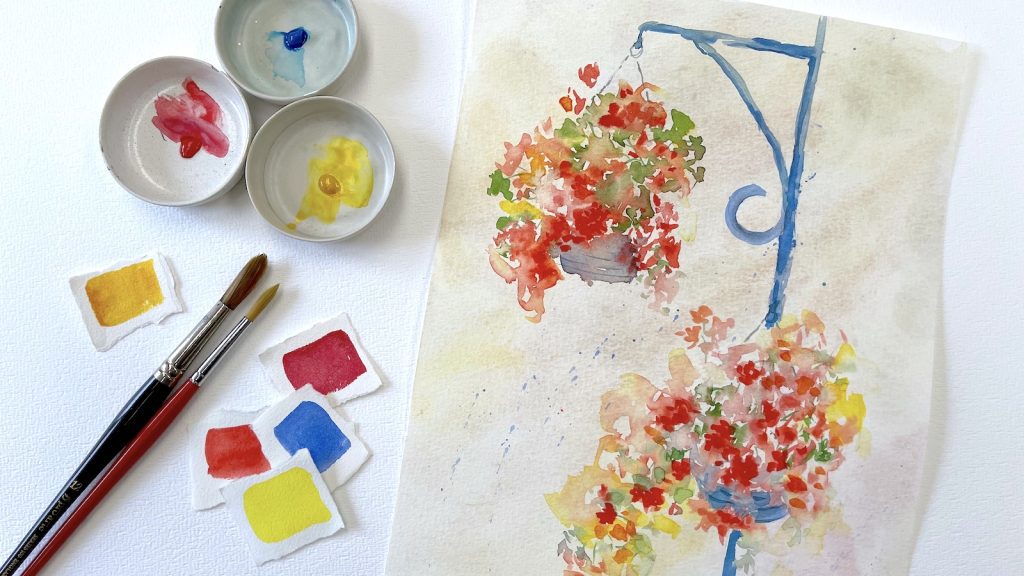 Painting flowers is one of the best subjects to start, but why not go for a simple hanging basket in order to ring the changes. Not every floral painting is flat flowers on a flat piece of paper. And since no painting will be an exact copy of the real thing, using your imagination to create fantasy paintings will take you far along the way in your painting journey.
This is a quick and simple watercolor exercise which might even turn out so well you want to frame it! 
Hanging Baskets in Loose Watercolor
Before I started this painting of Hanging Baskets in Loose Watercolor I prepared the background. I stretched a sheet of Bockingford 140lb watercolor NOT paper, and then using a large round brush I dropped in dabs of potters pink, davys grey and naples yellow to make a nice light background.
The next step was to draw a rough outline of the subject. The vertical line of the pole which supports the flowers was quite important, so I made sure it was straight and vertical, and then I put one bracket sideways on, and the other facing me and behind the flowers, so I didn't need to draw it at all! If you prefer to use a traceable for your sketch, they are available free from this website.
The loose flowers were dropped in to water splashes on the paper. Watch the video below to see exactly how I did the painting.
And if you want the sketch of this design, just go to the downloads here, and you can have it and many others free of charge!