Announcing the arrival of the Craftamo x Diane Antone Studio Collaboration
I'm excited to announce the collaboration we are lucky enough to have with Craftamo who make fabulous brushes at a reasonable price. They reached out to me earlier this year with a proposal to make a set of brushes to my personal specifications and to offer them to our friends on YouTube and they are going to be available by the beginning of November 2023 so just in time for Christmas gifts.
Get notified!
Sign up for an email notification in one click, so you'll be the first to know when the limited edition Diane Antone x Craftamo brushes are launched!
Who is it for?
These brushes are being made to my own personal design specifications. I wanted to choose a set of brushes which are suitable for anyone who is painting in watercolour, gouache or even in acrylic or mixed media. Whether you are a beginner or a more experienced painter, these brushes have everything you need to be able to paint a huge range of styles and subjects. You aren't likely to need any other brush in your studio once you have these.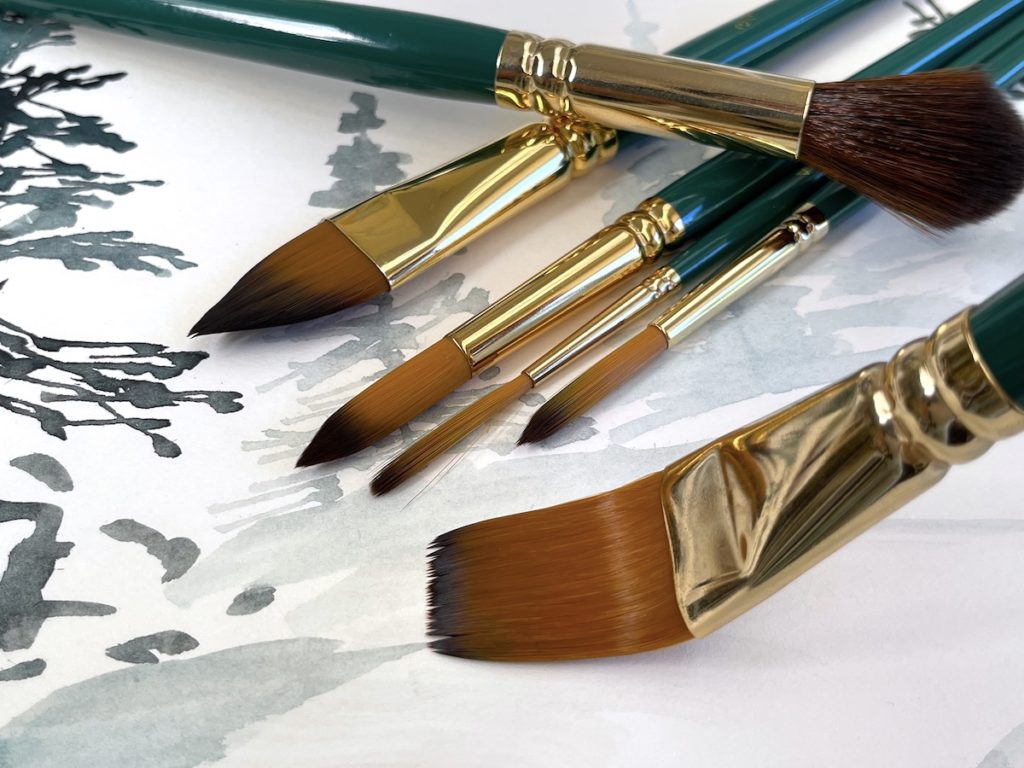 What does the set include?
This set includes a 1/2" mop, a 1" flat, a 3/4 cat's tongue, a size 14 round, a size 9 round and a size 4 rigger. These brushes are 100% cruelty free and the hairs are made from synthetic taklon which is very similar to natural hair but better in many ways. I have chosen a medium firmness which has plenty of snap and flexibility so you can achieve many different strokes. The round brushes have a good sized belly so they hold plenty of water and the cat's tongue, flat and mop brushes will open up your painting style in a way you can't imagine!
Each brush is finished with a recycled gold ferrule which is smoothly finished to the forest green gloss painted wooden handles for maximum comfort in the hand. The handles are tipped with gold for that extra special luxury look giving a touch of class to your gift, whether it's for yourself or a loved one.
The brush hairs are synthetic and not only hold plenty of water, giving you lots of painting options, but also hold a very good point, which doesn't wear down quickly like some other hairs. You will find it easy to create fine lines and detail with the point of the No. 9 and even the No. 14 which is also great for foliage and loose florals. They are assembled in an anti-shedding way to ensure that you don't find loose hairs in your work, and will last for many years.
The brushes have been tested by artists to ensure that they are easy to clean, durable, balanced in the hand and comfortable to hold and I will endorse that judgment with my own test and trials of the brushes.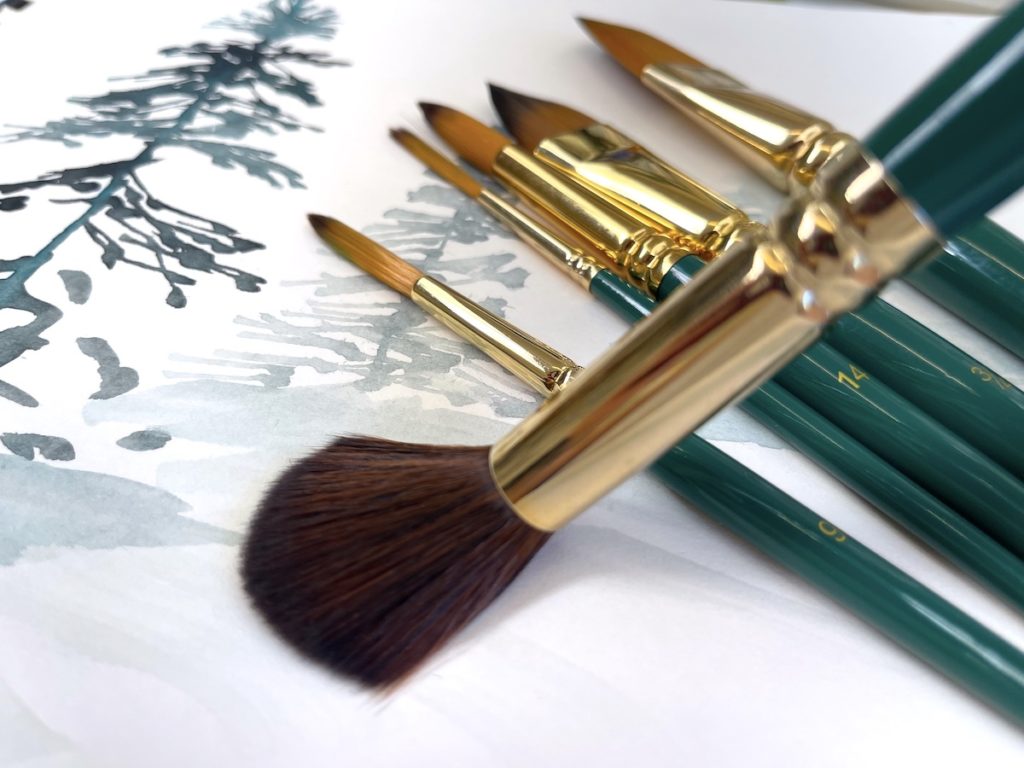 What you can do with these brushes
This set was chosen specifically by me to provide everything I personally want in my brush kit for my paintings. From the largest going down in size – the 1" flat is an incredibly useful brush for almost everything – some artists use nothing but large flats – and you can paint trees, mountains, flowers, you name it – if you haven't tried using a flat yet you are in for a treat. In the upcoming months I will be focussing on the use of these brushes in my videos so you will be able to see the benefits and learn some new techniques.
The 3/4" cat's tongue is a perfect brush for painting florals and leaves, and can be used also for creative clouds and skies as well as trees and any abstract mark making you might want to do.
Next the 1/2" mop brush, which is perfect for background washes, holding a large amount of water it will cover larger areas very quickly and loosely.
Our two rounds are a larger size 14 and a smaller 9. These cover all eventualities in leaves and fine lines, as well as being big enough to use for many paintings from start to finish. They have nice points which will be a joy to use and the right amount of firmness to give enough snap – but not too much!
Finally the size 4 rigger has longer hairs and a slimmer shape, and is idea for grasses, calligraphic marks and other things like stems and veins in leaves. You'll wonder what you did before you had one!
Why you should buy these brushes
I chose these brushes to give you all the tools you need to be able to paint just about anything in the watercolour and gouache world. If you treat yourself to a set of these you will have all you need at your fingertips and you'll be able to depend on them delivering the quality you want in your paintings. I have many other brushes in my studio but I never use them, and these ones are the mainstay of every painting I am doing for YouTube.
These brushes are being offered to you exclusively for a limited time. There are only a certain number that will be manufactured and once they are gone there is no guarantee that they will be offered again so once they are released at the end of October be sure to place your order. They will most likely sell fast as they will be an ideal gift perfect for you or your loved one, for Christmas or any other occasion.
Craftamo do ship worldwide and that means wherever you live you will be able to purchase them, just allow enough time for delivery – if you have any questions about the product please just send me an email or message me on YouTube, Instagram or Facebook and I'll do my best to help.