Here's a simple, summery Mediterranean windowbox done in 15 minutes using my new set of A. Gallo handmade watercolors. This set is a perfect palette especially suited to the warm hues of the southern climate. Equally at home in the rest of the world, this is a little gift to treasure for anyone who loves watercolors.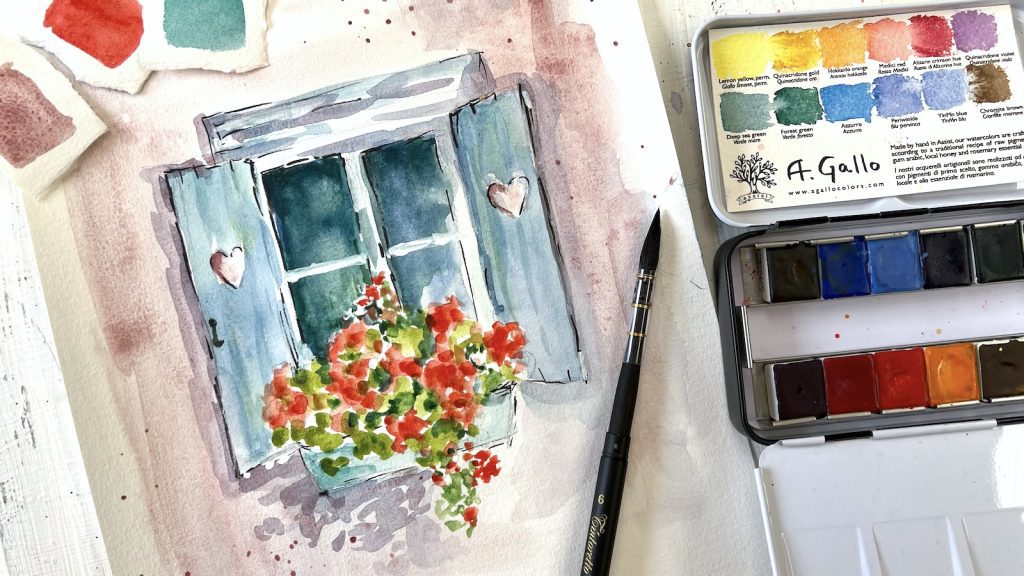 This is a simple little painting which might encourage you to have a go at an element of what could become a bigger painting of a house surrounded by flowers. Or it can stay cute and small and make a lovely gift card for someone special.
I painted this on a sheet of A4 (8 x 10 inch) watercolor paper from Clairefontaine. Their Etival paper is the paper I always go back to when I'm trying out a new painting, as I know I can rely on it not to do anything unexpected with the paint! Whilst Arches has the same ability to take paint, it also costs much more. Another paper I use a lot is Bockingford, which is also a cellulose paper and has very good tolerance to removing paint and allowing nice mixes on the paper.
Here are some links to my favourite supplier of all my art materials, Jacksons Art. They are based in the UK but ship worldwide at very low cost for shipping, and their prices are unbeaten anywhere. Plus, you can depend on them to back any product they sell.
Materials
You can download the sketch for this painting here, and click below to watch the full realtime tutorial on YouTube.