Anemones are a favorite flower for the house and look good tucked into a corner. The same goes for a painting of a bunch of anemones in whatever color you like best, as they come in every shade from white to deep purple. So let's get painting!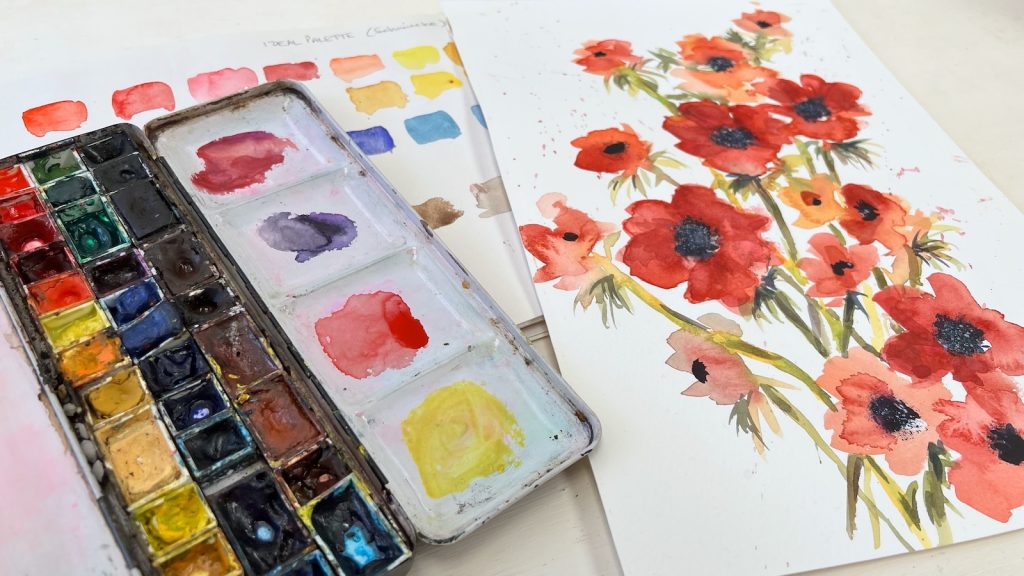 In this video I talk about the choice of colors I made to create my first watercolor painting box back in 1989. Here's the list of colors which I chose at that time, plus a few extras which have made the box a complete set, capable of painting any type of composition.
Reds:
Cadmium Red
Alizarin Crimson
Permanent Rose
WInsor Red
Cadmium Orange
Yellows:
Lemon Yellow
Transparent Yellow
Cadmium Yellow
Yellow Ochre
Naples Yellow
Blues:
Cerulean Blue
Cobalt Blue
Ultramarine Blue
Pthalo Blue
Winsor Blue
Prussian Blue
Ultramarine Violet
Winsor Violet
Greens:
Sap Green
Winsor Green
Winsor Turquoise
Browns:
Burnt Sienna
Caput Mortuum
Sepia
Raw Umber
Burnt Umber
English Red
Blacks:
Paynes Grey
Ivory Black
Lamp Black
I suggest you buy your colors from Jacksons online shop. They have the best prices and best stocks, and you get 10% off their already low prices when you place your first order, and plus, you are helping us out as we get a little commission from Jacksons when you purchase via our link. Click below to go to their shop:
Painting Loose Watercolor Anemones – how to paint impressionistic and lively flowers
Here's a closeup of this painting so you can see how loose the work is. I used only one brush, four shades of red, one yellow and one green. The paper I used was a stretched sheet of Bockingford. All my materials are available from Jacksons. Their shipping charge is very reasonable and they are reliable.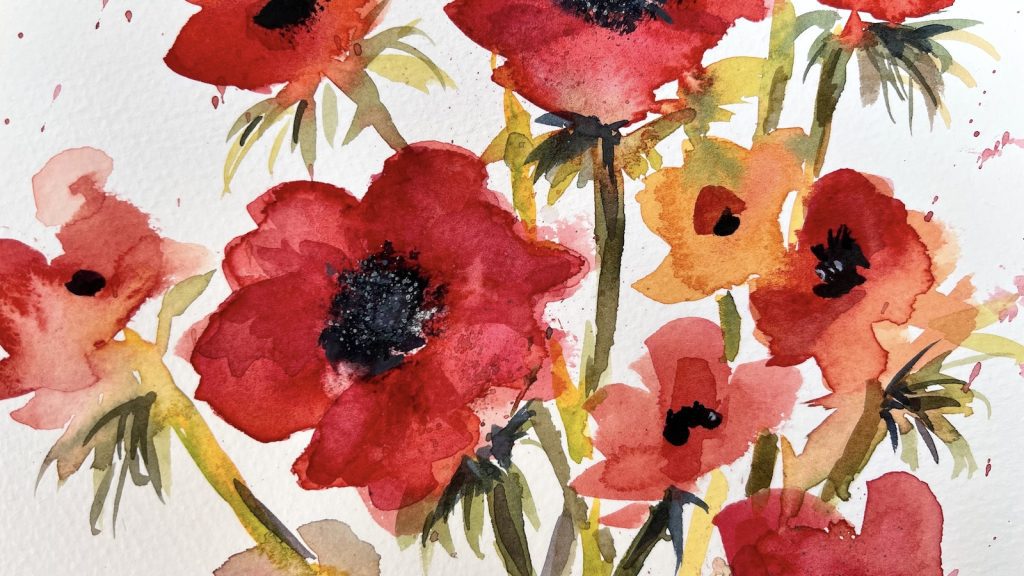 f you want to follow along and have a go at this subject, the link to the YouTube video is here.
Similar loose flower video – A Vase of Flowers