When we ask ourselves why butterflies are so loved by everyone, the answer is easy. According to my nature encyclopaedia, butterflies are some of the least destructive and most beautiful of insects. For the artist, they are a limitless source of inspiration and fascination, as we explore their infinite shapes and mixtures of colors. As well, despite their fragility, they survive the vagaries of summer and live on well into the autumn, and right now in November many small brown varieties are still visiting our gardens.
As if that is not enough, their life-cycle is nothing short of miraculous, from egg to caterpillar to chrysalis in which form they overwinter, and finally to emerge transformed into butterflies in the spring. Who could resist the urge to immortalise these little beings into paintings we can admire all year round.
So today I am painting watercolor butterflies in loose style on a sheet of Arches 140lb cold pressed watercolor paper. I prefer to paint on stretched paper if at all possible, as not only does it reduce the buckling of the paper when I paint on it, but it also reduces the amount of sizing in the paper and gives a better end result, in my opinion.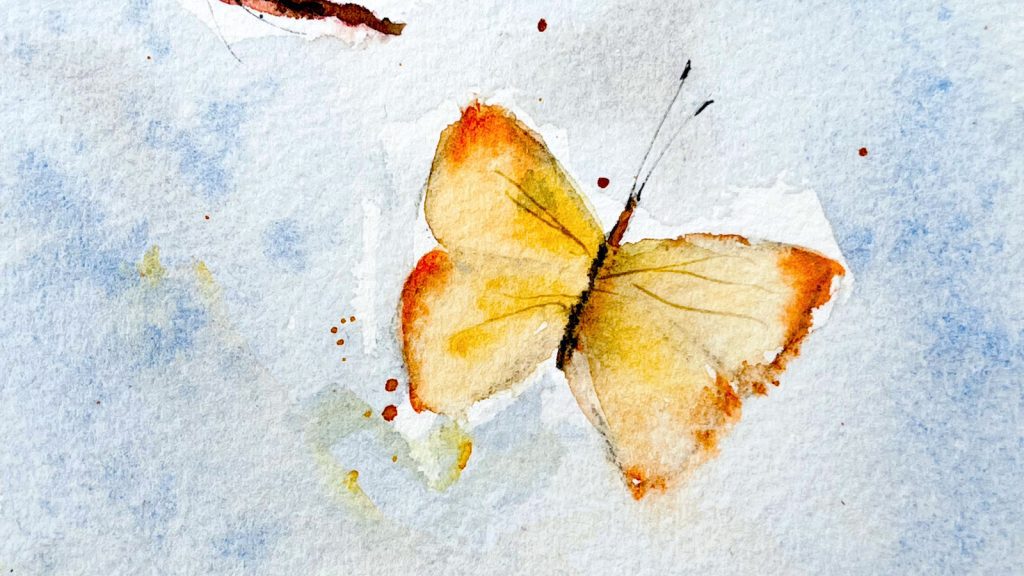 Shop my Materials
I like to use little porcelain round dishes for my individual paints, rather than a large palette. This is an inexpensive option on Amazon.
Here's a very good price for Arches watercolor pads, and the size I use most often is 9 x 12 inches, big enough for a landscape.
Here's a box of the best watercolor pencils you can buy, with many years experience – Faber Castel Albrecht Dürer – most of the colors you need.
This is the paper tape I use to stretch my paper prior to painting on it. See the link below to my video on this subject if you are interested in giving this a try.
Gator Board is the best surface to use for stretching your paper. It is light and rigid and easier to clean than plywood. It is not the same as foam core board, much more durable.
Here's my favourite nature book of all time. Published in 1973 this is a mine of information and beautiful pictures in the old fashioned encyclopaedic style. Don't miss it!
Watercolor Butterflies in Loose Style
Here is the video showing how to do this painting.