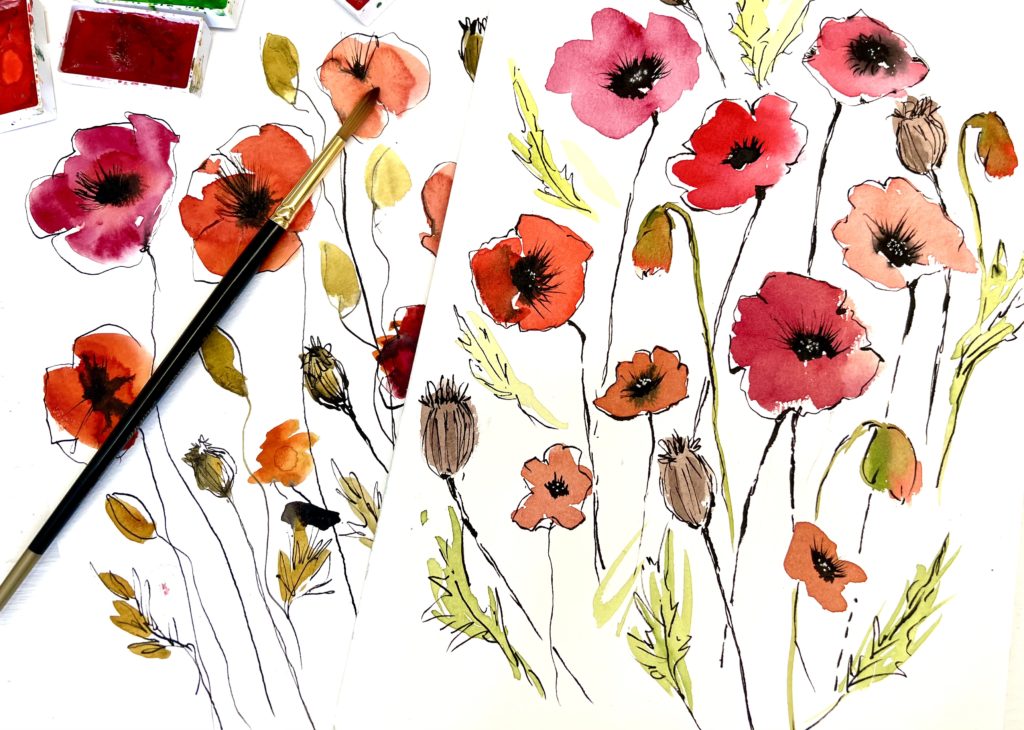 With the Superbloom in full force at the moment what could be more appropriate than a page of poppies?
This quick video will give you plenty of ideas for your own poppy fiesta! Any paints are suitable for this style of painting.
Materials
Here are the materials I used for this little page of poppies.
The paper you work on is not critical, as we aren't putting in layers of wash or asking a great deal of our paper's surface. However be aware that smoother paper will be easier to get a clean line on, so if that is your priority you might use hot pressed paper. On the other hand, if the watercolor part is the major interest, you might prefer cold pressed paper. In this case I would select one of the cold pressed papers with less pronounced texture and absorbancy, avoiding Arches and using for example Fabriano Artistico, Hahnemuhle Bamboo or Canson XL multimedia paper.
I suggest a Tombow Fudenosuke brush pen for the line work, as this will give you variable line thickness and fine detailing possibilities if you want them!
PAINTS
In this set you get 48 colors and large pans which are ideal for every kind of painting style.
A full range of reds, yellows and blues is complemented by stunning violets, a strong orange and a good range of realistic greens.
A selection of metallic colors are included, as are black and white.
You won't regret investing in this set of paints. I genuinely believe they are the most liberating purchase I've ever made in the world of art!
BRUSHES
For the price, these brushes by Princeton are a good introduction to more serious painting.
With a generous water-holding capacity and a nice point, this brush is ideal for medium to small sized works.
You will be able to achieve both fine lines and broad strokes for flowers and leaves, and for outdoor sketching this brush is an ideal mid-sized tool which will meet all your needs.
PENS
Intended for calligraphy this brush is also an expressive artist's best friend.
With the brush pen you can achieve varying thicknesses of line, different levels of dark and a sensitive rendition of your subject.
Idéal for penwork on watercolor but also good for general sketching, this pen won't disappoint.
You can watch the video of this painting here, and there are lots of other poppy tutorials, plus some free sketches if you want to work from a sketch, available here.