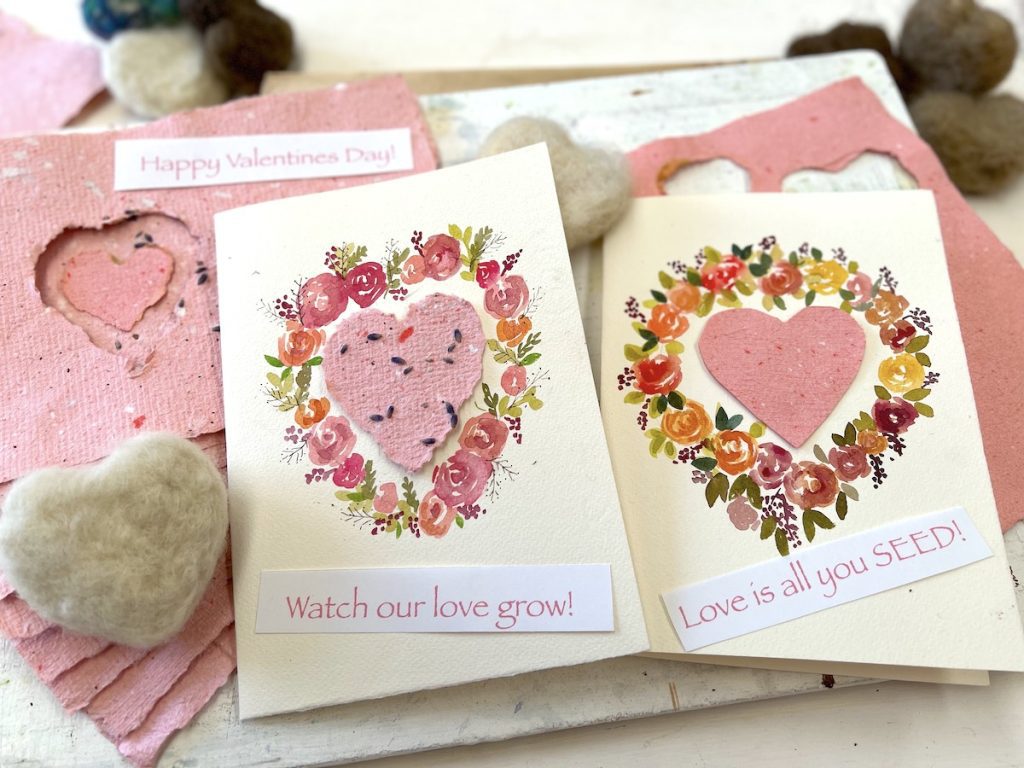 Here's a really pretty design for a Valentine's Day Card with watercolor flowers for your sweetheart or best friend, with an eco-friendly touch. Try your hand at making some hand-made paper and embed seeds in it, which you can then plant and watch them grow in your garden!
You don't need much in the way of equipment for this project. Here's a summary of what you will need – most of it with the exception of the deckle and mould you will find around the house.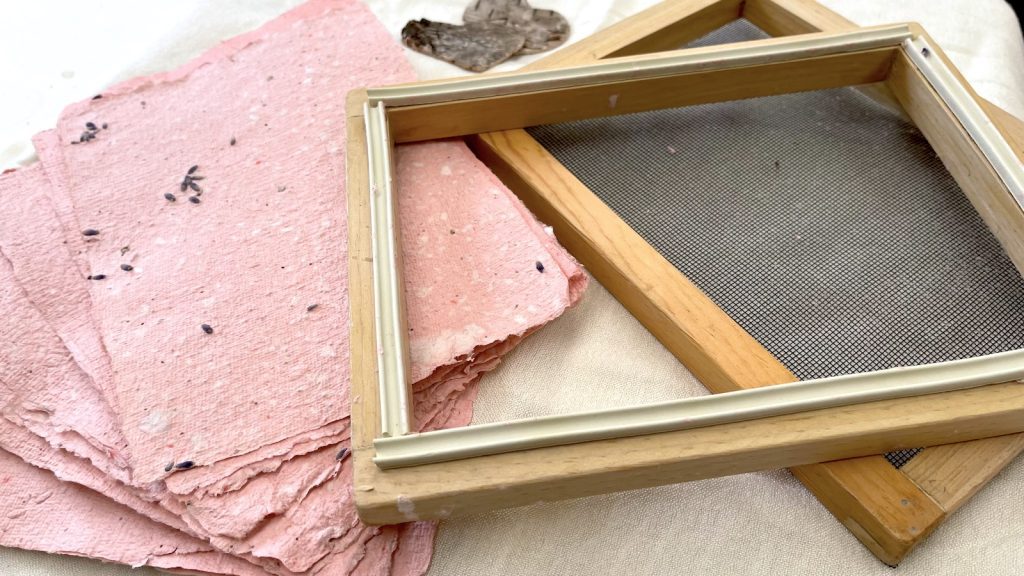 Equipment for making hand-made paper
a few sheets of used copy paper, old envelopes or similar.
a sheet of red paper or red food dye or a few drops of red paint to tint the paper pink if desired.
seeds of your choice – I used lavender and foxglove from the garden.
a food blender – nice and powerful if possible.
a large plastic storage box, half full of cold water.
pieces of J-cloth or old sheet cut to a size about 2″ larger all round than your deckle.
old towels for soaking up water.
wooden boards to dry paper on.
A deckle and mould. You can make one, or buy one on Amazon or at a craft store. If you buy one from Amazon be careful not to get one of the cheap hinged ones as they do not last or work well.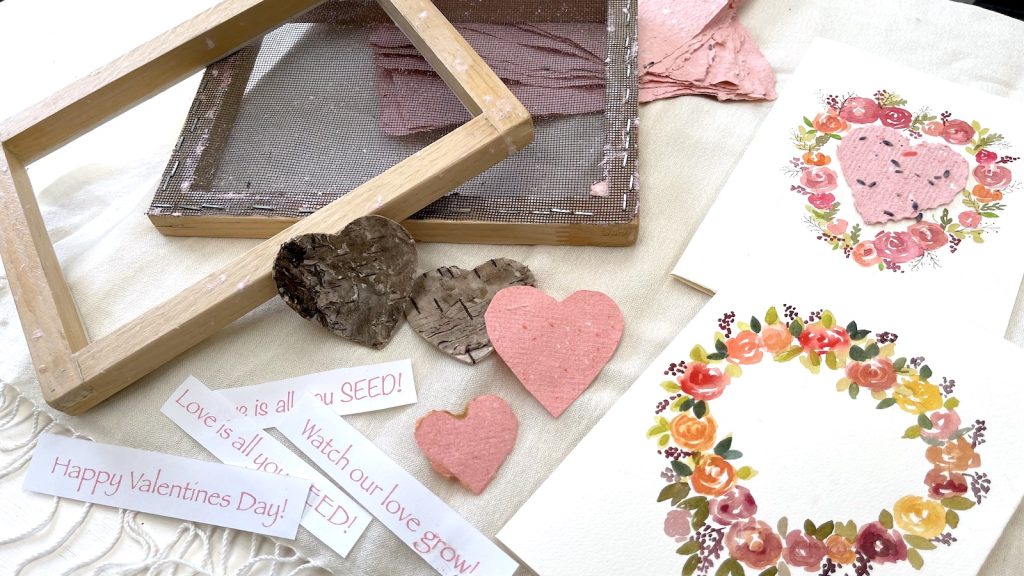 How to make the paper
Tear the paper into postage-stamp sized pieces and place in blender till half full. Add a torn-up sheet of red paper.
3/4 fill the blender goblet with hot water, stir briefly and let sit for half an hour.
Whizz the blender for about a minute until the paper forms a pulp.
Pour the contents into the storage box filled with water, and stir in the seeds.
Take your deckle and pull a sheet of paper. See my video for a demo of how to do this.
Transfer the paper sheet to the J-cloth and press. This is also shown in the video.
Let dry.
The following day your paper is ready to use.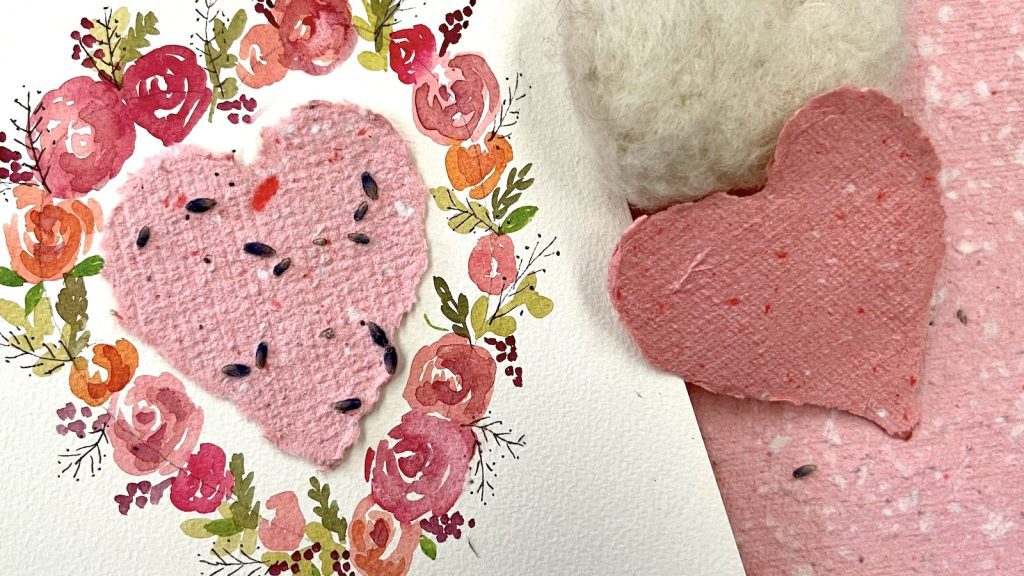 Paper-Making for Valentines Day Card Video
This video covers the whole process of making the card and the paper.
A plastic bone folder is very helpful for making greetings cards.
I have found paper palettes useful – the paint can be re-used next day.
Indispensible for speeding up your accuracy when painting cards.
A waterbrush gives you more control over the water used in painting.
If you don't want to make your own, you can buy them here!
Strathmore cards by Canson – excellent quality paper for cards.