Here's a sweet meditative and relaxing warm-up exercise for you to achieve two things – practice watercolor techniques and create a little gift in the form of these Simple Olive Leaf Bookmarks!
All you need is your watercolor set, a brush and a fineliner. Plus half an hour of your time and away you go!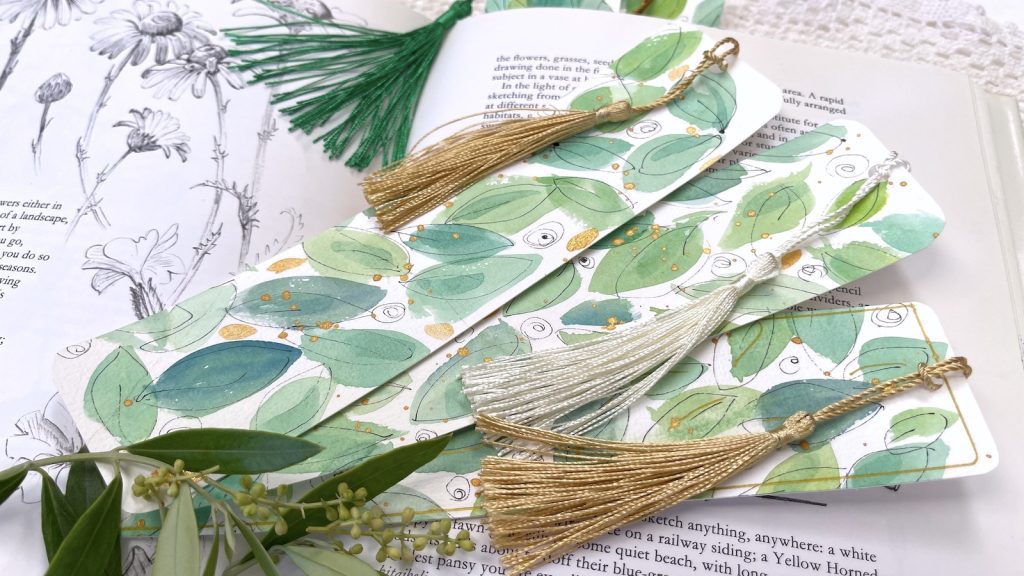 If you give someone a book for a gift, how much nicer would it be to include a hand-painted bookmark with the package?
I am using mine in my new inspirational book by Lorna Scobie, 365 Days of Art in Nature. Here's a link to it on Amazon. Grab a copy if you haven't already got one – it's full of fun projects!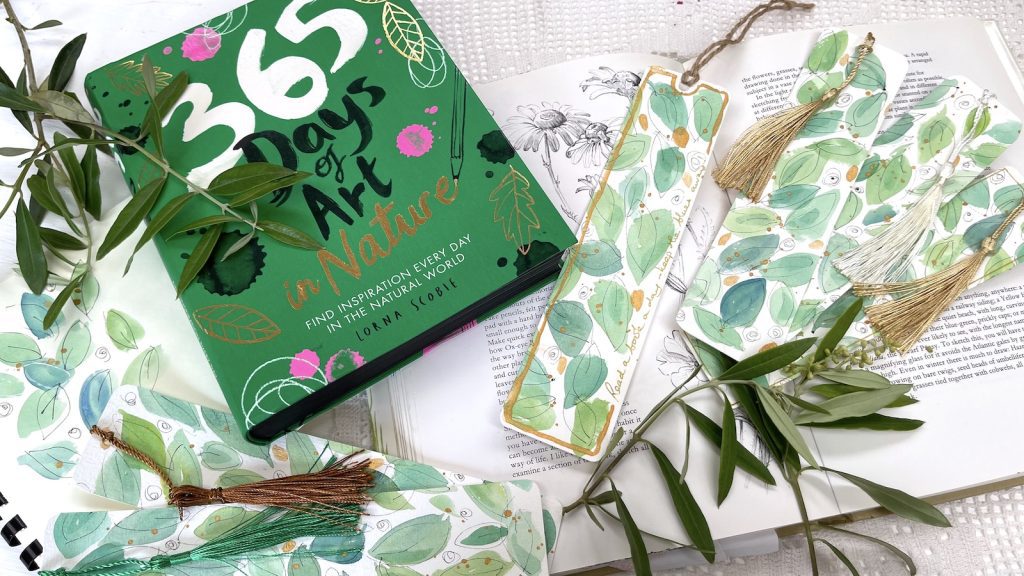 Simple leaves like these, based on the olive tree leaves from outside my studio door, make a perfect design motif for any project.
But you can choose any type of leaf or make up some from your own imagination.
What paper to use
I used a sheet of Clairefontaine Etival 100% cellulose hot-pressed 140lb paper for this one. Although it is not cotton, this paper works very well for everyday painting and costs a fraction of a good quality cotton paper.
But any paper will do for this exercise, the only prerequisite being that it needs to be at least 140lb for the thickness of a bookmark, unless you opt for laminating a thinner piece of paper, which is another good option. That will give your bookmark more longevity, although you might regret the loss of the tactile element of the paper.
Materials for this Simple Olive Leaf Bookmark
For paints you need three colors – I use tubes – with which to make your greens. If you want them to be fresh-looking, like mine, you will need lemon yellow, pthalo blue and ultramarine blue to get a range of greens. Or, you could use premixed greens. My favorite student quality paint is still Winsor and Newton's Cotman range, which you can rely upon to deliver quality at a reasonable price.
So, let's get started on our Simple Olive Leaf Bookmarks. Here's the video to watch, relax and imagine a walk in the olive groves of Spain…
Other papers you might be interested in
Shopping for your stash!
If you click on one of our links it will take you to our store and we receive a small commission at no cost to you when you purchase. Or go direct to https://www.amazon.com/shop/dianeantonestudio to see my storefront.
Other videos you might like