There are days when you want to do something a bit different. Maybe your watercolors aren't calling to you as loudly as usual, or you just want something quick and easy to do in a ten minute break.
Here's a design I did in four different ways and you can see how if you watch the video, linked below.
I picked out four colors from my set of Faber Castell watercolor pencils, and played around with a simple floral design in blue, pink and grey.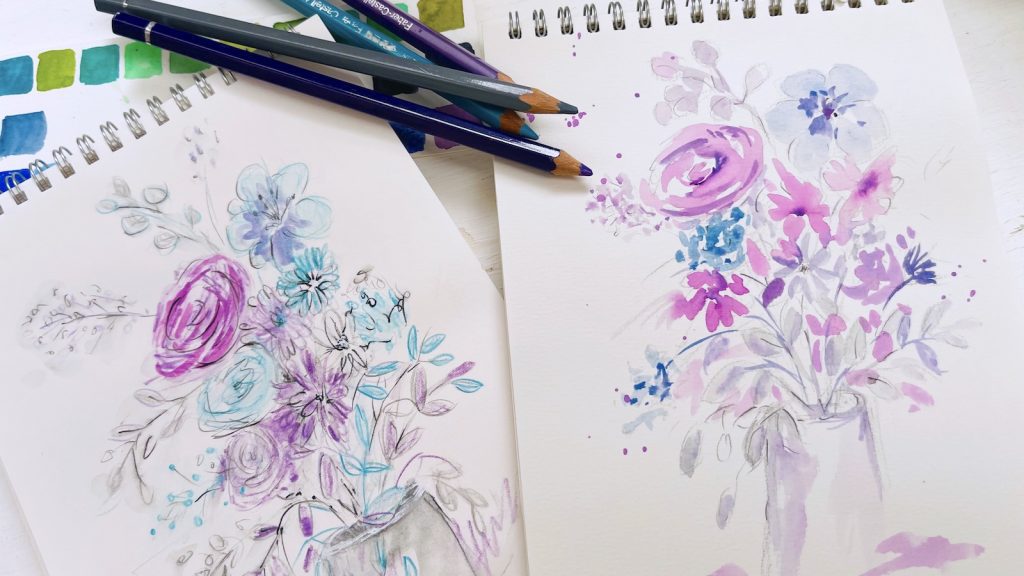 For these paintings I used basic sketch paper, nothing fancy, as there isn't a lot of water used in these pieces. As is the case with most of my paintings, you can really use just about anything, including the inside of a cornflakes packet, to paint on! And this design would be great used as a little note card or birthday card. Try putting part of the design on the envelope too, to make it harmonise.
I've put the links to several options just below here.
Two papers I've recently found on Amazon for the first time are called Wanderings and Sax. The Wanderings is handmade, Indian style, so bound to be irregular and ethnic, and the Sax is 90lb cold press at a very good price. Both would make good greetings cards.
One approach is to use a lightweight paper for your painting and then glue it to a ready made card with envelope from Strathmore for example. This way you can risk less as if the painting goes wrong you haven't wasted a card.
I really like this mixed media paper for the whimsical paintings I am doing at the moment and it is fine for light florals too. It's very forgiving to watercolor and is a good surface for penwork. There are other mixed media papers too, and the Canson one is good.
Sets of Pencils
Here are a few choices for watercolor pencils that I would recommend.
The brushes I used were a medium round, size 9, and a larger one, size 13 or so, for the background and larger parts of the painting. Depending on the size you design your painting, you might need a bigger or smaller brush.
Here are a few good options for brushes:
How to Paint your Pretty Floral Four Ways
Here are three more good choices for paper when you paint your picture.
And here are some options for inexpensive paints as a beginner.