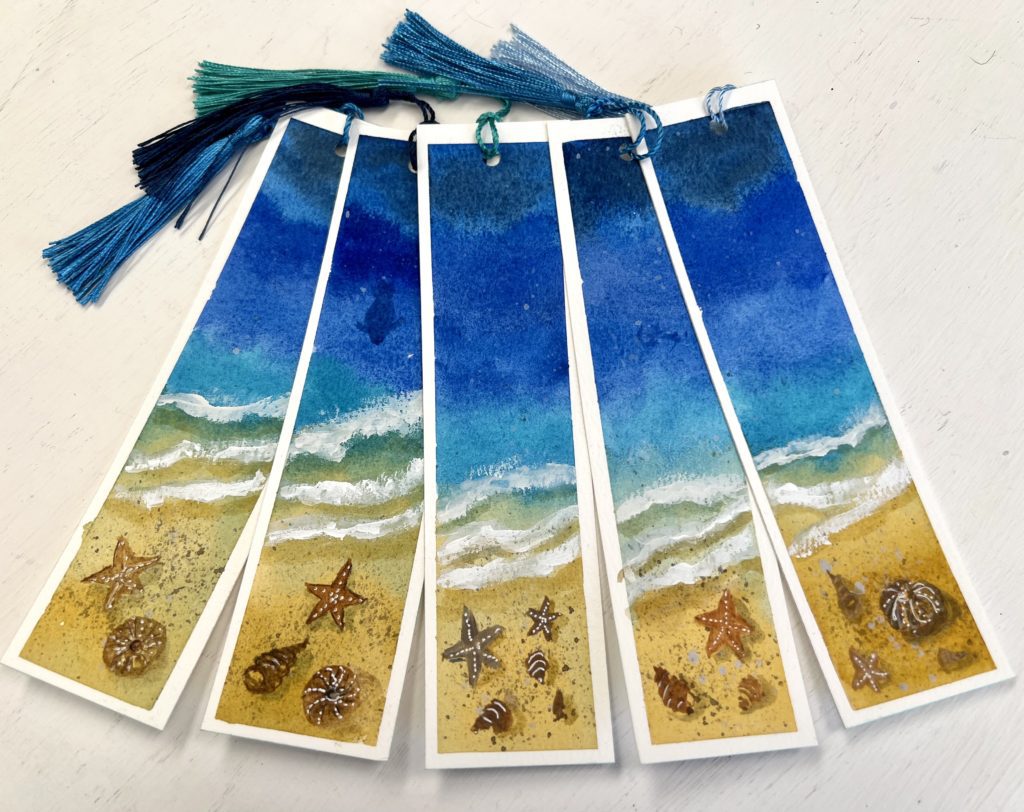 In my latest video we feature my method of painting a page of bookmarks the easy way. You could also use this idea to create a little landscape painting if you don't divide the page up!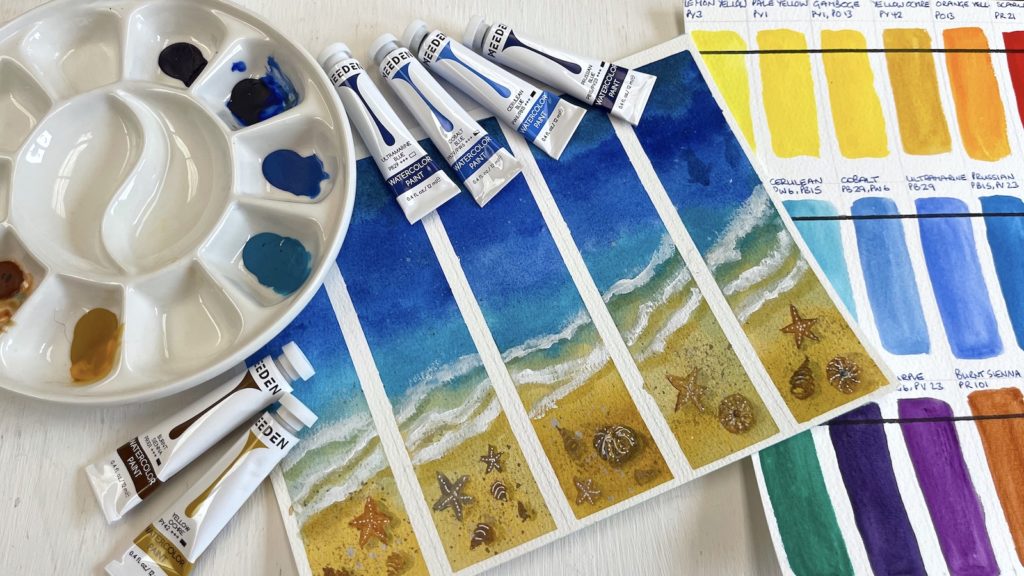 Materials
For these bookmarks I used a sheet of the Meeden watercolor paper, size 7 x 10 inches, which comes in a convenient block format so you can avoid any buckling issues. This paper is 100% cotton and made by the same manufacturers in China who make Baohong paper, to the same specifications, so you can be sure it's a good deal if you try this paper.
I used the Meeden Artists' Watercolor Paint Set that they had sent me. It has 24 light-fast, non-toxic, pure pigment colors in it, which at any price I would be happy to use.
I also used a No. 8 round synthetic brush – the Aqua Elite one by Princeton is more than adequate.
Meeden have a great offer on at the moment with huge Mother's Day discounts on most of their products so I suggest you take a look on their website.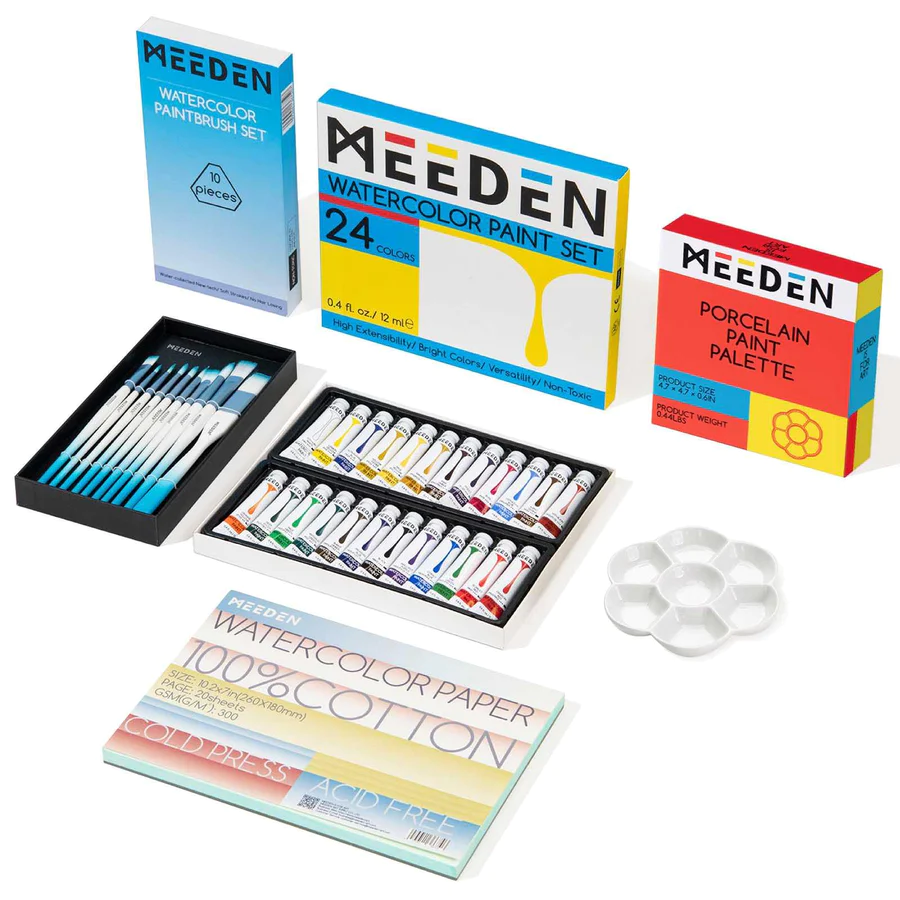 How to use these paints
To avoid getting confused when you buy a set of watercolors in tubes it's a good idea to have a large palette with enough spaces to take a portion of each color in your set. This is what my set looks like laid out in my studio palette.
There's plenty of room in the centre to mix the color blends you want, and when you are finished you can just put the lid on and it is protected from dust until the next time.
There are lots of options for plastic palettes like this online.
Mine is by Demco of Canada but is years old – at least 25 years! – and I don't think they make them any more, but you can find similar items made by many manufacturers.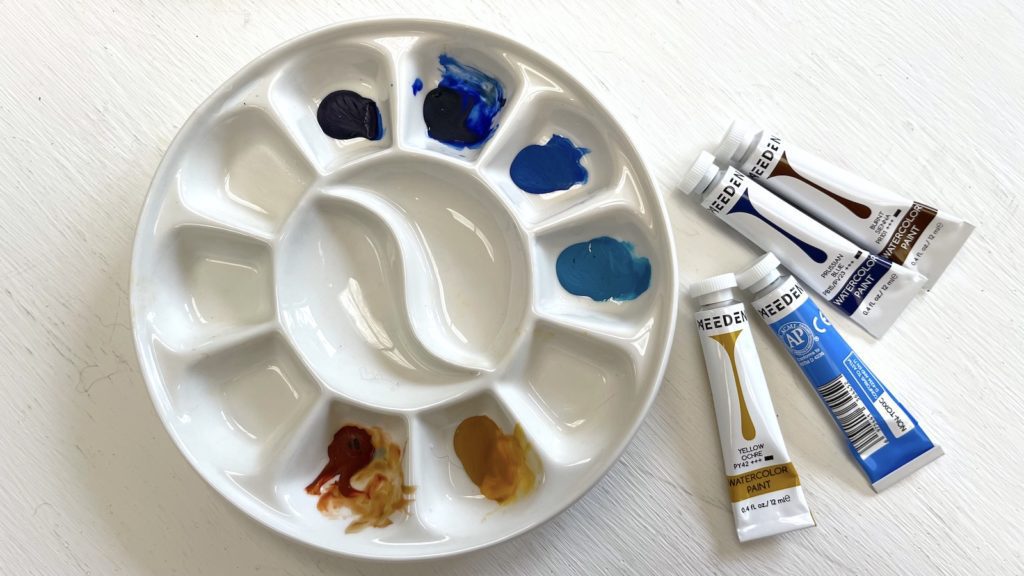 The second way I work is to choose a few colors which I want for a specific piece of work – in this case all four blues, and two earth colors – and put portions of each in a small mixing palette. This one has two larger sections in the centre for mixing in, as well as 12 spaces around the outside. It's ceramic and made by Meeden.
You can get little ones with lids too.
More information
If you want to see more information about these paints take a look at this recent video. You can get 10% extra discount from the Meeden website if you use the code Diane10 at checkout.