Join me as I select my special new palette for florals in 2022 and paint a beautiful rose bouquet ideal for Valentines Day.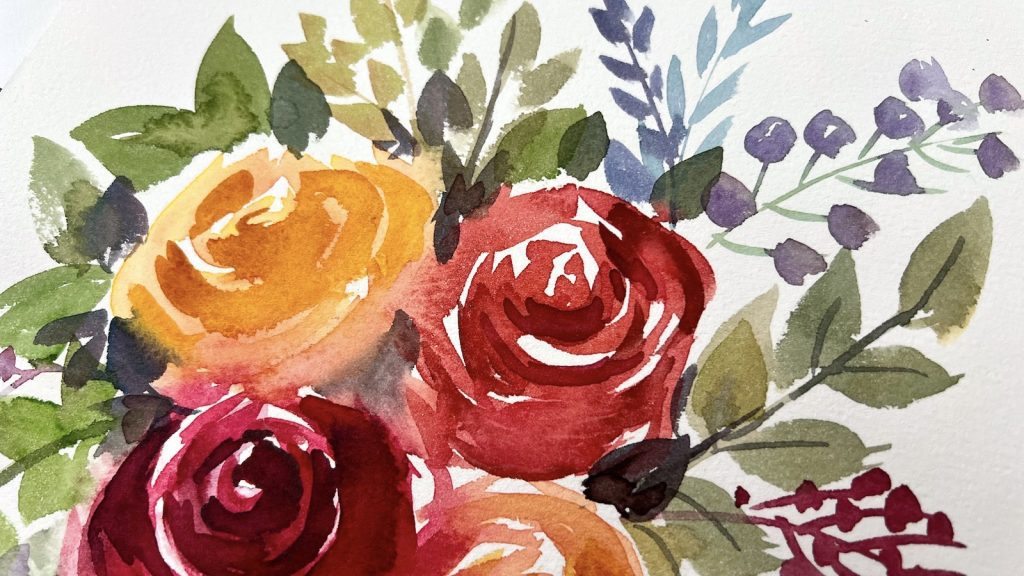 First of all a word or two about the colors I have chosen for the new Spring 2022 palette for florals. Here is a list of the actual colors and comments about each, with alternative choices which are also suitable as you create your New Watercolor Floral Palette for 2022.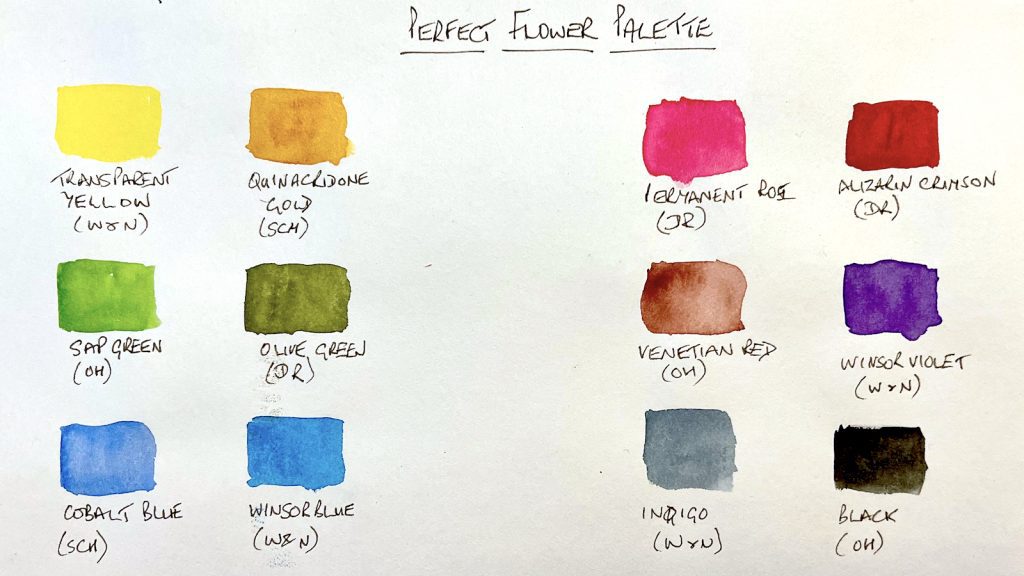 Transparent Yellow – this is exactly what it says, a pure, balanced yellow with no opacity. You could also use Aureolin Yellow, Lemon Yellow, Gamboge or Hansa Yellow. Avoid Yellow Ochre and Cadmium Yellow which are not transparent.
Quinacridone Gold – this is a strong reddish yellow which blends with many other colors to make beautiful shades. It has a special place in my palette and there is really no good substitute. Burnt Sienna is probably the best alternative.
Sap Green – This is a good leaf color which makes many good mixes with blues and yellows and can also be used alone. Alternatives would be Permanent Green or Hookers Green Light.
Olive Green – This is a blueish green which is ideal for leaves. You can mix it yourself, but for speed it is easier to have a tube on hand. Alternatives would be Perylene Green or Hookers Green.
Cobalt Blue – A fine transparent blue. The only alternative would be Ultramarine Blue, which granulates more.
Winsor Blue (Greenish) – alternatives are Pthalo Blue (Green shade) Indanthrene Blue and Prussian Blue.
Permanent Rose – This is a good transparent pink. Alternatives would include Opera Rose, Quinacridone Rose and Rose Madder.
Alizarin Crimson – This is a deep blueish red. Alternatives can include Permanent Red Deep, Permanent Carmine and Crimson Lake.
Venetian Red – This is an opaque burnt orangey-brown color. You could also use English Red or Light Red.
Winsor Violet – This is a clean, transparent mauve color very useful for floral mixes. You can also use Dioxazine Purple, Quinacridone Violet or Permanent Mauve.
Indigo – This is a blueish black/grey. There are lots of variations on Indigo, but no real alternative.
Black – Any black will do.
You may also need Chinese White or white gouache, although I didn't use it in this painting.
Equipment for Your New Watercolor Floral Palette for 2022
Here is one of the palettes I like to use, with lots of little spaces for different greens to live.
My Isabey brush has been with me for decades. A worthwhile investment for any serious watercolor student.
I really like the paper in this book for florals and other projects. Nice soft texture without too much grain.
This little flower shaped palette is ideal for the 12 colors in this selection.
I can recommend this set of brushes to any aspiring watercolorist. I particularly like the rigger and the cats tongue.
This set of student watercolors by Cotman will not disappoint. The colors are reliable and most of the ones in my palette are in here.
Your New Watercolor Floral Palette for 2022
You might have all these colors in your collection already. If not, you can add to yours by buying individual tubes. I recommend Winsor and Newton – the Professional range are very good, but Cotman, their student range, are also reliable and cost much less.