The leaves are starting to change color and fall now that autumn is here. So how about this pretty mixed media design to use for your autumn greetings cards? You can download the sketch to help you with the painting right here.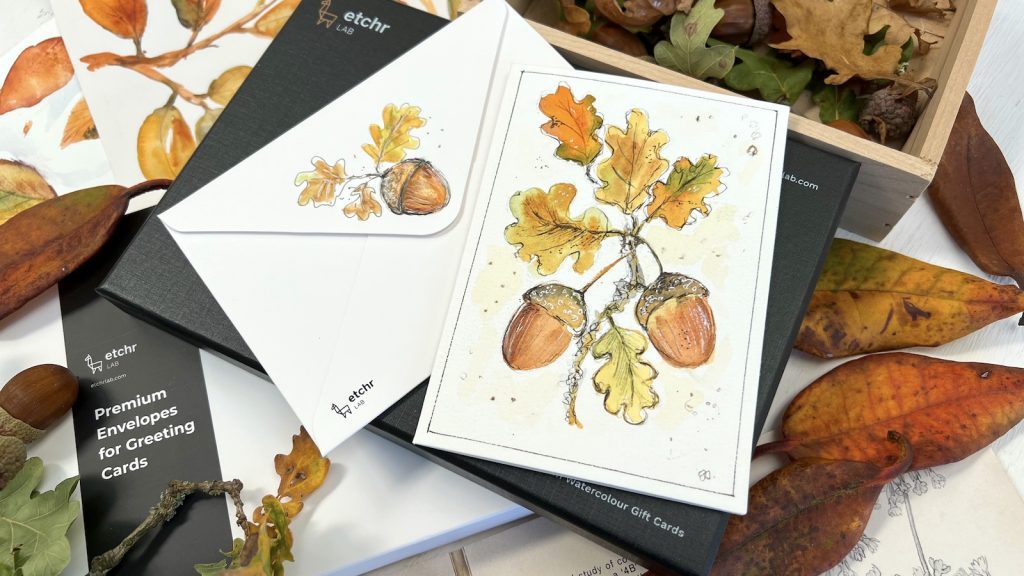 Materials
I recently received a pack of Etchr greetings cards with matching envelopes and they are the cards I'm going to use for this little drawing. The great thing about these cards is that they are made from quality 140lb watercolor paper, unlike some of the cards you can buy. So your work will turn out really well. You would have to purchase these from Etchr's website as they don't have them on Amazon. However, there are other, less expensive alternatives recommended here.
Or you can cut a piece of thick watercolor paper to the size you want (make sure you have an envelope the right size to take the finished card!
Or maybe you prefer postcards, in which case Etchr do have postcards with envelopes on Amazon.
You will need a few colors of paint. I used Quinacridone Gold, Burnt Sienna, Naples Yellow (this was optional), Cadmium Orange, a dash of sap green and Sepia or Burnt Umber. I used Winsor and Newton and Schmincke paints but of course any brand is suitable.
If you don't already have a good set of watercolors and are looking for a reliable and inexpensive recommendation, I would suggest you get a set of Kuretake Gansai Tambi paints. Or a set of Winsor and Newton tubes would be my second choice.
I also used a black fineliner, a brown fineliner and a white gel pen.
News from our YouTube world
We have just launched a new channel to add extra value for you to the main Diane Antone Studio channel. It's called From The Garden and on there we have lots of footage for you to use as reference material for your nature paintings. We also have started to offer a selection of calming nature sounds videos ideal for a de-stress, an afternoon nap or even going off to sleep at night! Try one of them – they really work!
Here's a couple of examples of content from From The Garden. The first one shows a butterfly hanging out on some bright pink Dianthus, and the second is a close look at the lavender flowering shrub, in an attempt to get the flowers right when we paint them!
Thirdly, the first of our relaxing nature sounds videos.
And here's the relaxation video.
---
---
Oak Leaf Card Video
Here are some more of my favorite supplies
And here are three options for paints for a beginner who wants to start with a good quality paint: