Every studio is different – you could even say unique. While the basic tools for watercolorists are the same the world over, the variety of materials available now has meant that you are unlikely to find two artists with entirely the same paints, paper or brushes.
Rather than bore you with a discussion of the same things everyone talks about at the beginning of every book on watercolor painting, I thought I would do an occasional series on unusual things I have in my studio. Things I have been given, or have found to be useful. Specialist things, and repurposed things.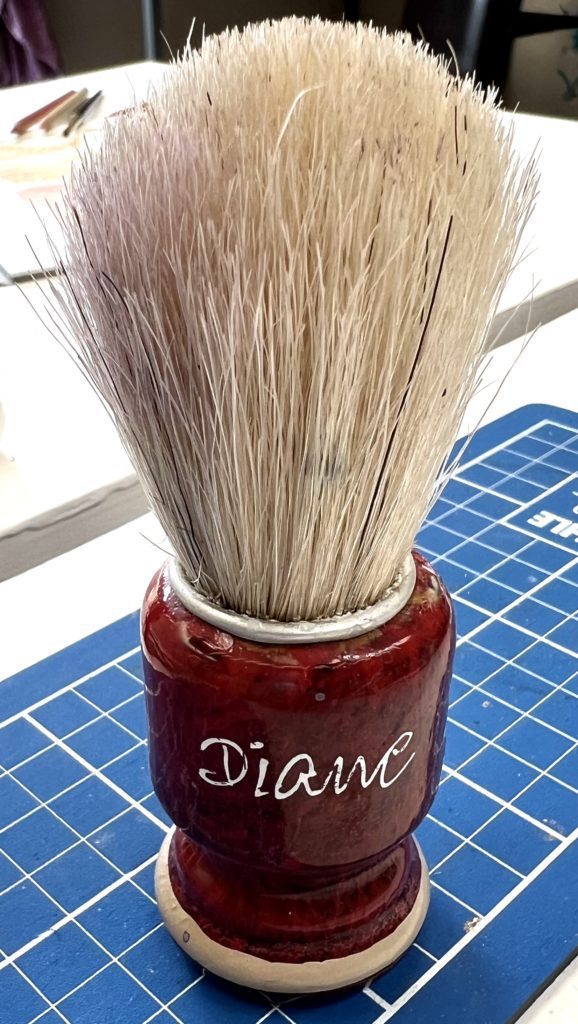 This is a shaving brush. It's absolutely invaluable for brushing eraser bits off the paper when I've rubbed out a line in a sketch, or for generally dusting paper fragments away from a painting. Before, I used to grab a paint brush to do this job, but more than once the one I picked was wet, and led to frustrating moments as I messed up my drawing. This was a gift from Germany. I believe it is vintage, but it has never been used except by me. I think similar items are widely available on Etsy and eBay and are relatively inexpensive. Highly recommended as a gift for the artist who has literally everything!
While we're talking about erasing mistakes in sketches, here's a tip I developed for myself over the course of the years. If you are painting in watercolor but you feel you need to make a sketch first, you don't need to do the sketch in graphite (lead) pencil. You can use a watercolor pencil. Pick a color that will blend easily with the painting you plan to do, or if it is a multi-coloured painting choose a very light grey or yellow which will easily dissolve when you add the paint.
Although you might say that you can't erase the coloured pencil if you make a mistake in your drawing, for the kind of art I do you don't need to worry about that. Pencil lines can be ugly if they're done in graphite, but extra texture, color and interest from a watercolor pencil line is nothing to be sad about. It's just part of your painting.
Here's a couple of options for watercolor pencils I recommend. The Faber-Castell set is all pastel colours, the Derwent one is skin-tones and the Creta color is a selection of light colors, all suitable for the job in hand.