Today I decided to start my painting session with another neurographic exercise. I found a different approach described on YouTube – there is so much variation out there in how to do this technique, most of which have gone a long way from the original methods, and which, to tell the truth, I find more appealing. So today I got out my brush pen set from Poetique and set to making another version of this relaxing and inspirational art form.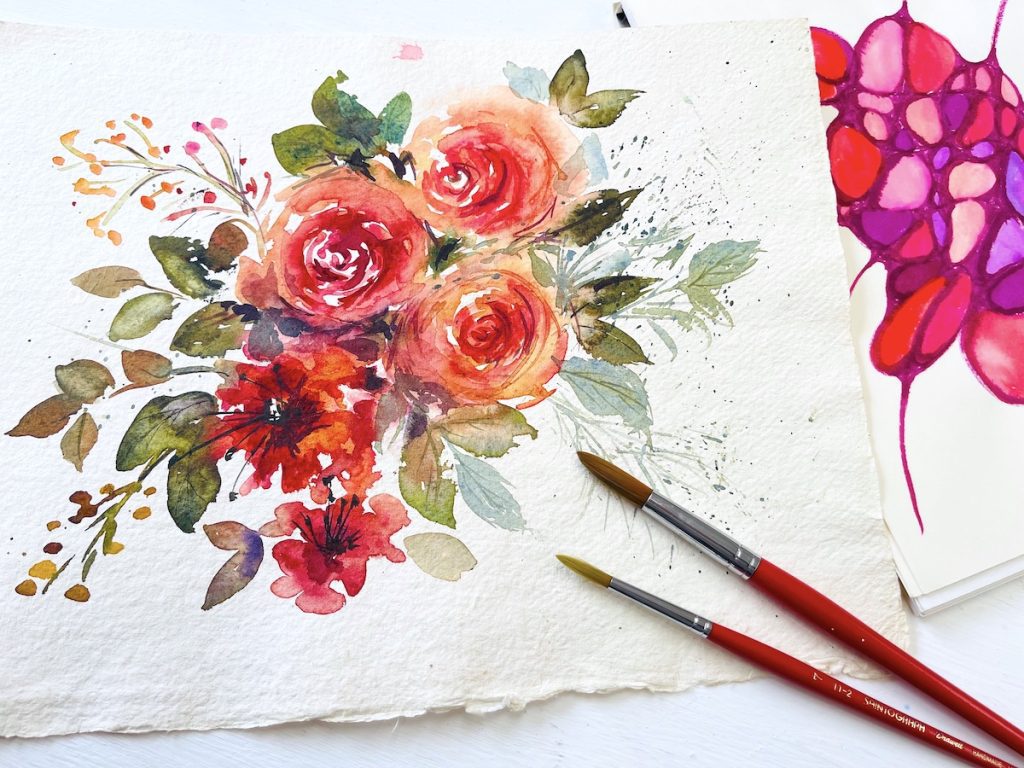 Try Neurographic Art to Relax and Release Your Creativity
Many of us, myself included, struggle with loose flowers. There are so many things that can go wrong. At least, that's what we tell ourselves. But if we loosen up first with a neurographic exercise, or some other kind of warm up, the challenges seem more like fun than trauma. After all, it's only a sheet of paper, isn't it!
Watch the video on Loose Flowers and Neurographic Art and give it a try!
Flowers the loose way – no need to sketch!
Flowers are such a popular subject for painting, and it's no surprise as they are gorgeous in their rainbow of colours whether in our garden or growing wild. As well, if you paint them loose you can use your imagination and just see where that takes you, as there are so many different flowers out there yours are certain to look like some kind of flower!
All the materials I used for this painting of the Loose Florals and Neurographic Art video are listed in the description below the video on YouTube, and there are full instructions in real time on the video. There are also subtitles in several languages as well as a transcript of the script of the video. Message me if you can't find something you are looking for.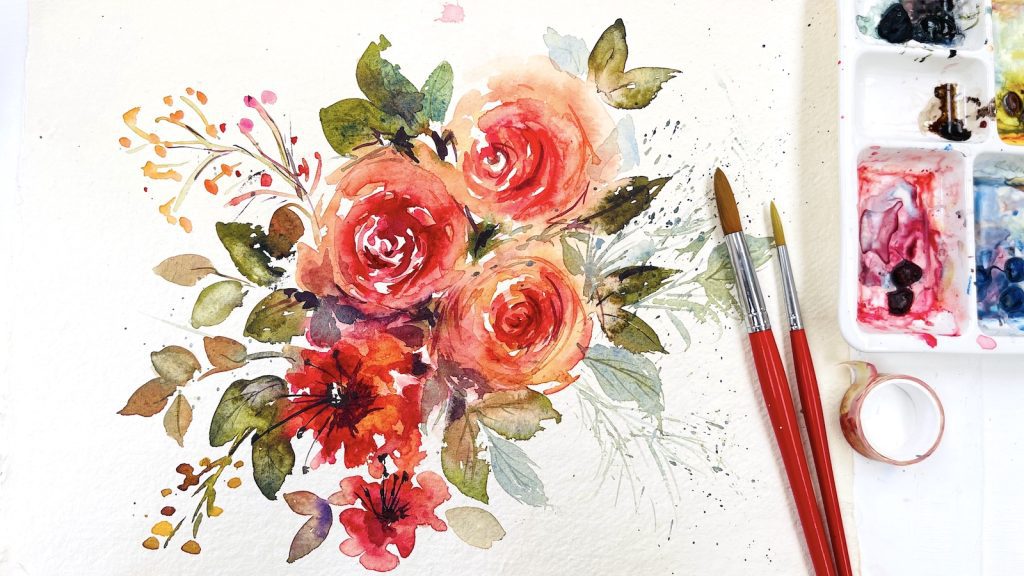 If you want to download my free sketch for this painting Roses and Neurographic Art you can find it here.
I recommend Jacksons Art for supplies. They are in the UK but their prices are so good it's worth paying their nominal shipping fee. They also have other interesting features, such as expert-written guides to materials and techniques, an annual competition with a valuable prize, free shipping in the UK for over £75 orders, and very reasonable rates for international orders. Plus they have great discounts. Click on the image below to find out more.
Here are the colors I used to paint the Loose Florals and Neurographic Art exercise:
Quinacridone gold https://tinyurl.com/2b53nta5
Cobalt Blue https://tinyurl.com/hrbmjtt8
Olive Green https://tinyurl.com/pskenpvk
Alizarin Crimson https://tinyurl.com/2mfwv76u
My paper was Khadi paper from India. It's a rough textured, creamy coloured paper hand made from 100% cotton. It takes paint surprisingly well, despite looking like bit like blotting paper!
My brush was a Drawell size 11 Golden Round – a very good synthetic brush from Japan. You can order them here: http://www.drawell.co.jp/english/ by contacting them direct. The prices are very reasonable and they ship worldwide at minimal cost.
Other videos you might like