Why Bookmarks?
Does anyone read books any more, asked someone a while back on YouTube comments! The response was dramatic, with many people jumping in to say they thought you could never have too many bookmarks!
Yes, a lot of people read books online, on Kindle for example – I have one myself. But it is still not the same as having a real book in your hands to read. I doubt the pleasure of reading from paper will die out any time soon, and when it does, humanity is going to be in real trouble!
So the conclusion was that for the sake of our sanity and our eyes, books must remain, and consequently everyone needs a bookmark stash!
How to Start!
Most people start to make bookmarks by accident!
You know the deal. You paint a picture and it doesn't quite work. Bits of it are pretty, but the overall painting somehow doesn't do it for you.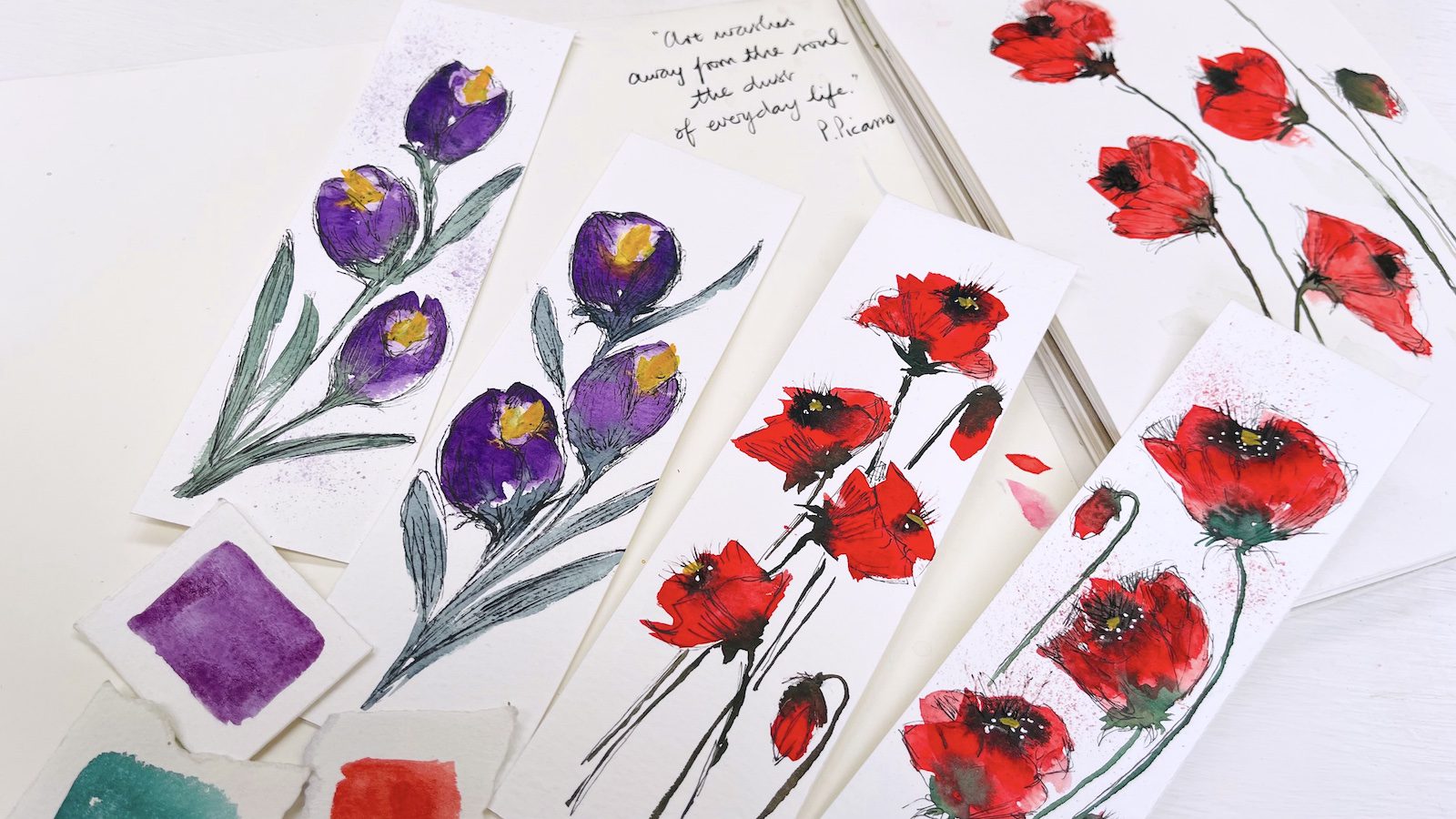 Solution? Cut it into strips using the best bits, punch a hole at one end, string a tassel through and "Bob's your Uncle" – a pretty bookmark!
Then you might see a future for the rest of the failed painting as you cut another bit out, perhaps this time a rectangle, that you can glue to a blank greetings card to create a message for someone – once again, "Robert is your Father's Brother!" And you've saved yourself a few dollars you don't have to spend on buying a birthday card!
Where to get ideas
I publish a bookmark idea at least monthly for you to enjoy, and you can find them all here in the YouTube playlist of Bookmarks. Or, click on one below to go directly there to see the full video tutorial.
All the bookmark ideas are easy to do, and can be good startups for a painting session. They make great little gifts especially if you do a coordinating set which is themed to someone's interests.
People often give them at weddings and other commemorative occasions as a keepsake.
Notes on Materials
Paper
Try to use reasonably heavy (140lb) paper for your bookmarks if possible. The quality probably doesn't matter much, and this is a time to use up some of the really thick paper you never got round to using – or the coloured paper – or maybe the handmade offcuts you've been keeping. If you have lighter weight paper you could glue it onto a thicker piece to give more rigidity.
I use a knife to cut mine but a paper cutter is a better, safer idea.
Other
Depending on the design you might want to purchase some narrow washi tape to mask off the bookmarks when you are painting several on one sheet. The Beach Bookmark video shows this particularly clearly.
You can get lovely silk mini-tassels for very little cost on Amazon and the colors are very pretty.
If you want to keep your bookmarks safe, you can laminate them, or buy plastic pouches to slip them in to protect them.
Library of Bookmarks
Here we have bookmarks for many occasions. Flowers, herbs, abstracts, leaves, birds, rainbows, and seasonal ideas too, for Christmas especially.
Click on any of the thumbnails to go straight to the video on YouTube. Happy painting!