Inspired by an article in my favorite art magazine I decided to paint a snowy landscape with a cute whimsical rabbit and hedgehog skiing across the paper, with a background a snow covered pine trees.
The video includes instructions for how to paint a wintry sky, and how to make an effective skyline of trees in three layers./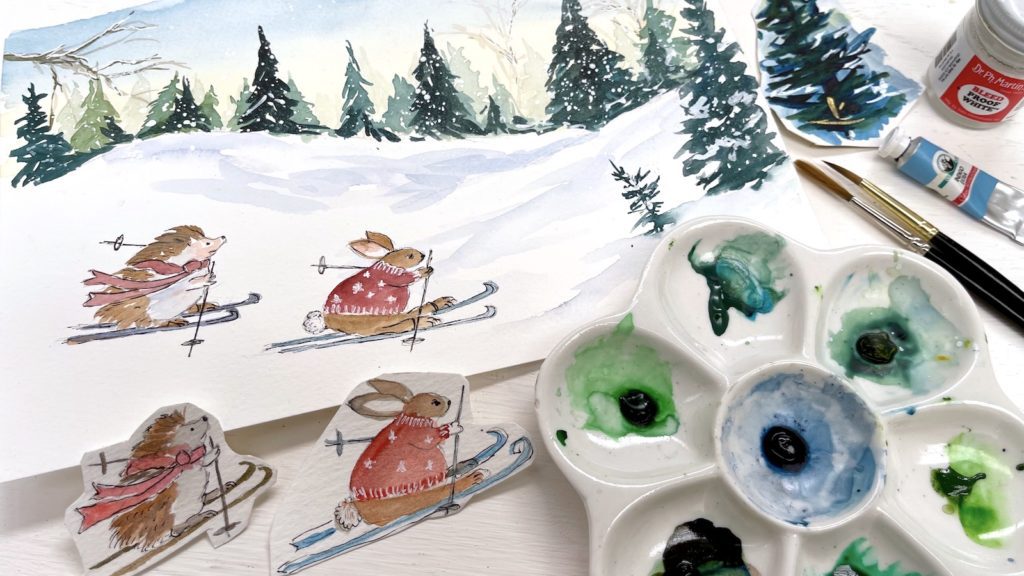 You can find the sketch for the painting here, downloadable for free.
Materials
I used a piece of Bockingford 140lb watercolor paper, cold pressed, cut from a full sheet. If you buy your paper in the full sheet you will save a significant amount over the price when you buy it cut into blocks or pads. I can't find full sheets of Bockingford on Amazon so my link below goes to a block. But I think Cheap Joe's and Blicks have sheets, and of course Jackson's do too. That's where I buy mine.
My paints were a variety of greens from my stash, which included Sap Green, Winsor Green, Hooker's Green, Pthalo Green and Olive Green. These were mixed with Cadmium Yellow and Indigo to give lighter and darker greens.
I also used Yellow Ochre and Phthalo Blue for the sky, Ultramarine for the snow shadows and Alizarin Crimson for the rabbit's sweater. A dab of Raw Umber for rabbit's fur and hedgehog's spines and that was it – except of course for the all important white!
My white of choice has to be Dr PH Martin's Bleedproof white. Not only is it opaque and covers anything, it stays white. This has proved not to be the case with some of the white gouache I've used in the past, as I discovered this week when looking back at some old Christmas paintings.
Here are a few of the materials I used.
Watch the video here!