Welcome to Brusho! Join me as I explore and begin to explore how to paint with Brusho brilliant crystals to create magical effects in your landscapes – and learn to loosen up your watercolor paintings!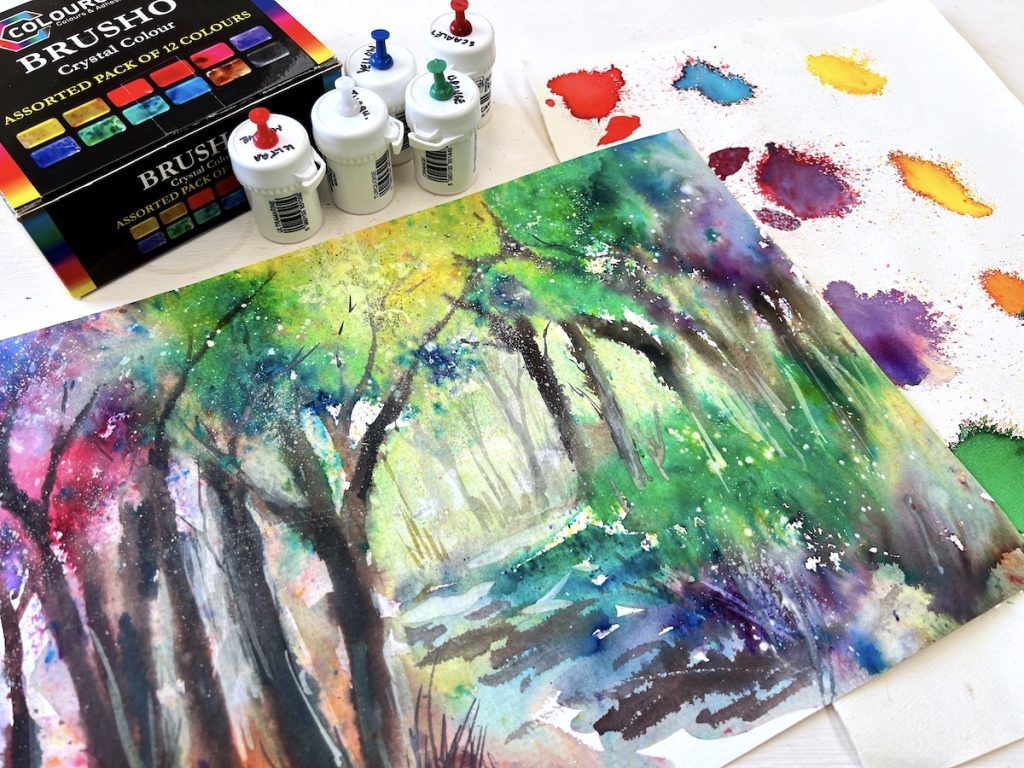 I was recently given a set of Brusho crystals and couldn't wait to give them a try. I discovered quickly that they challenge everything I thought I knew about watercolor, first of all by their unpredictability and secondly by their vibrant and indelible colors.
These colors are explosive! There's no other word to describe what happens when they land on wet paper, and the wetter the paper the more they explode!
I attempted to follow an example of a painting from the Book The Art of Brusho by Carrie McKenzie (see links below) and as you can see in this photo the painting quickly became semi-abstract and vibrant!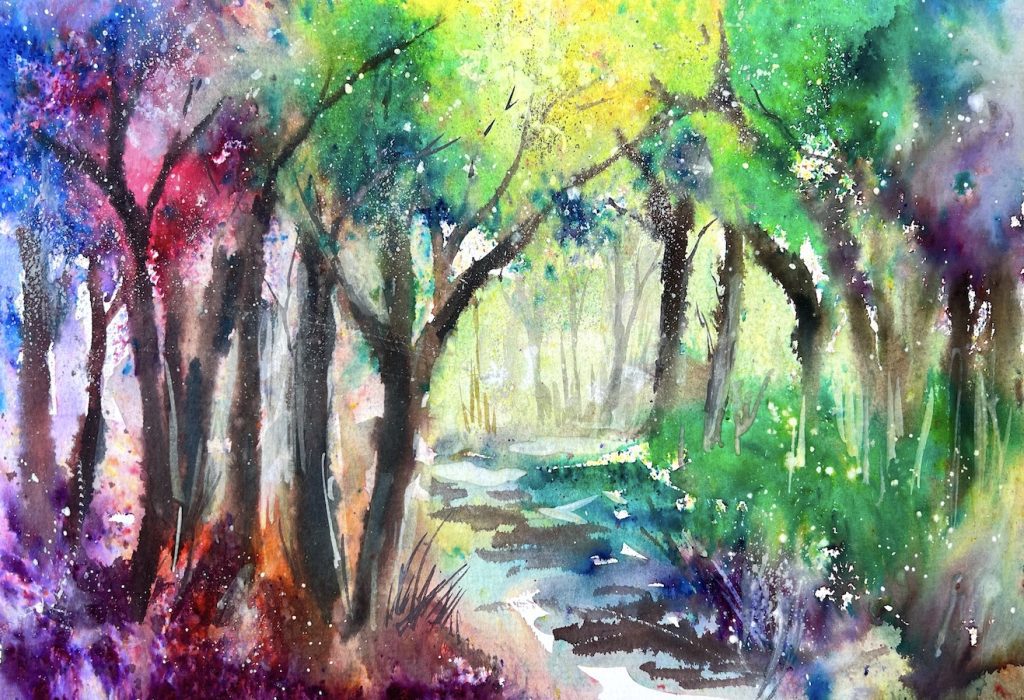 Below you can watch as I create this colorful treescape, and I suggest that you might want to buy a set of Brusho crystals if you in any way wish to break free of realism and the tight, representative realistic art that enslaves so many of us. Break those bonds with Brusho!
I did stretch my paper on to a wooden board because I knew that I would be using a lot of water, and that this would prevent the paper from warping and spoiling the movement of the Brusho crystals. You can see how to stretch paper on this video
Getting Started: How to Paint with Brusho
Here are all the materials I mentioned, including the book I used to get started with Brusho.
This is the starter set. There are many more colors available, including autumnal shades and more blues, so you may want to add to your collection.
White bleed-proof watercolor ink, which will give you highlights on your painting if they get lost in the excitement of Brusho!
Bockingford is a good quality but inexpensive paper that will give you good results without costing the earth.
This set of brushes is ideal for a beginner, but also ideal for using with your Brusho, as you might want to keep a separate set for these paints, just to make sure crystals don't get into any of your other paintins!
This book is a marvel and is full of brightly coloured and imaginative examples of what can be done with Brusho, as well as lots of tips on how to use the crystals safely (white carpets?) and creatively.
A spray bottle is vital for this medium. This one is inexpensive and has adjustable spray – you will find you need a fine spray and a heavier spray to be really creative with Brusho!
So with your materials and a generous sprinkling of courage ready, let's get started!