Here's a quick and easy relaxation exercise to warm you up to painting again after an exhausting Christmas break! Two adorable little birds waiting to adorn someone's birthday card!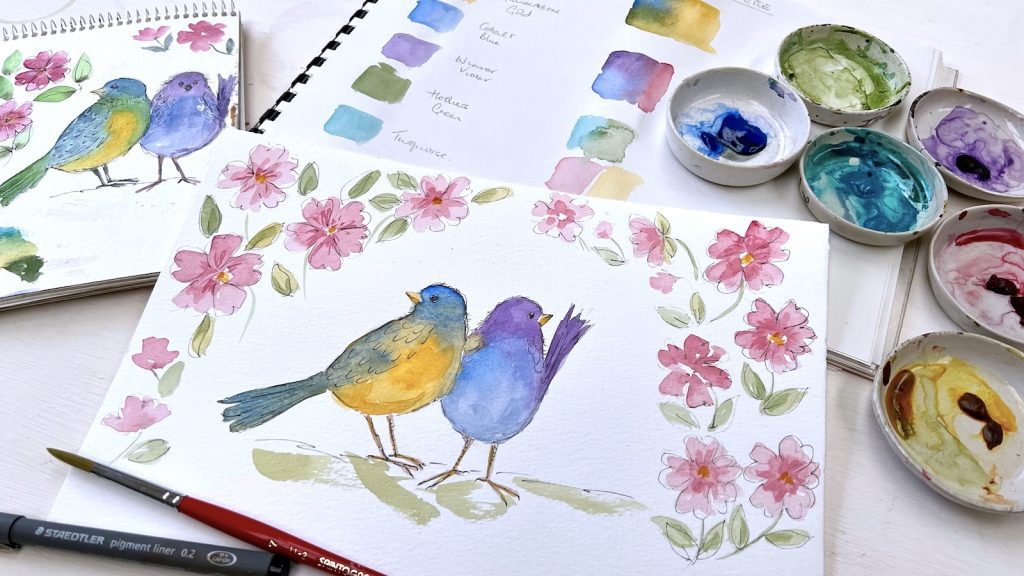 My Materials
I decided to paint these little cuties on a piece of Bockingford 140lb watercolor paper. Because I don't use a lot of water for this style of painting, I didn't need to stretch or even tape down the edges of the paper, but just went ahead and painted directly on to the paper after doing the sketch.
My Paper
For a good quality, reasonably priced paper you can't do much better than Bockingford. If you are based in the UK you can buy it from Jacksons here:
It's available in white and also in pale tints, which is very unique among watercolor paper manufacturers.
If you are based in the States you can also buy from Jacksons and their shipping is very reasonable.
My Paints
For this painting I used traditional watercolors by Winsor and Newton. The colors I used are: Cobalt Blue, Winsor Violet, Quinacridone Gold, Sap Green and Alizarin Crimson. I prefer to use tubes, which I squeeze out into little dishes which I use as palettes, or sometimes I use pan paints from my set, depending on my mood!
My Brushes
For this painting I used a No. 7 round synthetic brush. You can use any of many brands for this undemanding painting. I can recommend the beginners set by ZenArt for anyone wishing to buy a starter set.
If you're still learning how to draw birds, please feel free to download my sketch of this painting of How to Paint Cute and Colorful Watercolor Birds. There is no charge for these downloads although we do appreciate a small donation in our PayPal tip jar if you feel you would like to support the channel. Just go here How to Paint Cute and Colorful Watercolor Birds for your download.
Here is the video for this tutorial:
How to Paint Cute and Colorful Watercolor Birds