Looking for something really quick and easy for you to paint today, I created these simple, easy and colorful flowers. It's easy to get caught up in painting detail in the search for the perfect painting, but actually the most captivating images are often the simplest, with the bold colors and pared-down lines which appeal to the sense of beauty. These five flowery characters are enhanced with gold paint and would make a perfect birthday card for someone special.
So when you feel the need to have fun with flowers, here is the video to watch for guidance along the way. You can download sketches for this and all our YouTube videos from this site free of charge.
Having Fun with Flowers – Materials
For this painting I used a sheet of Clairefontaine Etival 140lb watercolor paper, size 20 x 30 cm or about 8 x 11 inches. You can buy the paper from Amazon, and it is the best I have found for beginners. It combines strength with sensitivity and will stand up to lots of corrections and work, but at the same time will show your colors off to their best advantage. You can buy a pack of 30 or 50 sheets, or else it is available in pads or blocks if you prefer that format. You can also get different sizes, but I find the 8 x 11 inch to be the most common size I use.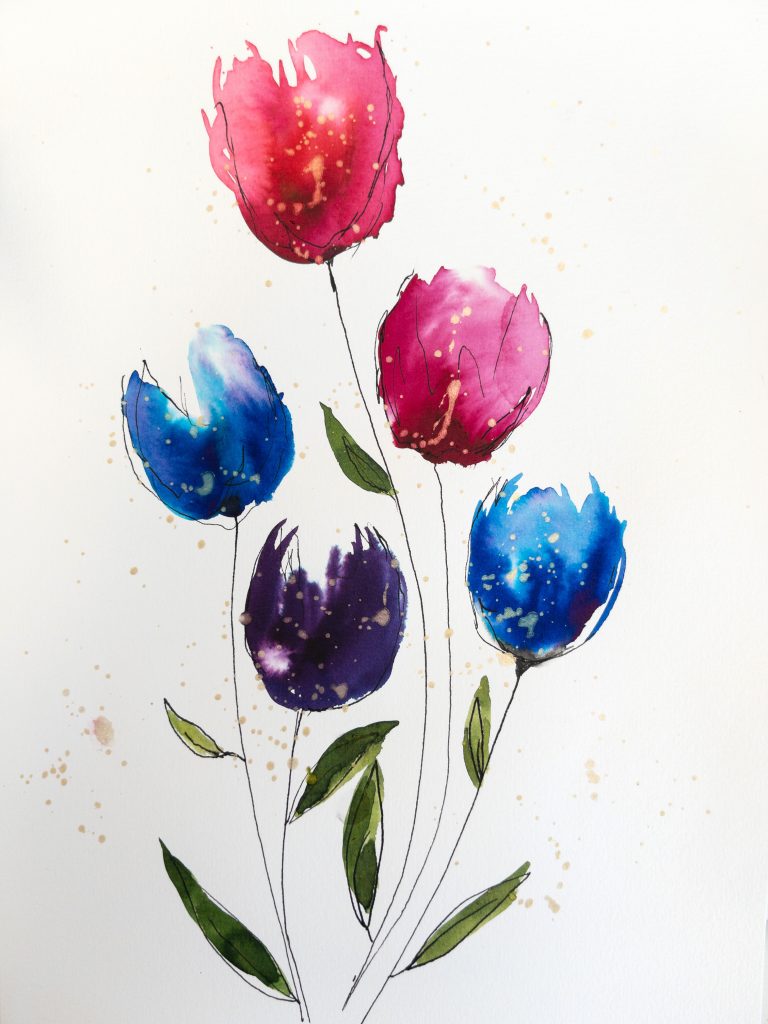 I also used two Kuretake waterbrushes in size medium and large, and a glass pen which gives a very nice line to the ink work. I bought mine years ago from a craft fair, but similar ones are available on Amazon for a very reasonable price. For paints I used my Viviva Colorsheets specifically using Burgundy, Magenta, Persian Blue, Olive Green and Vivid Red.
The gold sprinkles were done using my Kuretake Gansai Tambi Starry Colors, which give a beautiful touch of glitter to any painting.