Easy Winter Watercolor Landscape for Beginners – PLUS How to Paint Snowy Trees and more
Here's a fun and easy Winter Watercolor Landscape for Beginners and Improvers full of simple but effective techniques for achieving a great painting. You can find the sketch for this painting here free to download.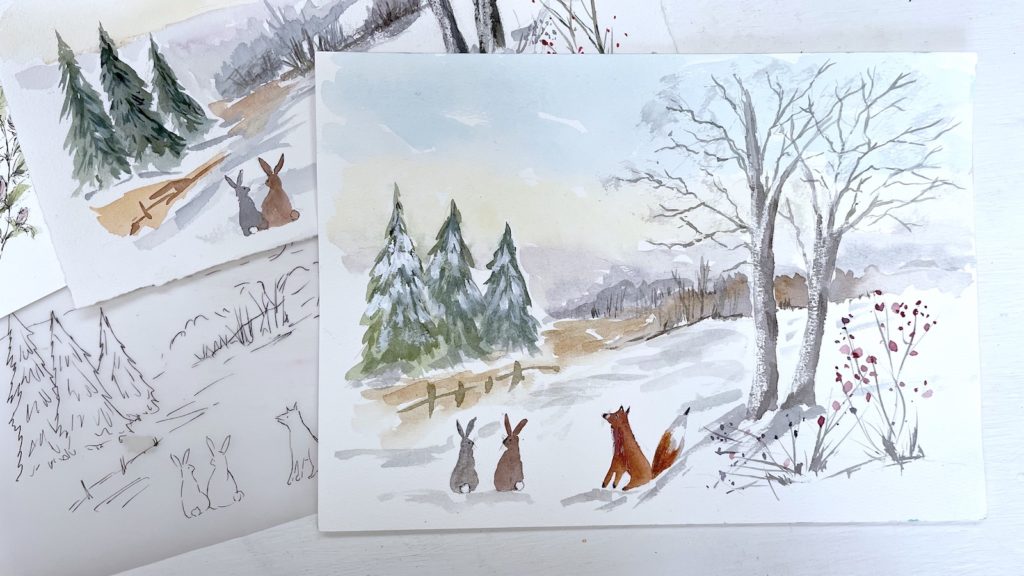 In this video I show you how to paint a wintery sky in the easiest possible way, as well as how to give the impression of distance in the landscape. I introduce you to a method of using wax resist to create a snowy tree and how to paint snowy fir trees in the distance.
So let's get started!
Materials
Paper
For this painting it's best to have a piece of paper that will stay flat during the painting process, although as it is not a very wet painting it is not as important as it can be. If you don't have a block of paper (glued all round) on hand, taping down your sheet with masking tape will be okay too.
I chose a block of paper by Etchr but there are many other alternatives. If you take a look at my Amazon shop you'll find many suggestions there for tried and tested paper as well as other materials I recommend.
Paint
For this painting these are the colors I used:
Yellow – Raw Sienna, Yellow Ochre or Naples Yellow
Blue – Cerulean, Cobalt or Ultramarine
Green – Olive, Sap or Hookers
Grey – Paynes, Neutral Tint or Black
Red – Cadmium, Alizarin, Winsor Violet
Brown – Burnt Sienna, Burnt Umber or Indian Red
Watch the video here!