We talk about Intuitive Art and painting from the heart but where to start?
I wanted to share with you something that I've found to be immensely helpful and discovered recently – Aboriginal song lines!
Song lines are these amazing pathways of traditional knowledge, stories, and practices that are deeply connected to the land of Australia and its natural rhythms. They often feature beautiful depictions of the natural world, including animals, plants, and landscapes, and can convey really powerful messages about the relationship between humans and the environment.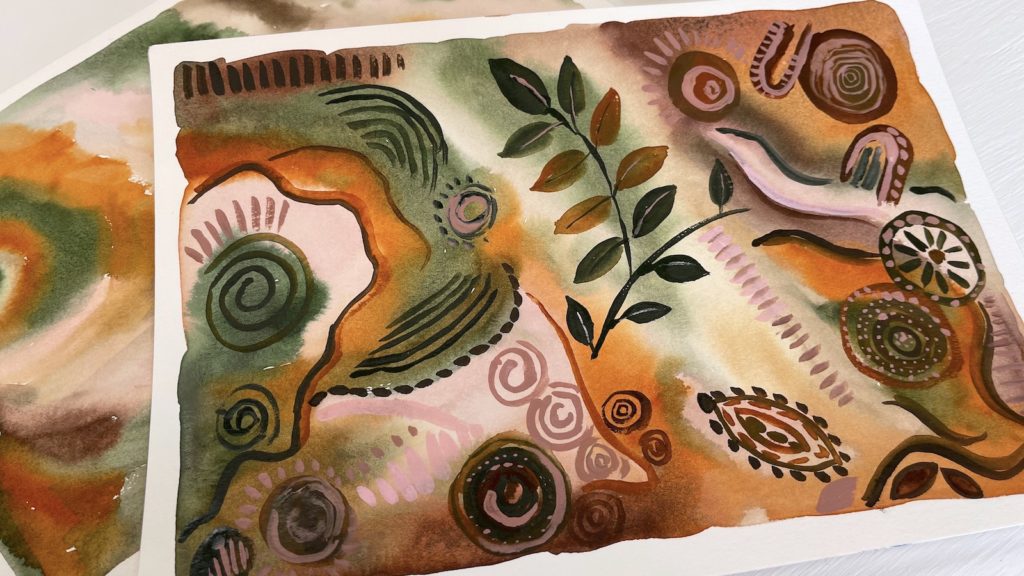 By exploring these song lines, we can tap into a deep well of cultural wisdom and spiritual insight that can inform and enrich our creative work. It's a beautiful way to connect more deeply with the natural world, and I find that working with the fluid and organic nature of watercolors can be a really powerful tool for expressing the dynamic and ever-changing energy of these song lines.
If you're looking for some inspiration for your next painting, I definitely recommend exploring Aboriginal song lines and seeing where they take you! Here's a link to an article I found on the subject.
Materials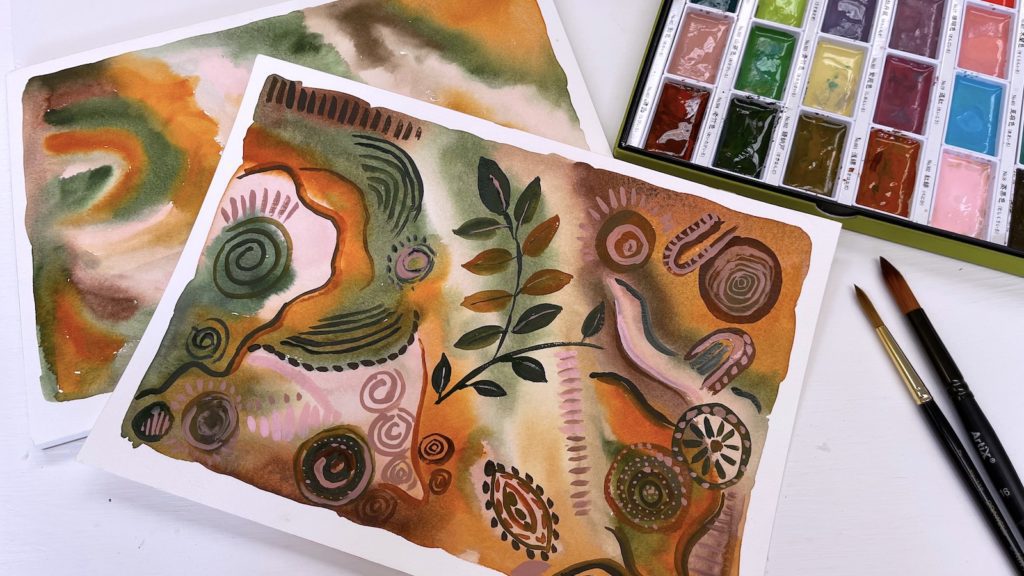 For this painting I chose a piece of watercolor paper, 140lb cold pressed, by Etchr. Mine was in a block, so no need to tape it down to avoid buckling, which makes life simpler.
I used my Kuretake Art Nouveau paints for this one, choosing the following colors: Potters Pink, Venetian Red, Green Grey, Yellow Brown, Mars Yellow and Pale Pink and plus Raw Umber Deep from the other set of 48.
I used a round brush size 14 to paint the background and a size 7 to do the details.
Method
In the photo above you can see the background I created first for this painting. I just added the various chosen colors in a way that seemed pleasing to me, with no particular goal in mind.
Once it was dry I added the motifs and lines in the same colors using them thickly and quite liquid so that they stood out on the strong colors beneath. This probably would be hard to achieve with traditional watercolors, but acrylics would work I imagine.
You could use Posca pens or other pens to do the decoration, or if you have watercolor pencils they would be interesting too – but for this one I just used thick Kuretake paint.
Meanwhile, here's my video on exploring the idea of song lines! Why not give it a try!