Learn to paint watercolor the fun and easy way
In this video I show you how to choose a colorscheme from your Kuretake paint sets, plus ways to use a brush, different types of brushes, water control and much more.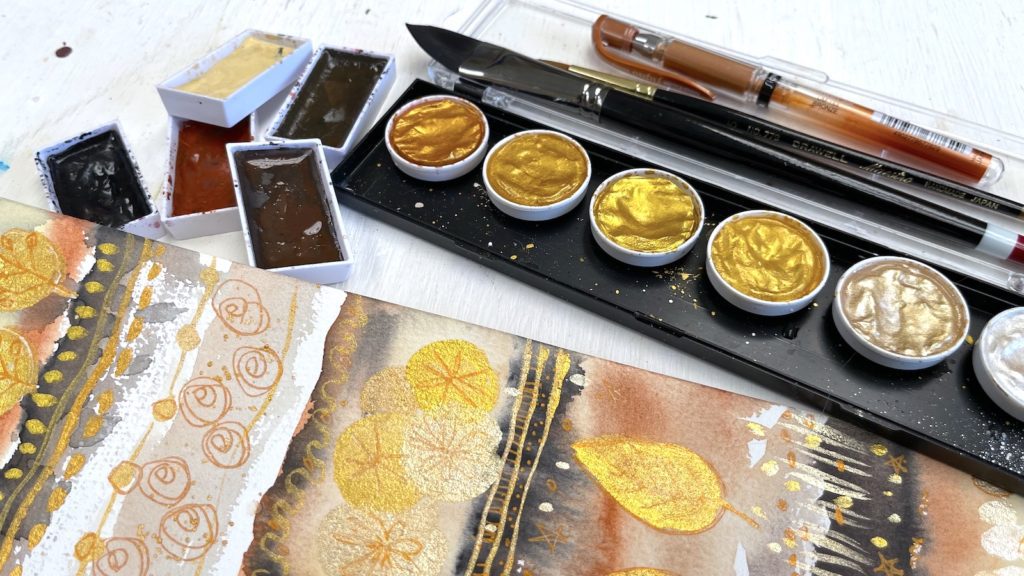 Plus you are going to create a super attractive abstract piece of art that will adorn your home. Alternatively, if your first effort is less than you'd hoped, it will cut up into pieces and make greetings cards, bookmarks or pages and inserts for your journal.
So let's get started!
Materials
Paper
For this painting you need to have a piece of paper that won't buckle and cockle, so you are best off either using a block or stretching your paper. Taping it down with masking tape is not really that good at keeping your paper flat. And this technique depends on having your paper flat.
I chose a block of paper by Etchr but there are many other alternatives out there if you are in the market for a new paper. Here are a few suggestions:
You can also find suggestions for paper in my Amazon storefront here
Paint
For this painting project I used Kuretake Gansai Tambi watercolours. I have the set of 48, which also includes some metallic colors. They also come in smaller sets at lower prices. There is also now available a beautiful wooden hinged set which would make a lovely gift.
I really like this set of paints, not only because the colors are strong and harmonious, but because they are in large sized pans which makes it easier to use a large brush.
Metallic paints
I have tried out three different types of gold and silver paints so far this last year and they have all been quite good. Any of these will work for this painting.
Brushes
For this painting I needed one large brush and one smaller brush. I used a cats tongue for the larger parts of the background. Mine was by ZenArt, who have a very reasonably priced set of brushes for all requirements. For the smaller one I used a synthetic round by Drawell, but any brand will do for a painting like this.
Watch the video now!
Another version…
After painting this version, I decided to do it again in shades of blue-green. Here's a look at my result!