This month we are running a series of tutorials to help you beat the blues and create.
What better to lift your spirits than a little bird – or two, or three …
So today I'm going to feature the Imperfectly Perfect Circle Birds.
You've heard the expression "I can't draw a straight line" and "I can't draw a circle?" Well, you are the winner when it comes to creating these imperfectly perfect little embellished birds!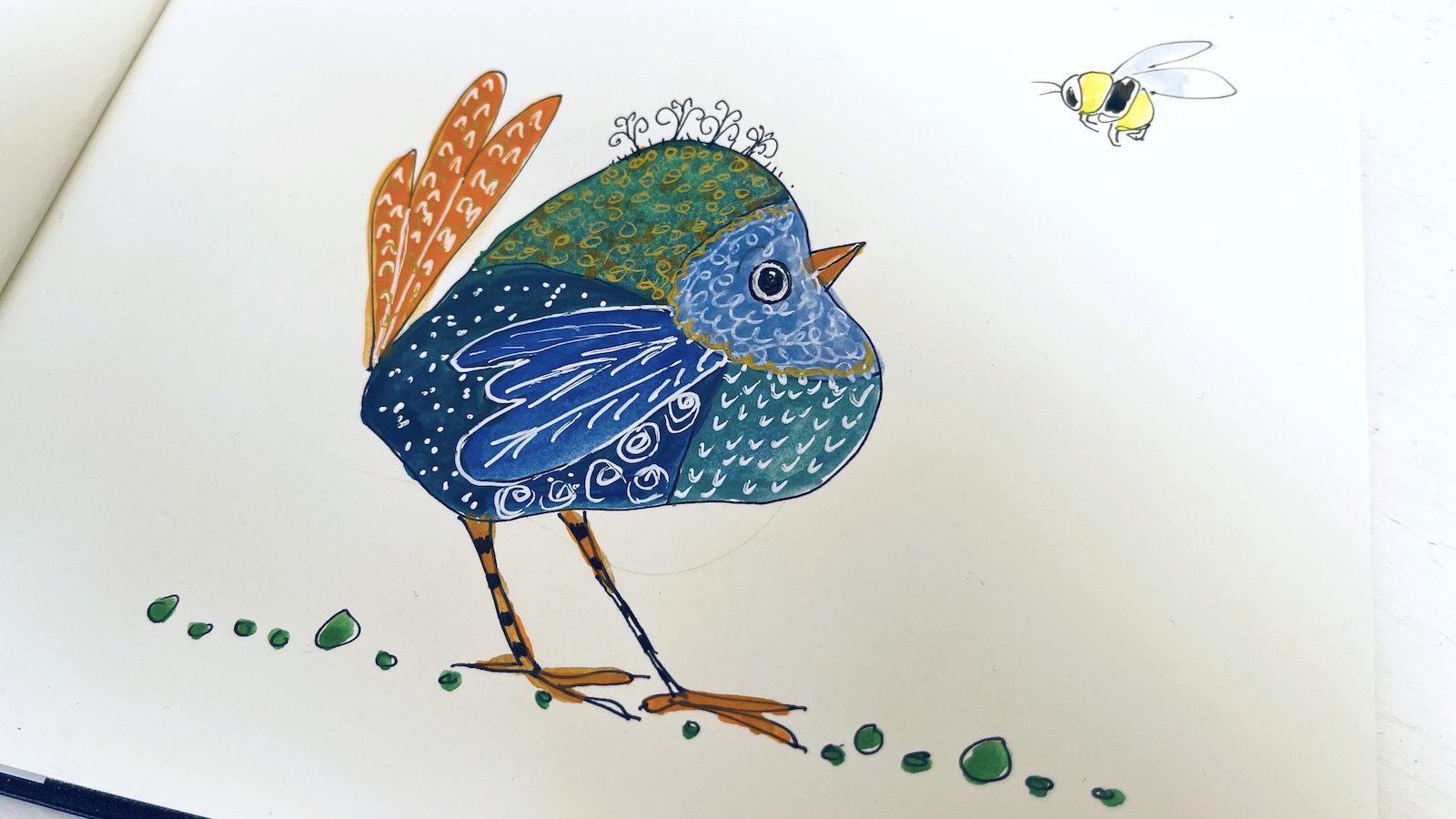 The great thing about these birds is that they are unbelievably easy! Use any paint you like, any paper you have on hand and any brush at all, and in a few minutes you will have created a unique work of art!
Materials
I used my Viviva sketchbook again for this one. Ideally you will look for a smoothish paper but it will work on anything. One thing I noticed about gouache, if you choose to use it, is that it not only dries very quickly but gives a nice velvety texture which takes pen lines very well.
You can get a starter set of gouache very cheaply online. Take a look at this one here:
You can't argue with this price point. If you want to give gouache a go, this is a good jumping off place. I can't find small sets of Arteza like mine online at the moment, although they may be there hidden somewhere, but this Royal and Langnickel gets great reviews and I think I'll give it a go when my Arteza runs dry!
What paper to use
I painted on a piece about 6 x 9 inches of softly hot-pressed paper. You could do these paintings on pretty much anything, even sketch paper, as the gouache technique uses very little water so hence doesn't bother the texture, surface or flatness of your paper.
Here are a couple of suggestions for suitable paper for this piece:
I also had on hand a white gel pen and a black waterproof liner as shown below.
My brush was a Drawell size 9 Golden Round and size 3 Maestro round – both very good synthetic brushes from Drawell in Japan. You can order them from Drawell by contacting Mr Maeyami direct. The prices are very reasonable and they ship worldwide at minimal cost.
I decided to use my little round dishes as my palettes today, to keep the color groups separate, and in one I put the blues, in another the pinks, and the white was in a third. Although mine aren't available as they were handmade for me, you can buy something similar here:
With my medium sized round nylon brush, I painted simple circles in what I hoped would be a shape which would lend itself to becoming a bird!
And now watch the video to see how it went!
Shopping for your stash!
If you click on one of our links it will take you to our store and we receive a small commission at no cost to you when you purchase. Or go direct to https://www.amazon.com/shop/dianeantonestudio to see my storefront.
Other videos you might like